Zoho CRM for Call Centers
In business, every call you make and receive counts. It is important that your sales and telemarketing reps are equipped with the right tools and the right information to interact with your customers. A perfect sync between your CRM and the phone system is just what you need so you can stop juggling and start managing your calls smartly from CRM. Zoho PhoneBridge integrates your on-site and hosted telephone applications with Zoho CRM. Get prompt reminders on calls to be made, know who is calling you, and have contextual information about your customers during calls to provide a more effective response.
Prompt reminders.
A Smarter Way to Make and Receive Calls Inside CRM.
With over a hundred calls to make and multiple deals to closely follow, do you have a constant fear about missing out on something important? Don't worry! Zoho PhoneBridge will send you prompt reminders on every call to be made.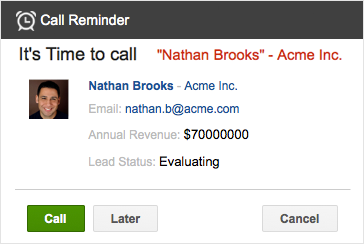 Single click dialing.
You don't have to pick your phone anymore to call your contacts. Click on the call icon that comes with every phone number and initiate calls directly from your lead or contact page in Zoho CRM.
Personalized customer service.
Which sounds better? "Who is this?" or "Thank you for calling us Bob!" Clearly, the latter. Callers are always happy to be greeted by name, and Zoho PhoneBridge helps you to identify who is calling you by displaying the caller's data from CRM in a business card view anytime you receive a call. Now you can know their name and look at conversations, notes, and tasks from the past - all of which helps you in providing a more personalised and effective response.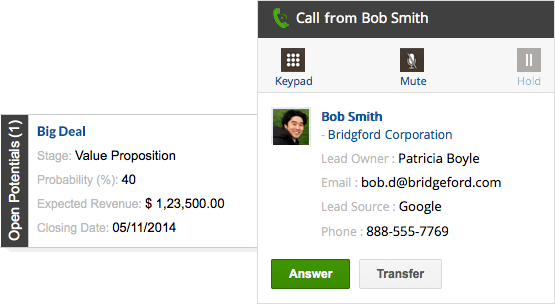 Save time and increase efficiency.
With the automatic call logging feature, you don't have to log your calls manually each time you speak to someone. Using the call pop-up you can add notes instantly while on the call or right after. What's more, you can even add follow-up tasks and assign someone to them right from within the same call pop-up.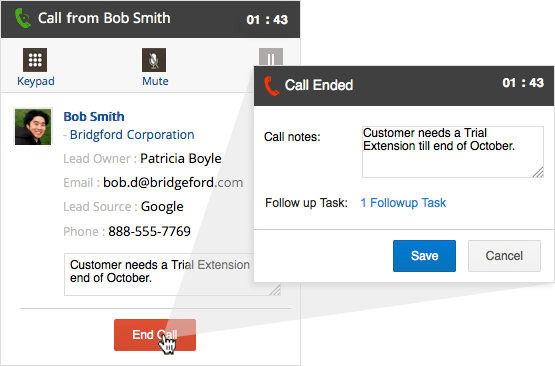 Zoho PhoneBridge connectors