Top brands that use our platform

Get the most out of working from home
Don't let menial tasks and inaccurate information swallow up valuable time of your employees. Power your remote teams with essential remote working toolsand help them stay informed, organized, and productive. Your hunt for an all-in-one remote work solution ends now.
Whatever the use case, this remote work platform supports it all!
Dynamic approvals system
Pending approvals shouldn't delay vital processes. In times of urgency, give employees the flexibility to add additional approvers, and speed up approvals for documents, proposals, purchase orders, and leave requests.
Time tracker
Let employees check in and out in a click and keep track of their billable hours. And configure automatic notifications to remind your teams to submit their time sheets, so you can accurately assess the performance of your team.
Employee portals
Remote work means employees will probably have more questions than usual. Keep your team informed about new guidelines, policies, and assistance programs. Allow them to submit requests or raise questions about anything they're concerned with.
Team progress tracker
Whether your employees work from home or in the field, make it easy for them to update their daily work. Help team leads stay on top of tasks, with completed, ongoing, and pending statuses viewable from their computer or mobile device.
Meeting scheduler
Get rid of back-and-forth emails and multiple group chats to connect with your peers. Check your colleagues' availability on their preferred calendars, pick a suitable time that works for everyone, and schedule meetings with a few clicks.
IT asset tracker
Even while working remotely, keep a tab on your company's assets—laptops, mobile phones, and other equipment—in a single place. Enable employees and admins to quickly submit and resolve tickets for technical issues, such as VPN connections, system logins, or new software installations by providing a dedicated technical support portal.
What's more, you can access all these remote work apps in a single account, without having to pay for each one.
You'll love building custom remote work software on Zoho Creator.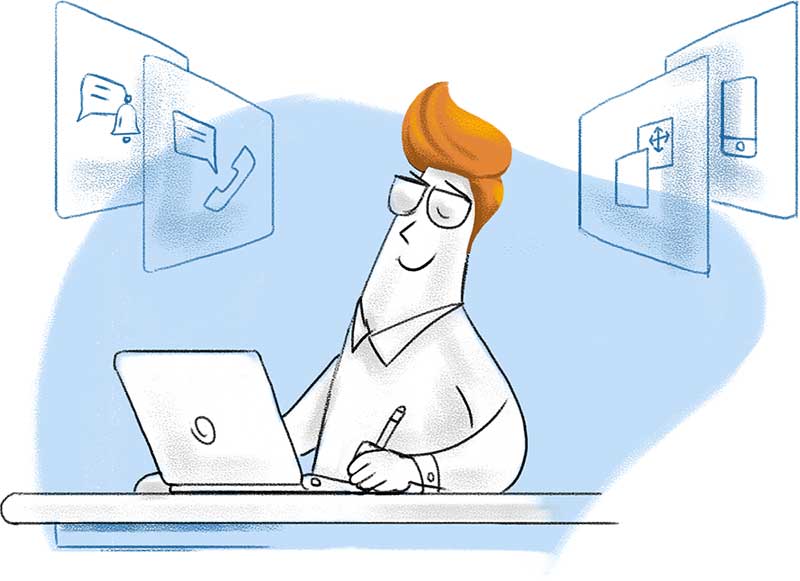 Intuitive

Offers visual drag-and-drop interface that makes it easy for anyone to create applications

Fast

Ready-to-use code snippets and templates help you roll out applications 10X faster

Secure

Enterprise-grade security features to ensure the complete safety of your data

Flexible

Lets you update applications in real time, and helps you adapt to market changes quickly

Affordable

All applications you build on Zoho Creator live in the cloud, saving you overhead expenses like server monitoring and maintenance
Hear from our customers
Creator gives us great flexibility, and improves our efficiency and the engagement between our teams. The way Creator influences our company is just magical.
- Mathieu Demers,
Vice President and General Manager, Avianor
With Zoho Creator, I feel like we have the tools to address any problem we come up against.
- Ryan Moskal,
Operations Manager, Mission Bicycle
It's reduced our stress and allowed us time to develop more business, with less time managing it.
- Richard Davis,
President, Tek Textil
An affordable custom remote work software
As exciting as remote work sounds, it also comes with some challenges. We're offering a proof of concept (POC), free of cost to help you get the remote workplace apps you need and make the switch smoothly. Tell us your business requirements and our product experts will reach out to you.
Post Your Requirement