Easy Data Collaboration
Microsoft Excel and similar spreadsheets are good choices when your data is primarily numbers that requires only on- screen calculations. But if your data needs some logic and grows in complexity, then Zoho Creator might be the right choice.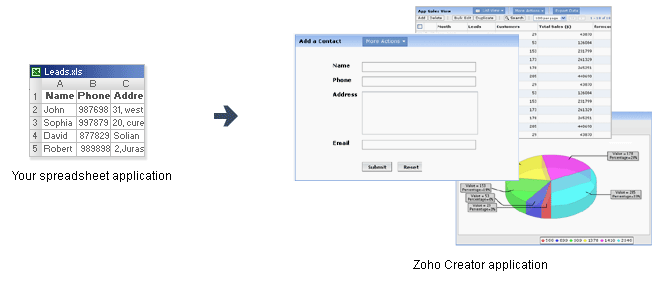 Benefits of using Zoho Creator over other traditional spreadsheet applications:
Data entry is simple

An online database application provides the most easiest and error free way of adding data through Forms.

Validation of Data

Zoho Creator's Ajax-based forms enable you to validate form data which ensures that only relevant and required information is added. Moreover, databases can ensure that duplicated or blank entries are avoided.

Sorting and Searching

ZZoho Creator supports easier, faster and safer sorting of data than spreadsheets.

Multiple View Types

ZZoho Creator databases offer the flexibility to view information in different formats - List, Chart, Summary, Calendar and also as spreadsheet.

Online Collaboration

Zoho Creator efficiently provides you two ways of collaborating

.

Collaboration with spefic users - your friends, team members and others.
Collaboration with anyone on the internet - with public visitors whom you donot know.