Push data from CRM to a Creator application using Webhooks
You can push data from Zoho CRM to a Zoho Creator application by configuring a CRM Workflow and a Webhook that calls the Creator REST API. With Zoho CRM webhooks, you can configure HTTP URLs and associate these webhooks in workflow rules. Please find the step-by-step instructions given below:
1. Define a new WorkFlow Rule by selecting Set up ->Automation ->Rules from your Zoho CRM account. In Step 1, specify the Basic Information in the format given below and click on Next.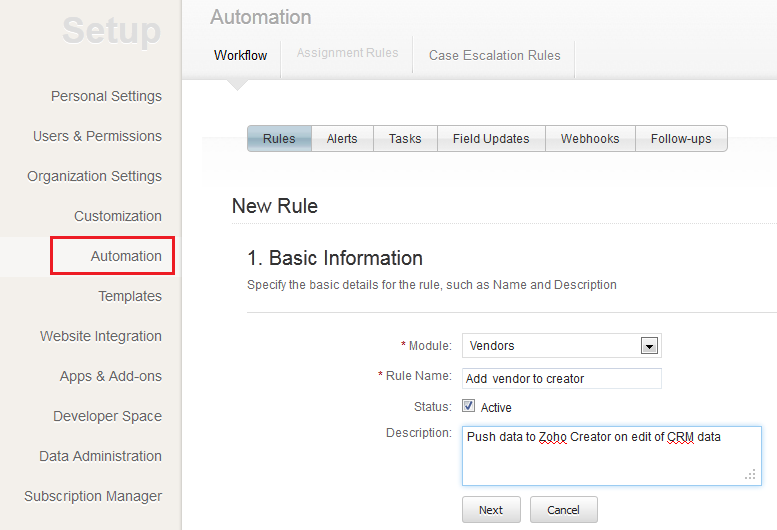 3. In Step 2: Execute On screen, choose the required action based on which the rule will be executed. For example, if you want the rule to be executed, when an existing record is edited in the selected module, choose Edit, as show below and click on Next.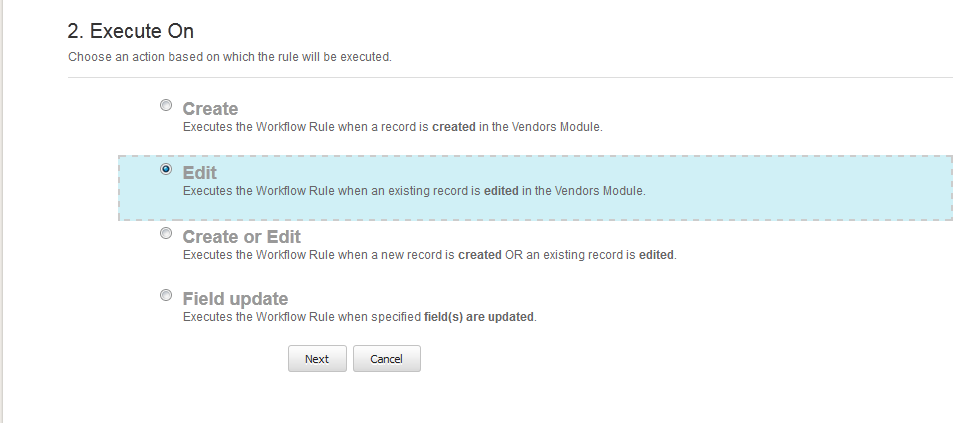 3. In Step 3: Rule Criteria, specify the criteria, if any, based on which the rule will be executed. Click on Next to move to the next screen.
4. In Step 4: Actions, click on Call WebHooks ->Add icon, to define a Webhook that will add the CRM data in Zoho Creator using Creator REST API call.

a. Specify the Name, URL to notify and select the API call method, as shown below. Refer Creator API Docfor the URL format. Here, "push-data-from-crm" is the Zoho Creator application name and "Vendor" is the Form name to which the record will be added. Here, we use theREST API – Add Record method, to add a record in Zoho Creator.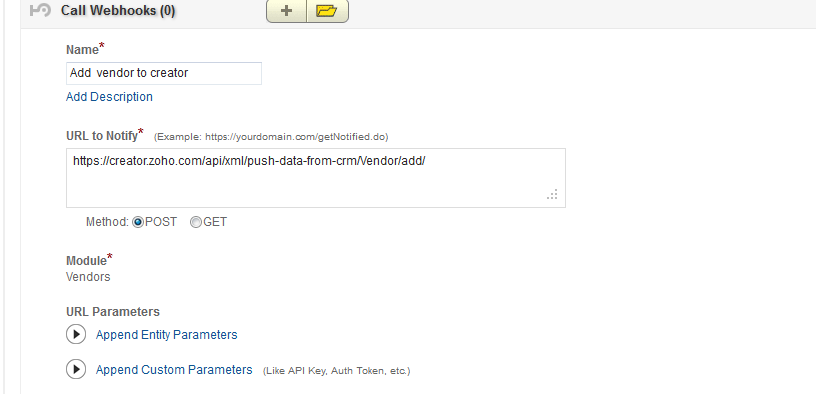 b. Click on Append Entity Parameters to specify the parameter name and values to be passed in the URL. The Parameter Name will be the Deluge Field name as specified in the Zoho Creator Form.
c. Click on Append Custom Parameters to specify the Zoho Creator auth token and scope to be passed with the URL. Now, click on Refresh URL link to view the complete URL, as shown below. Please refer thistopic to generate the auth token for Zoho Creator, if you have not generated the auth token.

d. Click on Save &Associate, to save the webhook configuration, as shown below:

5. Click on Save to add the New WorkFlow Rule, as shown below.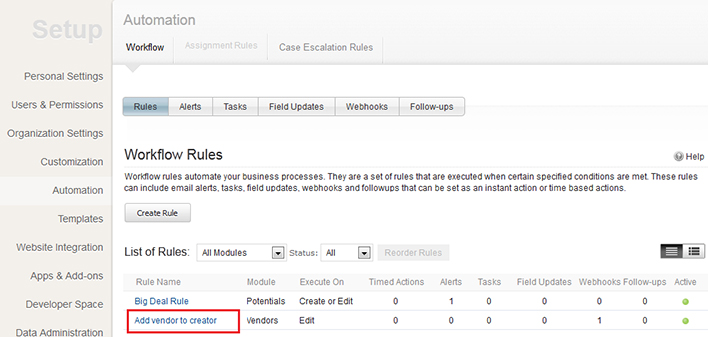 6. When a record is edited in the Vendor module, the updated record will be added to Zoho Creator Form using Webhooks, as shown in screen-shot below.
Updated Record in Vendor module of Zoho CRM

Record added to the Vendor Form in Zoho Creator