Guide to upgrade to Zoho Creator 5
As announced earlier, Zoho Creator is all set to upgrade all accounts to Creator 5. This document walks you through the upgradation process and sheds light on what are the enhancements that you are about to experience in this version of Creator.
The process of upgrading your account to the new version is twofold: To kick start the migration, your Deluge framework needs to be upgraded first and then the user interface of your application needs to be upgraded.
Deluge Framework
The improved version of Deluge framework is equipped with more built-in functions and it enhances the overall performance of your application. Click the Get Started button to continue. Once the backend process is complete, your account will be moved to the new framework.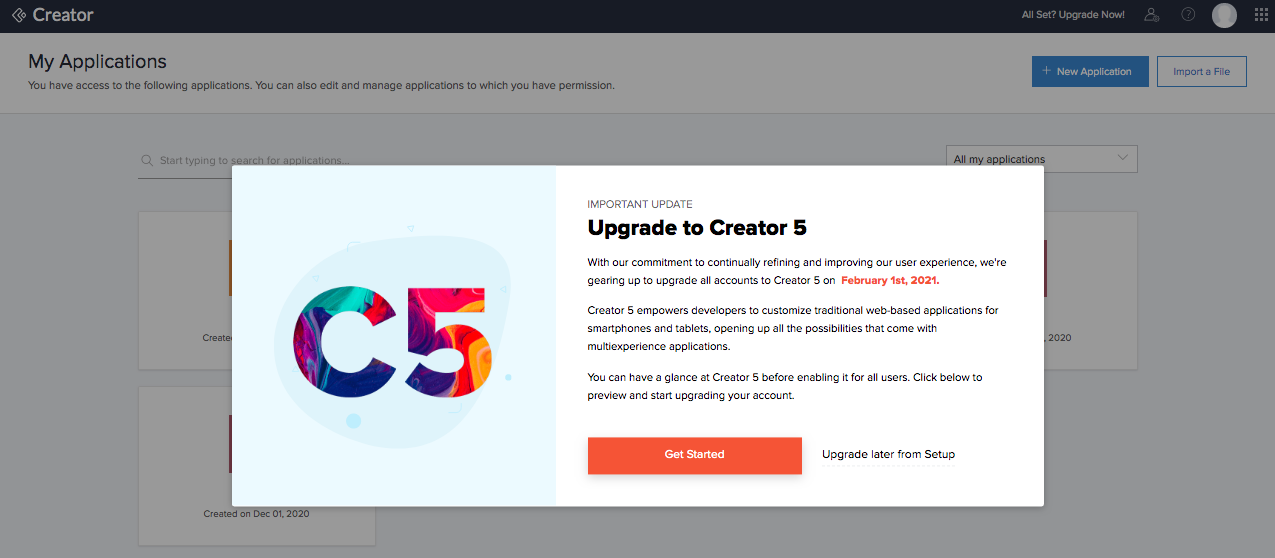 ​
Note: If there are any issues while upgrading to the new version, your account will not be updated. In such an instance, you can contact Creator Support for further assistance. Click the Contact Support button to get in touch with us and resolve the issue.
New Live Mode
After upgrading your framework, your account will have to be upgraded to the Zoho Creator 5. This screen gives you a sneak peek of the new UI. You can click on the apps and have a glimpse of your app in the improved version.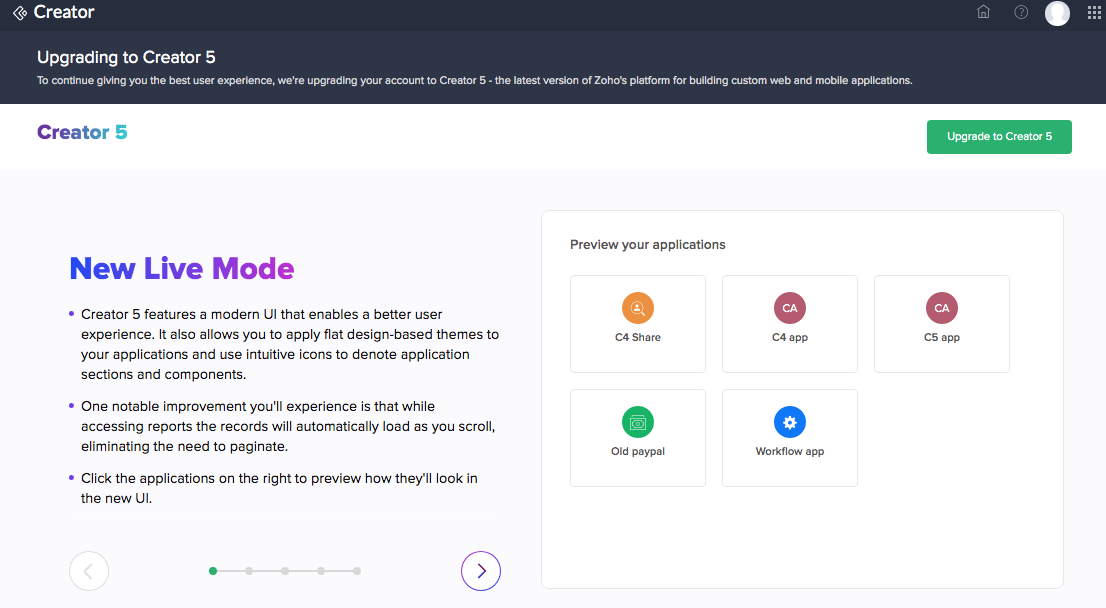 New Edit Mode
The new edit mode brings you a game-changing app-building interface that is designed to be intuitive.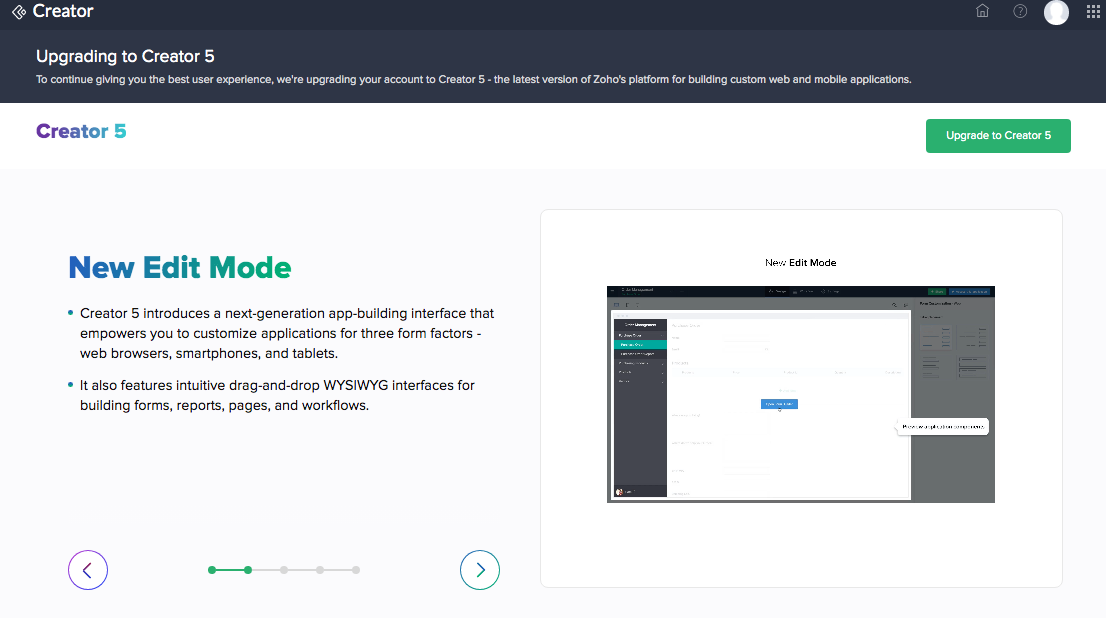 Unified Workflows: Workflow management is about to get a lot more efficient with Creator 5. All types of workflows are contained in a single module that allows you to create and manage them with ease.
Users and Permissions: Upgrading to the new version allows you to create module-specific permission sets that include intricate levels of access.
Payment Configurations: The new payment configuration facilitates highly secure payment integrations with popular gateways.

Note: Existing payment workflows cannot be edited after migrating to C5. You need to delete (locate them in Form Properties) and recreate it.
Confirmation
To complete upgrade process:
Click the Upgrade to Creator 5 button. A confirmation pop-up will appear.
Click the Upgrade button. The account will be migrated to Creator 5.

Points to note while upgrading
To ensure data security, Public Components are not supported in Creator 5. You can publish these components for them to be publicly accessible and also customize its user experience.
Apps with Payment Configurations are displayed and, as mentioned earlier, you will not be able to edit existing configurations. You need to delete them and recreate the same in the new version.
​
Some of your app's Workflows might fail to be upgraded. The apps that failed to upgrade will be listed. Click the Contact Support button to reach for assistance. In the meantime, the apps will continue to work with the existing configurations.
Similarly, some of your app's Users and Permissions might not get mapped correspondingly in C5. However, the apps will continue to work with the existing C4 configurations.
​