Set max digits for form fields
Applicable to the following numeric fields: Number, percent, decimal, and currency.
Open the form builder.
Select the required field. Navigate to the Field Properties -> Validation section, displayed on the right.
Enter a value between 1 and 19 in the input box next to Max Digits.
If you set Max Digits with a value greater than 19, Zoho Creator will display the following prompt: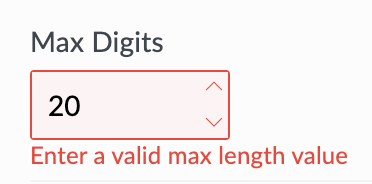 In the event that you set the Max Digits property of a numeric field with a value that is less than the digits present in existing records, Zoho Creator:
Allows the existing records to be updated if the data stored in that field is left unchanged 
Applies the new value to validate the existing records if the data stored in the that field is edited
Applies the new value to validate records added after this change
This behavior is in place to ensure that existing records are not affected.