This help page is for users in Creator 5. If you are in the newer version (Creator 6), click here. Know your Creator version.
Understand customer portal's login, signup and reset password pages
Similar to every application, online service and website, your Creator application's portal has three assets that are essential to your customer's lifecycle — the login, signup and reset password pages. Zoho Creator offers a default and robust design for each of these pages, which you can further customize using the portal page designer. Refer to:
The Login, Signup and Reset Password pages can be accessed from the Page Customization tab.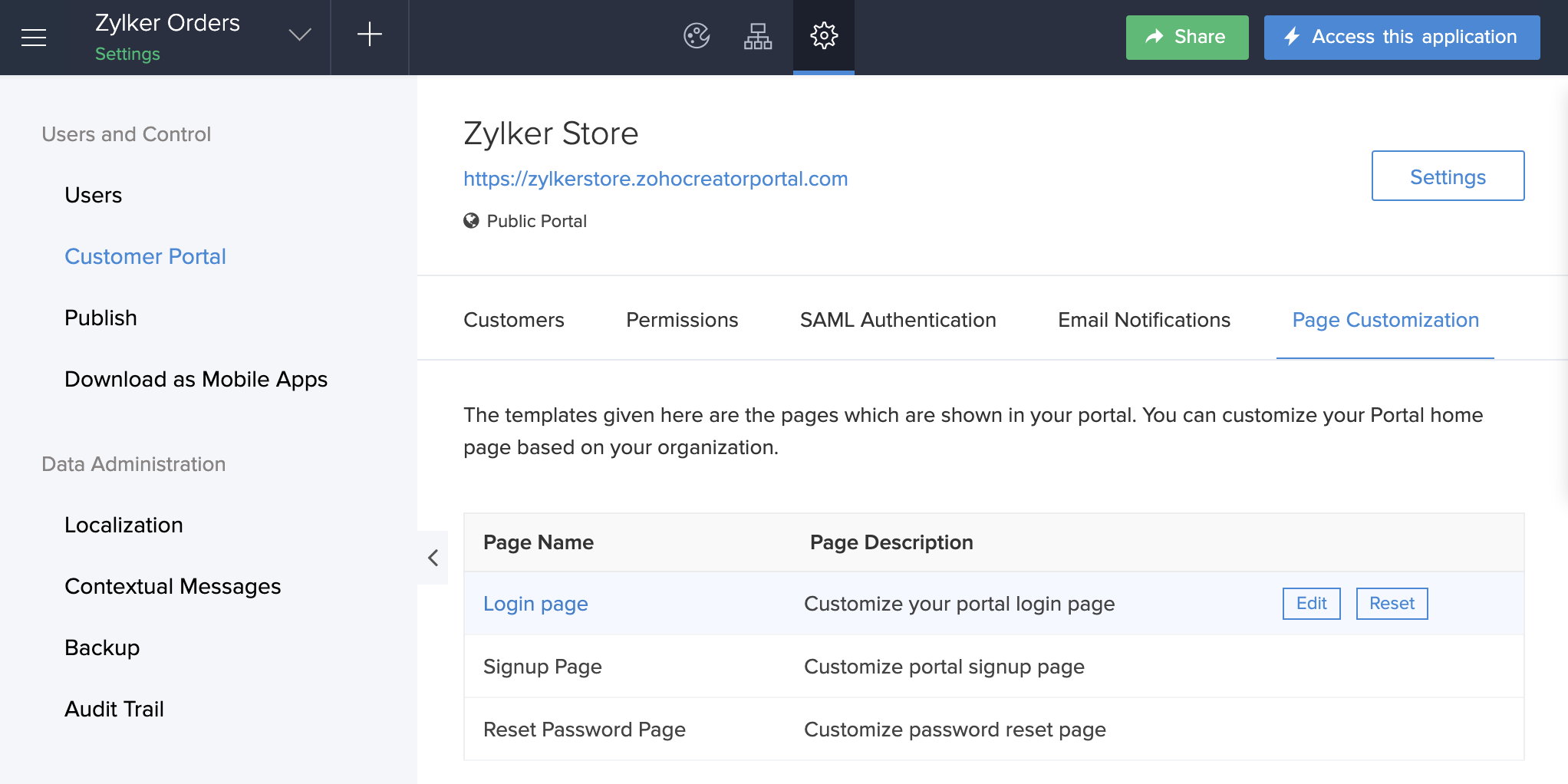 The admin can click on a portal page, which will open the respective page in a new tab in your browser.
Login page
This is the page where your customers will have to enter their credentials to access your Creator application's portal. By default, this will appear as follows: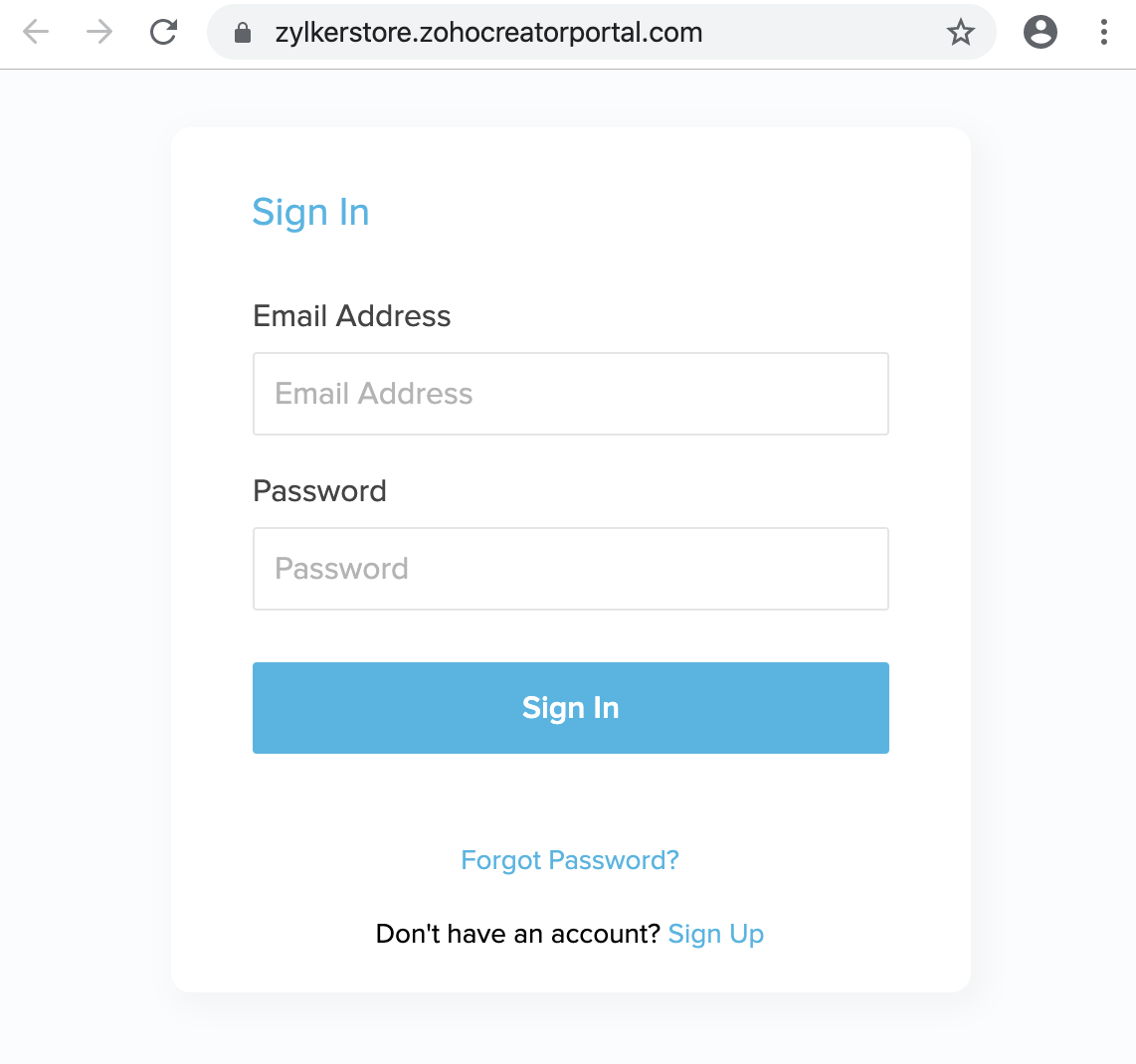 Signup page
This is the page where end users sign up for your Creator application's portal. In case your portal is private or restricted, your approval is required to complete the signup process. Below is how the signup page looks by default: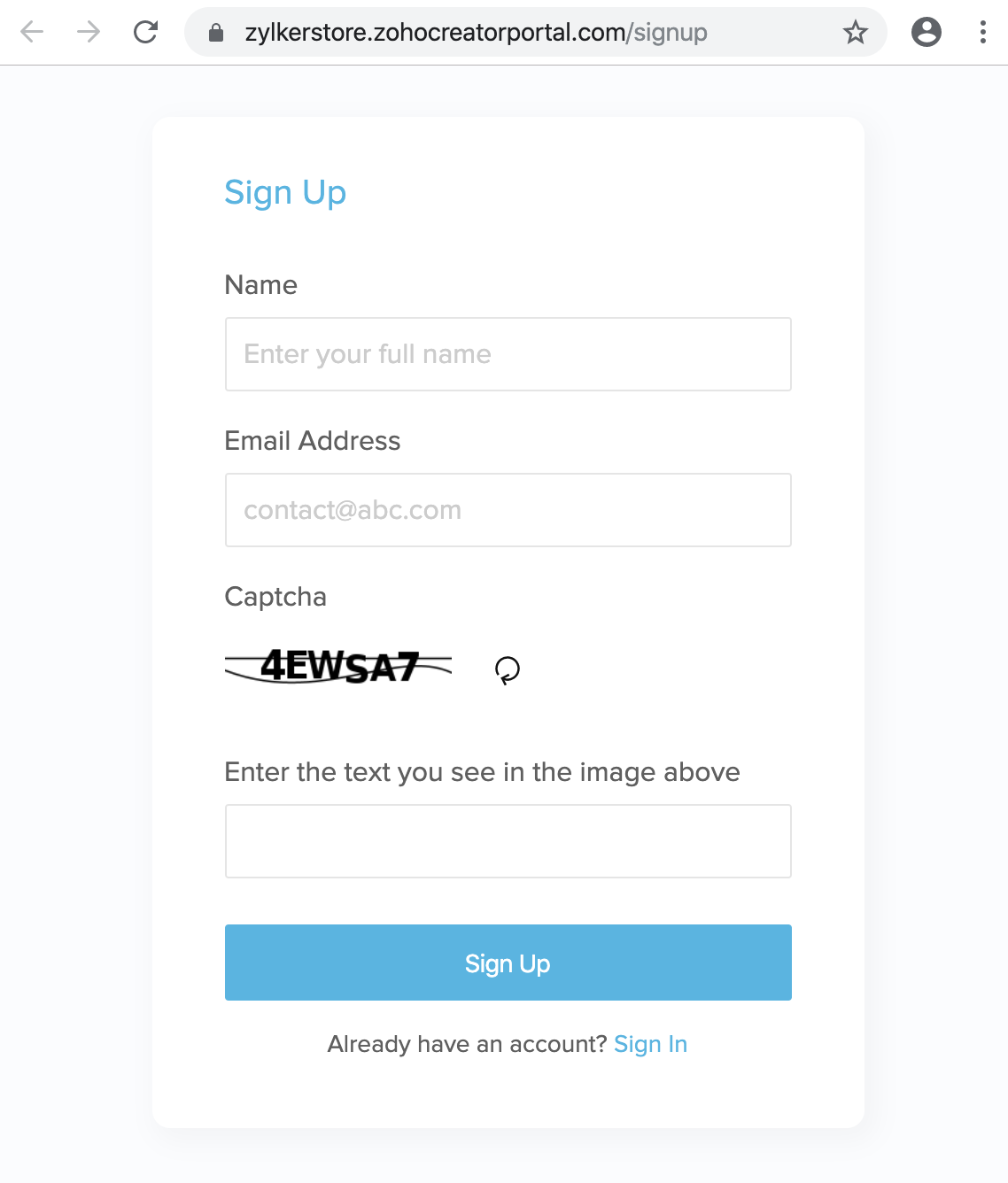 Reset Password page
This is the page where your customers can reset their password for accessing your Creator application's portal. By default, this will appear as follows: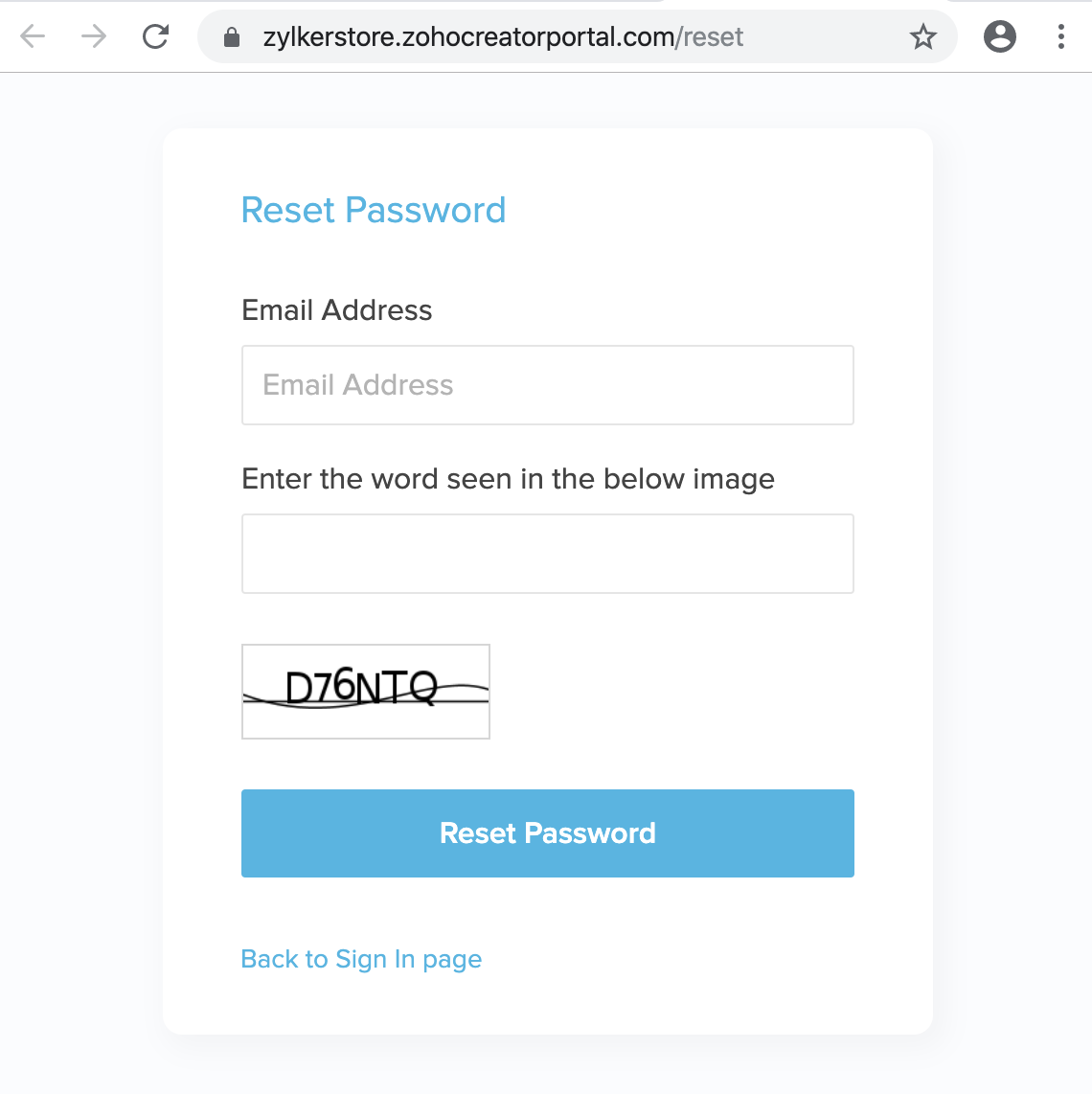 ​
Portal page designer
Zoho Creator offers an intuitive, WYSIWYG interface for customizing the design of your portal's login, signup, and reset password pages. This designer is common for all the three pages. The portal page designer appears as follows: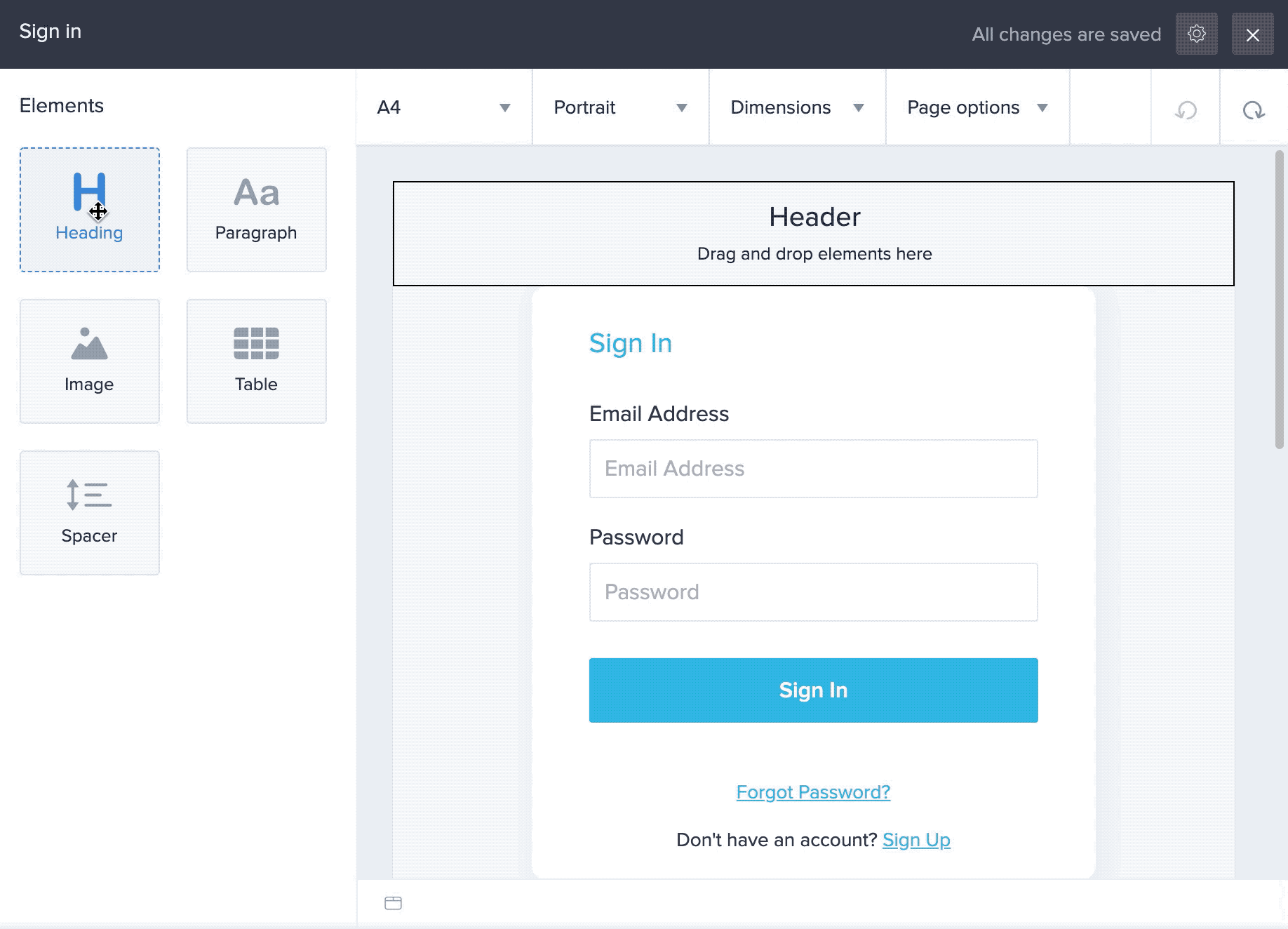 ​
The designer allows you to:
Add elements: The elements tab on the left features the following predesigned elements that you can add to your Login page: Heading, Paragraph, Image, Table, and Spacer. The builder offers element-specific toolbars that allow you to customize their display value and appearance.
Insert system variables in the elements that support displaying text. You can select the required system variable from the dropdown present in the element-specific toolbar.
Customize properties to enhance the visual aspects of the page, such as the page size, background image, and header and footer. Learn how to customize page properties
Other features of the designer:
Allows you to Undo and redo up to ten changes. These buttons are displayed at the top-right corner of the builder. You can also use the standard keyboard shortcuts to perform these operations.
Auto-saves the changes you make in the builder
Allows you to set the width of a column simply by dragging its left and right borders
Allows you to perform row and column-specific customizations. Learn how
Related Topics