Report Settings
Table of Contents
Overview
You can configure the properties of your Reports in Report Setings. To view it, open your app's Dashboard -> Reports tab and click on the required Report.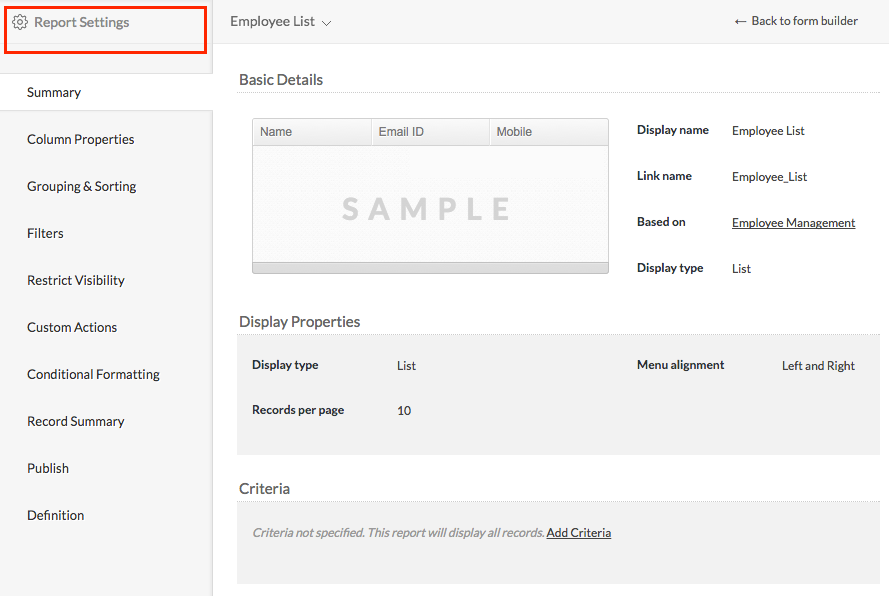 The above given image shows the Report Settings that is applicable for List, Summary, Grid, Spreadsheet and Calendar Reports. For configuring Pivot Tables and Pivot Charts, refer this page.
As shown in the above screenshot, the Report Settings will have the below given tabs -
Summary

There are 3 sections in this tab,

​​Basic Details - You can view and edit the Display name and Link name of your Report. Refer Rename a Report to know more. The Based on indicates the Form on which the Report is based.
Display Properties - You can edit the Display type, and set the Records per page - number of records to be displayed per page, in your Report. Refer Change Report Type and Set number of records per page to know more.
Criteria - You can set criteria to create Reports with specialized reporting needs. Learn more.

Column Properties

Columns are elements of Reports which correspond to Fields (elements of Form). For every Field, there will be one column to display data it stores.You can,

Grouping & Sorting

Set Grouping - You can group your data based on columns in your Report. Grouping creates sub-lists within a List Report. Learn more.
Set Sorting - A List Report by default displays the records in the order in which they are added, i.e., the latest records are listed on top. You can sort records on the required column(s) in ascending or descending order, to display meaningful Reports. Learn more.

Filters

Filters are a set of named criteria that allow you to view or display records that satisfy some condition(s) in a Report. Learn more.

Restrict Visibility

You can Allow visibility of report to, i.e., define who can access the Report, and,
You can define permissions - the actions that can be performed by those who have access to the Report. Learn more.

Custom Actions

Custom Actions are actions performed on selected records in a Report, by executing Function-calls. Learn more.

Conditional Formatting

You can define conditional formatting, and thereby highlight the records and columns displayed in your Reports, which satisfy some condition(s). Learn more.

Record Summary

Use the Record Summary feature

 to create a customized summary for each record, by just dragging-and-dropping the required columns.

Publish

You can Publish, i.e., give public or open access to, the components (Forms, Reports, Pages) in your Zoho Creator Application. You can also Embed them in your website, blog, etc. Learn more.

Definition

This opens a Script Builder, wherein the Deluge script definition of the Report, including all its settings, is displayed.
If you are familiar with Deluge scripting, you may edit the Report's definition here (besides navigating to the above mentioned tabs in Report Settings).