Zoho Creator provides in-built print support for List, Summary, Chart Report types and HTML page.
Steps to print a List & Summary Report
Select the required report to print and access the report in Live mode.
Select Print icon on the top and select the respective option, as shown in the screen-shot given below.

Steps to print a Page
Print support for Pages can be used to generate nicely formatted document. The sample application given below, demonstrates how a HTML page can be used to print a HTML formatted report. Click the More Info button to display the contact details. The print button present in the top right corner is mapped to the url pattern that triggers the print action for a page. http://creator.zoho.com/sampleapps/employee-contact-details/
The Print option will not be displayed by default when you access an HTML page. To enable the Print option in your HTML page,
Go to Application Dashboard and select the required HTML page from Pages tab.
Click on Settings -> Header Option from the page header, as shown in the screen-shot given below. The dialog to enable the print option will be displayed. Enable the check-box option "Print" and click Done.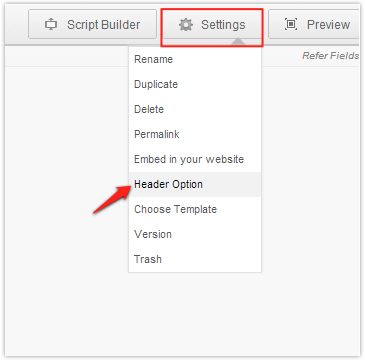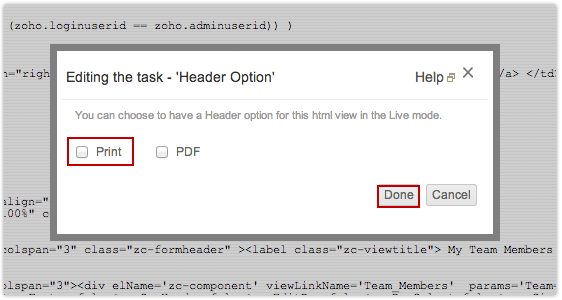 Now, when you access the application and select the HTML page, the Print option will be displayed in the page.
Print URL Format
The url format to print a page is given below:
http://creatorexport.zoho.com/<app owner name>/<app name>/print/<view name>
For example:
http://creator.zoho.com/zchelp/employee-manager/print/Employee_View
Refer the topic Functionality based URLs to learn more about the print url patterns.