Reports
Table of Contents
Overview
Reports is one of the core components of Zoho Creator. It enables viewing of data that is collected via Forms. When you create a Form, Zoho Creator automatically creates a List Report for it. The Report's name is auto-set with - <form_name> Report.
For example, assume that you have created a Form named "Employee". By default, Zoho Creator will create a Report named "Employee Report". This will display all the Fields that are present in your Employee Form.
Note: 
Default creation of a Report happens only for Regular Forms.
A Stateless Forms will not have its own Report, as data entered in a Stateless Form is not stored in Zoho Creator.
The relationship between Forms and Reports is one-to-many (1:M,) i.e., a Form can have many Reports, but a Report will be based on only one Form.
To see the Reports that are based on a particular Form,
Open your app's Dashboard -> Forms tab, as shown below.
Under the required Form, click on the Reports​ drop-down.
Types of Reports and how to create them
Zoho Creator provides the below given types of Reports. To see how to create them, click on the required type of Report.
| | |
| --- | --- |
| List | A List Report is similar to a table view, with rows and columns of data. |
| Calendar | Displays data in calendar format, based on a Date Field in your Form. |
| Summary | Displays data the summary of each record. |
| Grid | Presents a tabular view of data, where each column represents a Field and each row represents a record. |
| Spreadsheet  | This allows you to view data, cellularly arranged, in rows and columns. |
| Pivot Table | A powerful view with data summarized in a grid, both in horizontal and vertical columns (also known as Matrix Views or Cross Tabs). |
| Pivot Charts | Provides a graphical representation of the data. |
Manage Reports
The Reports tab in your Zoho Creator app helps you manage all the Reports created in that app. You can view and edit existing Reports, delete the ones that are obsolete, rename them, etc. For each Report, you will see -

Based On 
This indicates the Form on which the Report is based.
Duplicate
This will create an exact copy of your existing Report. This feature will be useful when you want to create a new Report, similar to the existing one, but with minor changes in the customization.

Note: Duplicating a report is not supported when it displays data from 150 fields or more.

Share
This enabes you to share a Report with the email addresses you specify.
Publish
On clickling this, you will be navigated to the Publish tab in the Report Settings (refer the previous screenshot), where you can Publish the Report - make it accessible to the public.
Access
Clicking this will let you access or view the respective Report.
Delete
Clicking this will delete the respective Report.
Customize Reports
You can customize the Reports in your Zoho Creator application using their Report Settings. You can view and edit your the Display name, Display type, Criteria, etc. of your Report. You can set Record Summary, Publish the Report, etc.
To access a Report's Settings,
Open your app's Dashboard -> Reports tab.
Click on the required Report.
The below given image shows the Report Settings that is applicable for List Reports.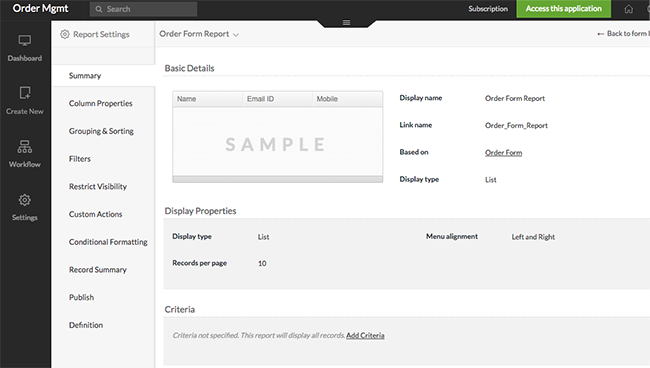 Refer Report Settings to know more.
Related Links
Publish and Embed Reports
|
Export data from a Report