Forms                  
Forms are used to collect data from your Application users. When you create a new Application, a new Form in that Application is created by default; you can also add more Forms manually. The following image is an example of a Zoho Creator Form: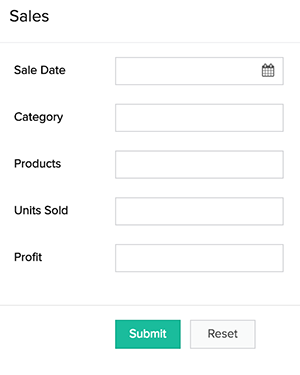 If you are building an Application to store contacts, a single Form to enter the "Name", "Phone Number", "Address" and "Email id" is sufficient. If you are building a more complex Application like "Project Tracker", use multiple Forms to add new projects, store team-member details, maintain a to-do list and so on. There are two types of Forms in Zoho Creator:
Regular Forms - Stores the data in Zoho Creator
Stateless Forms - Does not automatically store data in Zoho Creator, instead you can execute automated tasks on Form submission.