​
Configuring A Rich Text Field
Table of Contents
Overview
The Rich Text field provides rich formatting options for text entered into its field. The text formatting options are presented in a toolbar which is displayed on top of the field. Rich Text field type is mostly used when users need to apply various formatting options to their data, like changing the font, to enter html, to enter bulleted points and many other such options. This field type accepts all kinds of data, for example, plain text, special characters, numbers etc. and has a maximum limit of 64 kb.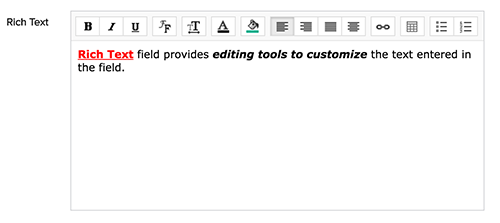 Configuring a Rich Text field
Drag and drop the Rich Text field to the editor area. You can also double click on the field type to add it to the Form.
Enter a name for the field under field properties. The field will be labelled with the name specified by the user. The field deluge name is assigned automatically with underscores replacing the white spaces in the Field name. Users can also modify the field deluge name manually. Configure the rest of field properties as required.
When you access the Application, the text field will be displayed in the Form to collect data.
Rich Text Field Properties
The following properties can be customized for Single Line and Multi Line field types:
Validation

Select the Mandatory checkbox to make it compulsory for users to enter data into the field. The Form submission will not be allowed unless the field contains data.

Permission

This section contains a property called Show field to with "Everyone" and "Admin Only" as the choices. Selecting "Everyone" will make the field visible to all the users. Selecting "Admin Only" will restrict the field visibilty to the Admin or the owner of the Application only.

Rules

A Rule defines the tasks to be triggered at the specified Form event(while adding a record, updating a record, or both) when the optional criteria is met. The tasks can be Field tasks, Form tasks or Subform tasks. Learn more about configuring rules and tasks.

Appearance

This section allows app owners to convert the field type, customize the field size, and write tool tip messages which will be displayed when the cursor is placed on the Field.

Field Type - A Rich Text field type can be converted into a Multi Line field type.
Field Size - The field size can be set to small, medium, large or a custom size which can be customized.
Height - Can be used  by app owners to customize the height of the field.
Tooltip Message - This option can be used to write text, which would be displayed when Application users place the cursor on the field.

Toolbar options

This section displays the available formatting options, which can be enabled by checking the checkbox adjacent to each formatting option. The enabled options will be available for use, to the user accessing the field. There are 17 formatting options in total.
Note:
The String datatype is used in scripting for the Rich Text field types.