Configuring A Date Field
Table of Contents
Overview
The Date field type accepts only date values. The date format can be set from Applications Settings, as shown in the image given below.

When the Form is accessed, the Date field type displays a calendar button which lets users select the required date.
A Sales Form with a Date field in dd-MMM-yyyy format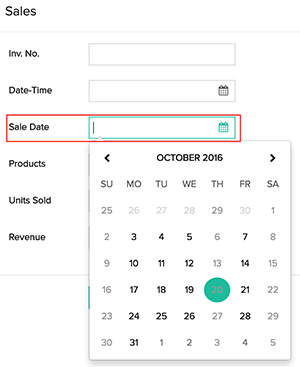 Configuring a Date field
Drag and drop the Date field to the editor area. You can also double click on the field type to add it to the Form.
Enter a name for the field. The field will be labelled with the name specified by the user. The field deluge name is assigned automatically with underscores replacing the white spaces in the Field name. Users can also modify the field deluge name manually. Configure the rest of field properties as required.
When you access the Application, the date field will be displayed in the Form to collect date values.
Date Field Properties
The following properties can be customized for a Date field type:
Validation

Select the Mandatory checkbox to make it compulsory for users to select a date for the field. Form submission will not be allowed unless the field contains a date value.
Select the No Duplicate Values checkbox to restrict duplicate entries. Which means every input into this field needs to be unique without any repetition.
The value specified in the Initial Value box will be pre-loaded into the Field when the Form is accessed. For example, if the "Initial Value" has been specified as "07/04/2017", the Form will load with "07/04/2017" as the default input value for the Date field. This value can be modified by the users, when they access the Form.
The Allowed days option allows app owners to allow/restrict user selection of days. App owners can restrict any day by unchecking it. For example, if the app owner unchecks "Sunday", "Thursday" and "Saturday", users will not be able to select any date that falls on a Sunday, Thursday or Saturday.


A Form with allowed dates in bold font


A form with disabled dates grayed out


Note:

When you create a Calender Report using the Date field for which the Allowed days are set, a view will be created where users can only record their data within the specified date. Other date fields will be disabled and users will not be able to enter the data.


Permission

This section contains a property called Show field to with "Everyone" and "Admin Only" as the choices. Selecting "Everyone" will make the field visible to all the users. Selecting "Admin Only" will restrict the field visibilty to the Admin or the owner of the Application only.

Rules

A Rule defines the tasks to be triggered at the specified Form event(while adding a record, updating a record, or both) when the optional criteria is met. The tasks can be Field tasks, Form tasks or Subform tasks. Learn more about configuring rules and tasks.

Appearance

This section allows app owners to convert the field type, customize the field size, and write tool tip messages which will be displayed when the cursor is placed on the Field.

Field Type - A Date field type cannot be converted into any other field type.
Field Size - The field size can be set to small, medium, large or a custom size which can be customized.
Tooltip Message - This option can be used to write text, which would be displayed when Application users place the cursor on the field.

Note:

The Date datatype is used in scripting for the Date field type.

Related Links

Built in Functions - Date | Example - Set current date in the date field