Using mobile native app - Android
Table of Contents
Overview
Zoho Creator native app for Android offers mobile access to your Zoho Creator applications available on the web. The app is available in the following site for download.

Owned Apps, Shared Apps, Recently Visited Apps
You can access your Zoho Creator apps from the drop-down present on top of your Zoho Creator dashboard. This contains All my applications, Owned by me, Shared with me and Shared with my groups.
The All my applications section lists all the apps that are created by you and shared with you or any group that you are a part of.
The Owned by me section lists the apps that are created by you.
The Shared with me section lists the apps that are shared with you. or shared with a group that you are a part of.
The Shared with my groups section lists the apps that are shared with a group that you are a part of.
Apart from these, "Recently Visited" tab allows you to visit forms/reports which were recently accessed.
Panel showing All apps, Owned Apps, Shared Apps, and Recently Visited Apps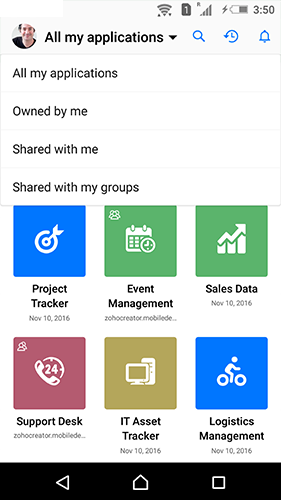 Forms and Reports listing
Once you touch open the required section, for example - Apps owned by me, all apps created by you get listed under the "Owned by me" header. Tap on the app you wish to access which will load all the forms along with reports of that app. From here, you can view records or access forms to submit records.
Screenshot of creator mobile app displaying an application with list of forms and reports (Android)

To open a form or a report, just tap on the respective tab. For example, tap on "Sales" to open the Sales Form . 
Screenshot showing a creator form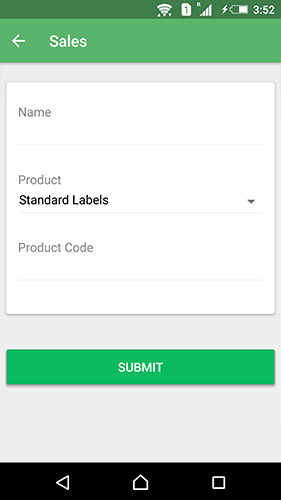 Viewing Records
View records of a particular application by tapping on the respective report of that application. Lets say, you tap on "Sales Data" Application. This will display all the forms and reports of that application. Now tap on the respective report to view its records. For example, when you tap on "Sales Report", it will display all the records of that report in a list view
Screenshot showing records in a list view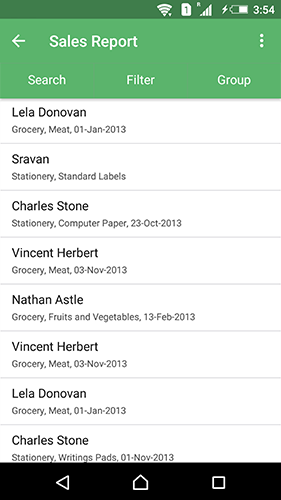 When you tap on a record, the record details get displayed. For example, when you click on the record "Vincent Herbert", it will display all the details of that record.
Screenshot showing record details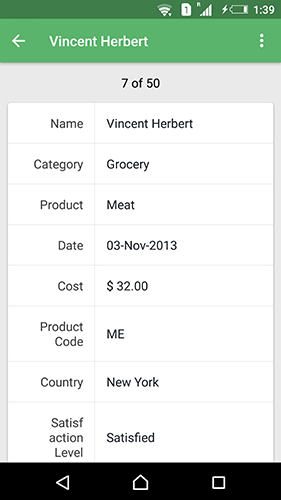 Search, Filter and Group records
To open a particular view/report, tap on the corresponding view/report. All the records containing in that report get dispayed in a list format. On the top, you have options to "Search", "Filter" and "Group" the records.
Screenshot showing "Search", "Filter" and "Group" options

The "Search" option enables you to search for records. You have the option to select a particular field and search with a keyword. This fetches all the related records from that particular field.
"Filters" are a set of named criteria that allows you to select only specific entries in a report. The "Filter" option shows up only if there are any filters set up in report settings. Those filters can be applied here from the "Filter" option. 
The "Group" option allows you to group the records based on the selected fields. Records with same value for the selected fields will be grouped together and the value appears as a heading above all records containing that value.
Subsequent search and filter actions will display a history icon  inside them to perform previous search and filter operations.
Perform Record level actions
When you open reports, there is an icon

on the top right corner of the screen. Tapping on that icon gives you options to Add, Edit, Delete, Duplicate and Export Records, along with enabling Push Notifications and Save Offline records.
Edit option enables you to edit records. You can choose to select one record or multiple records at the same time by check marking the records you want to edit.
Delete option allows you to delete records, one or multiple, by check marking the records you want to delete.
Duplicate option allows you to duplicate one or more records, by check marking the records you want to duplicate.
Enable Push Notification option allows you to enable push notifications for that report.
Export option allows you to export all or selected records of the Report.
Save Offline option allows you to download records for offline access.
Bulk Edit/Delete/Duplicate: This feature allows you to edit, delete or duplicate more than 1 record at a time. Once you select the edit, delete or duplicate option, it gives you the option to select more than one record to perform the action.
Individual Edit/Delete/Duplicate: Apart from bulk edit/delete/duplicate, you also have the option perform the action on individual records. This includes selecting just one record at a time and performing the required action.
Note: Personal Apps always have the bulk edit/delete/duplicate option enabled as you are the owner of the app. But shared apps need to have the Bulk option enabled by the app owner for you to use it.
Apply Custom Actions
The native mobile app also supports Custom Actions. Any functions that have been configured as custom actions can be invoked from the reports page. Tapping the icon

on the top right corner displays all the configured custom actions. You can choose to invoke the custom actions for one or multiple records at a time. 
Calendar Reports
Calendar reports are also supported in the native app. If you have created a report with calendar type for an application, it gets displayed in the native mobile app. You can choose to set month view or day view by selecting the required option from the top.
Screenshot displaying a "Calendar view"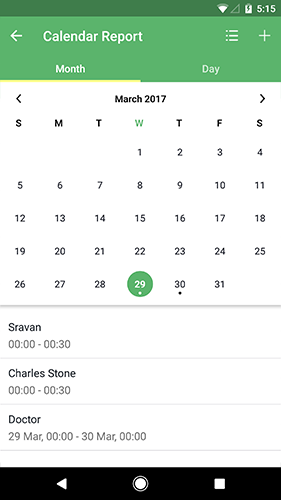 While viewing a record in the "day-view", date-time fields are displayed along with the time, and date fields are considered to be full events. For example, if an event starts at 10:00 AM on 1st May and ends at 10:00 PM on 3rd May, then 2nd May is shown as a full event while 1st May and 3rd May are displayed as starting and ending with 10:00 AM and 10:00 PM respectively
Accessing an app from multiple devices
At a given instance, you can log in to your Zoho account (and access your Zoho Creator apps) from a maximum of 10 mobile devices. To remove the unused sessions, please follow the steps given below:
Visit https://accounts.zoho.com.
Click Active Authtokens.
Search for "Creator" under the column Service and remove those auth tokens.
List of supported Barcode formats
Zoho Creator mobile apps support scanning barcodes of the following formats:
PDF417
UPC_A
UPC_E
EAN_13
EAN_8
RSS_14
RSS_EXPANDED
CODE_39
CODE_93
CODE_128
ITF
CODABAR
Limitations
When a user accesses from an Android phone or tablet, a file upload field accepts a file of size up to 5 MB
When a user accesses from an Android phone or tablet, editing data in rich text fields is not supported
Collection of payment on form submission is not supported. In other words, if you have configured a form to collect payment when a user submits that form, record creation will occur but redirection to the payment gateway will not occur.