Application Dashboard
Table of Contents
The Application Dashboard page is present in the edit mode of the application. The Dashboard page provides a complete view of all the components associated within the application.
Forms, Reports and Pages
The three main components - Forms, Reports and Pages are brought together under Dashboard.   
Forms are listed in the Forms section of the Dashboard.
Reports created for each form are listed under Reports section.
You can share, publish, access or delete any specific form/report/page right from the Dashboard.
Additionally the dashboard consist of the following features:
Universal Search tab
The Search box on the top of the page allows you to search for a Form/Report/Page within an application. This feature is very handy to use for applications that consist of huge list of Forms or Reports. A screenshot of the Search tab displaying search results is shown below.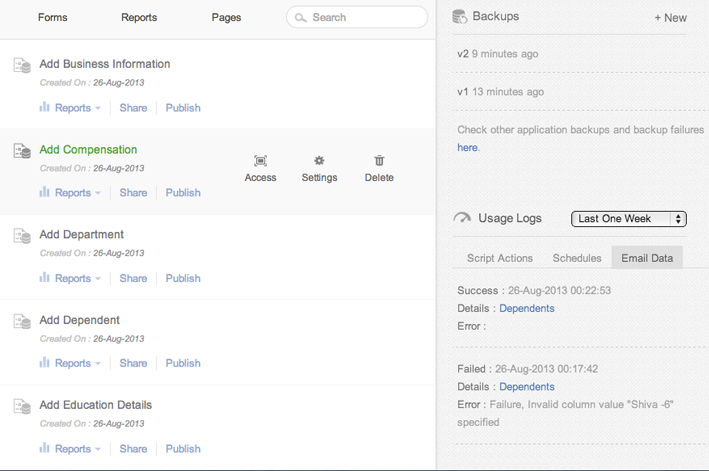 Backup your Application
The backup feature allows to back up an entire appication with data. The application can be backed up from the dashboard page by selecting the +New link.The following tasks can be performed from the backup section.
The backup file zip file can be downloaded by clicking on the download button from the backup section of the dashboard. It contains the deluge script file (.ds file) and a set of CSV files containing their data.
You can restore the backed-up file as another application by clicking on Restore this backup as another application button. Specify the application name and click on "Restore Now" button.
Click on the "Delete this backup" button to delete a particular backup file.
The following screenshot shows the list of back up files for the Employee Manager application.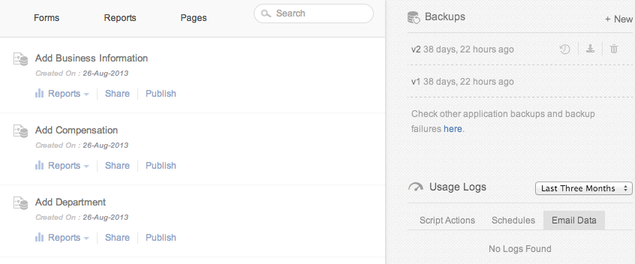 To know more about backup feature, please refer the backup section.
Usage Logs
The Usage Logs feature displays the list of activities performed in the application.You can view the script actions/schedules/email data/integration logs of the application from the dashboard page. Selecting a duration from the dropdown lists the usage logs for that particular time period. The screenshot below displays the script actions of the application.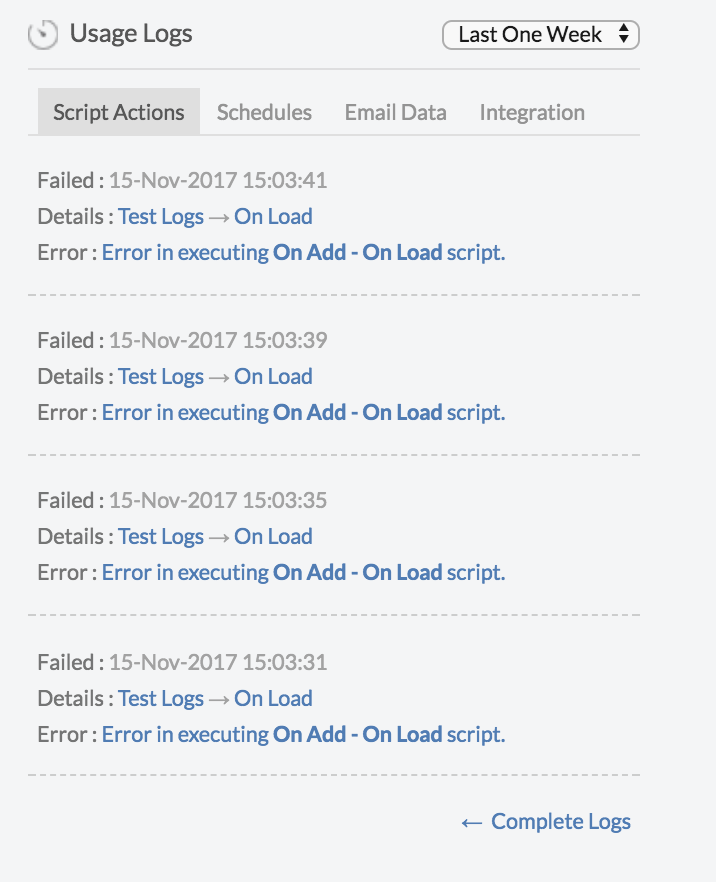 Similarly, the Usage Logs for schedules, Email data, and Integrations are listed under the respective tabs.
Sandbox
Provides an isolated environment to execute and test Application Changes without affecting the production environment. Click here to know more.
                                                                Screenshot displaying the "Sandbox" option.


​