Settings
All configurations specific to an application can be configured from the Settings page. Segregated into different sections, each setting facilitates enhancing the aspects of its area. To navigate to the Settings page click on the Settings option displayed on the left.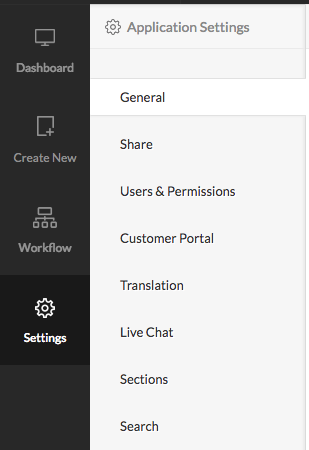 General Settings: View and edit settings like application name, link name, date format and other general aspects. You will be able to define the face level settings of your application.
Share: Invite individual users or groups of users to access your forms, reports, and pages and also disallow existing users from accessing the forms, reports, and pages shared earlier.
Users and Permissions: Utilize the Enterprise-grade Role-based security with a defined set of permissions and hierarchical accessibility.
Customer Portal: Enable your users to login into their dedicated internal system and access restricted data.
Translation: Set

 the preferred language in which you want users to access the application and create custom translations for each component within the application. Add and set the default language, enable browser locale language, dynamically set the application to user's login language, or allow the user the select the preferred language.

Customize: Assign or modify the layout and theme for your application.
Sections: Rearrange components and sections in the application using simple drag and drop method. Sections refer to the categorization of forms and reports in the application. Reorder, hide and delete the sections and also move the components of one section to another.
Search: Enable a search box to be included in your application and further customize the search criteria.