​
Users
Who is a Zoho Creator User?
A user is an individual who has access to a Zoho Creator workspace and Zoho Creator Applications subject to permissions granted by the Application owner. You(application owner) can add a user and control his/her permissions within the application. The number of users with whom an application can be shared depends on the pricing plan subscribed by you. For example, if you had subscribed to the Professional plan(10 users), then you can add a total of 9 users, one being yourself. You can add a user with a role as User or Developer.
A User can only access the shared application based on the access permissions configured by you. He/she cannot edit the application in your workspace.
A Developer can create applications in your workspace. He can access and modify the shared applications in the workspace if you provide edit permissions for the same.
To add a user, refer the Add new users page.
Manage Users
To access the Users page,
Click on the  (settings) icon displayed on the top-right corner of your Home page, to access the Account Setup page.
Then click on Users under User Management.
As an application owner, you can activate/deactivate a user, delete a user and set permissions for a user. The Users page looks like the following image: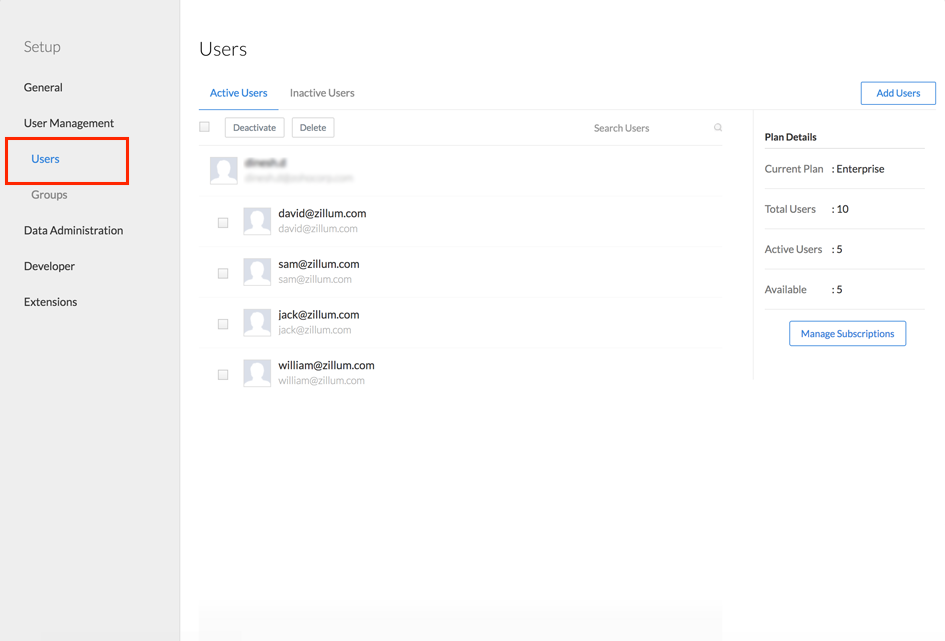 ​
Activate /Deactivate a User

By default, a user's status will be Active. You can share your application only with users whose status is Active. To deactivate a user, mouse over to the user's profile and click on the Deactivate button.

Note:

If you want to remove sharing access temporarily for a particular user, set his status as Inactive. Inactive Users cannot access the application that you have shared with them. And when you want to give back access, just switch the status to Active.

Set Permissions for a User

Added users can only access your(application owner's) workspace. They cannot perform any actions unless you explicitly grant them permissions. You can grant the following permissions to users:

Create Applications - Allow users to create applications in your workspace. Please note that you cannot access the applications created by them in your workspace unless they share it with you.
Account Setup - Allows users to access your Account Setup section.
Subscription - Allows users to view your subscription details.

To give permissions, hover your cursor on the added user and click on 'Permissions.' Check the required permissions and click OK.

Note:

Set Permissions feature is available only for newly created accounts. We are currently working on migrating the old accounts to new ones. Please contact support@zohocreator.com for any clarifications.
Related Links