Company Details
Overview
You can replace the Zoho Creator logo appearing in the application Home page with your own logo using this option. You can also customize the Header links appearing in your Application. Also you can specify the URL of the page you want to visit when you click on the new logo and the URL of the page you want to visit after signing out. The Company Details page looks like the following image: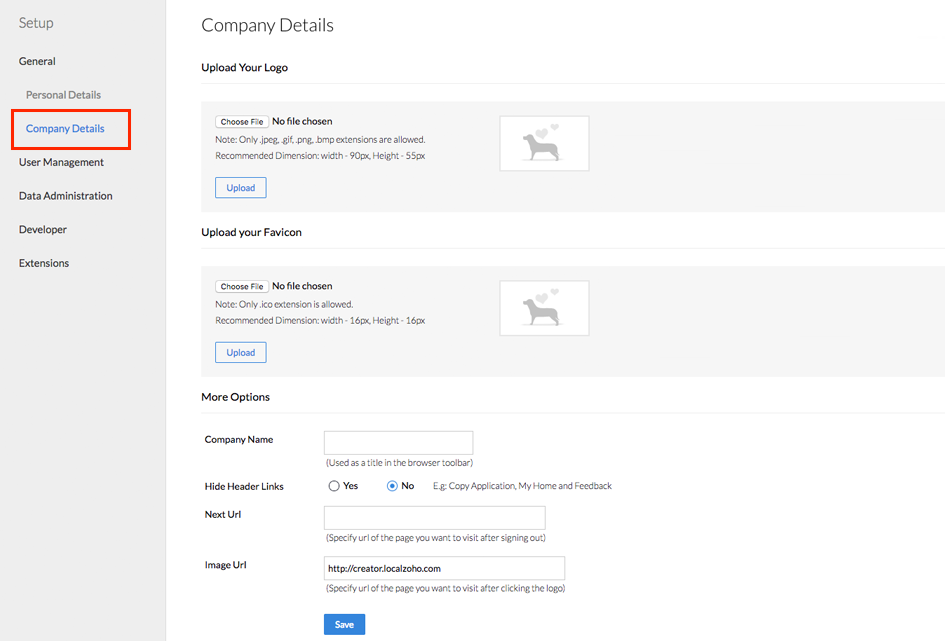 Steps to upload your logo and favicon
Note:
This feature is applicable only to accounts created before the second quarter of 2016 which do not have the new live UI enabled. We are currently working to accommodate this feature in all other accounts. We thank you for your understanding.
Click on the  (settings) icon displayed on the top-right corner of your Home page. You will be navigated to the Setup page.
Click on Company Details under General on the Setup page.
Browse and select the required logo/favicon and upload the same by selecting the Upload button. Now, you will find the uploaded logo displayed in your Home page and in all the Forms and Views when you access your application.
To remove the uploaded logo, click on the Remove Logo link displayed below the uploaded logo.
Steps to specify Company Name and to customize Header and Next URL
Click on the (settings) icon displayed on the top-right corner of your Home page. You will be navigated to the Setup page.
Click on Company Details under General on the Setup page.
Specify the Company Name, which will be u

sed as a title in the browser toolbar.

To customize the Header links, select Yes/No to show/hide the header links like Copy application, My Home and Feedback
Specify the URL of the page you want to visit after signing out in the Next Url text box.
Specify the URL of the page you want to visit after clicking the logo in the Image Url text box.
Click Save to update the changes