Early life
Nagel earned his bachelor's from the University of Monash in 2011. He majored in Environmental Science with a focus on bio-informatics and data mining.
In 2009, while pursuing his first degree, he picked up a second bachelor's course from the Open University of Australia, specializing in computer engineering. But around 2011, he realized that he could learn programming much faster by doing real projects. He decided to drop out.
Experience

with Zoho Creator

Nagel started his career in 2011 by learning languages such as Java, but came across Zoho Creator when he was looking for new technologies that could help him take care of the data layer in his applications.

He got his first real job at a nonprofit firm where he'd been volunteering for a while. The firm needed a database solution built, and he decided to use Zoho Creator to make it for them.

Nagel leveraged this development experience and started building his portfolio, which helped him get freelancing jobs from platforms such as Upwork. He started his software development business, Nuanced, where he worked with clients from varied backgrounds.

He pursued his business till 2015, when he switched to a full-time software development role at Learnosity. Since then, he's held various development roles at firms such as EnergyLink, GOFAR, and his current role at Okra Solar. He continues to work with the Zoho suite with a focus on developing Zoho Marketplace extensions like the Smooth Messenger SMS integration.
Key takeaways
265+ Zoho Creator projects

10+ years experience as a Zoho developer

185+ Zoho Creator clients
"Zoho Creator was an excellent way to enter the software development world for me. The low-code approach makes it easy to get started, and newer features like widgets allow you to achieve almost anything. As I've learned other programming languages, I continue to be impressed by how quickly you can build a working app in Zoho Creator. It's the perfect match for internal tools."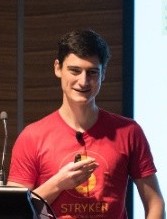 Jeremy Nagel,
Zoho Developer