Processes automated using Zoho Creator
Course Selection

Communication

Attendance

Exams

Accreditation

Events

Counselling
Key advantages:
Instant communication

SMS, email alerts, and push notifications are sent on time across multiple departments.

Multiplatform support

The app can be accessed on phones, tablets, and laptops by faculty and students.

Increased efficiency

Online attendance trackers, QR codes for event registrations, and calendar reports ensure streamlined processes.
"Right now, we're using six apps—six critical apps. So we can say that Zoho Creator runs our critical business processes".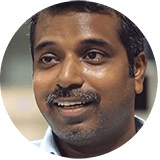 Prof. Anand,
Executive Secretary
Going paperless: A university's digital transformation journey
SRM University is one of the top ranked private universities in India. Founded in 1985, it's always been a game-changer in education, with its interdisciplinary curriculum, diverse student base, and excellent placement records. With over 45,000 students, 3,000 faculty members, and dozens of departments, there's a substantial amount of data to be managed. Their biggest challenge was managing all of this data on paper.
They were looking for a customizable solution and were open to trying something new. That's when Zoho Creator came into the picture, and since then, there's been no looking back. Within a year, they implemented a revolutionary academic system automating most of their operations, and as of today, they have six critical apps running their educational processes—all built using Zoho Creator.