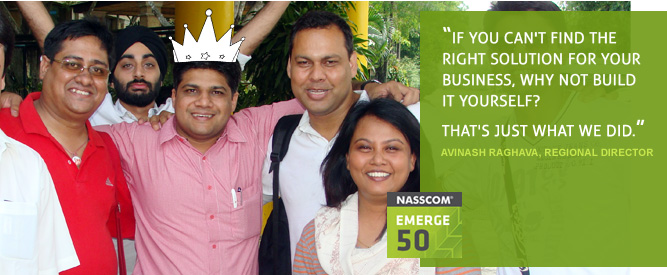 What NASSCOM is and what we do
We, NASSCOM, are a non-profit association with around 1300 members from wide range of areas including IT, ITES and the product sectors. Our primary motive is to maintain close interaction with the government of India in formulating national policies focusing on IT software and services. NASSCOM is a premier trade organization and a chamber of commerce of such industries.
Our need...
We once hosted an event, "EMERGE-50", for which we needed to collect and analyze data about emerging and new start-ups. The plan was to reach out to around 300 such companies, have them input data and gauge them on various aspects. Not as easy as it sounds because we wanted the entire bunch of data to be available for download in a particular format. It sure seemed to be a fairly complex process, until we stumbled upon Zoho Creator.
"I have never written a single line of code in all my life. Yet, I never was intimidated by the interface and Deluge Script."
... before Zoho Creator
Just as any other organization would have done, we too tried out a few other services, Survey Monkey and the likes. But our requirements were way beyond what Survey Monkey had to offer. Not that it was limited, but it was never meant for our needs, which is why we had to look for an enterprise solution.
For instance, some fields needed to be automatically populated with data based on the user input. We wanted the freedom to customize the form; re-branding of the form was of priority to us. Navigation between multiple forms needed to be easy and simple, especially because the questionnaire itself was a bit too lengthy.
Ta-da Zoho Creator!
"I realized how much you gain if you automate 80% of your work."
We've always wanted to use Made-in-India products and Zoho Creator fitted perfectly. It is entirely built out of India, which is also why we enjoy being associated with them. We found that whatever our requirements were, Zoho Creator seemed to possess the solutions. We did not come to know of Zoho Creator all of a sudden. We had already been impressed by Zoho CRM and Zoho Online Office Suite. In fact we at NASSCOM have been following Zoho services for the past 7 years. We hoped Zoho Creator would live up to our expectations and thankfully we haven't looked back since then!
I recall having Dr. Sridhar Vembu, CEO, Zoho Corporation, come over and deliver the keynote address for us at our annual conference last year in Delhi. It was sheer pleasure.
Congenial Support
Really supportive, indeed. We reached out to them and they stood by us; helped us to fine tune as well as test our application. The turn-around time was very less and it helped greatly in getting our application up and running without delay. That definitely was easy on our productivity. We were able to make many modifications to suit our ever-changing needs. It might not have been possible without their ready help because the questionnaire, as I already mentioned, was a bit complex for us to handle alone.
Sticky Factors
FLEXIBILITY: It felt great to be in control of our application. I could play around with my application, pass on the rights of the application to others and decide who was to be in charge. That added a lot of flexibility to the entire process. It was very smooth throughout.

"We've always wanted to use Made-in-India products and Zoho Creator fitted perfectly."

AUTOMATION: We were able to automate most of the work, 80%, safely said. The efficiency we gained from automation was one of the best things we got out of Zoho Creator.
EASE OF USE: We have been re-using the same application, making minor changes here and there for a long time now. It has been very easy to customize and use. That saved us plenty of time not having to learn too much about development. Would you believe it if I said, "I have never written a single line of code in all my life."? Best part is that I was never intimidated by the interface and Deluge script. That is another feather in the hat of Zoho Creator which I haven't seen elsewhere.
POWER OF ANALYSIS: My personal favorite is how it enables me to analyze the collected data and how it lets me download data in various formats. I just love the multiple analysis criteria it offers. From a large repository of data, I was able to isolate the required part of data very easily by applying these criteria.
A Walk in the clouds
Apart from "EMERGE-50" we also organized another event - "EMERGE Showcase", a simpler one though. That too had Zoho Creator at the heart of it. Should we come across any such requirement in future, we know who to turn to.