What is cross-platform app development?
Cross-platform development is an essential end-to-end hybrid app development method. It lets companies quickly develop and deploy robust business apps on a variety of platforms, without recoding for each native OS or platform.
6 ways
cross-platform app development can benefit your business
In recent years, the concept of cross-platform application development has taken off in a big way. Here are some advantages of developing cross-platform apps for your business: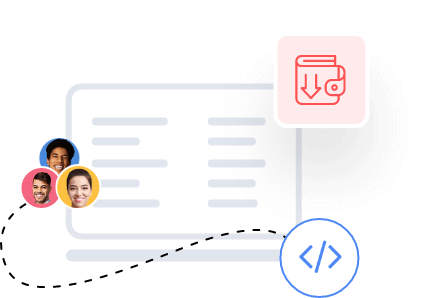 Cost-efficient code base
01
App development is much faster when it's from a single code base. Thanks to cross-platform development, companies no longer need to spend money on developing apps separately for each platform. Additionally, one development team can work on developing apps for diverse platforms.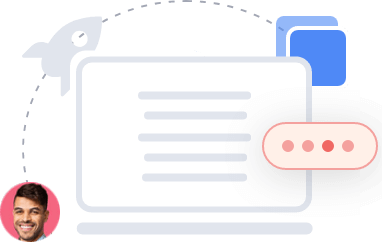 Light development workload
02
Reusing code cuts down on repetitive tasks, eliminates drudgery, and increases development speed, resulting in a faster time to market. And that's a win-win for all concerned—developers, marketers, and consumers.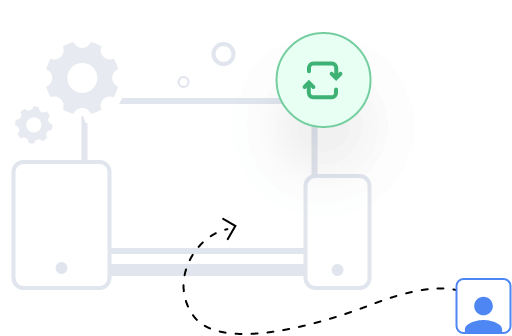 Faster multiplatform deployment
03
Cross-platform solutions make it easier for developers to adopt app architectures that deploy to multiple platforms and make code changes that translate across platforms. Not only does this make the deployment of apps quicker, but it also becomes easier to sync updates across all devices.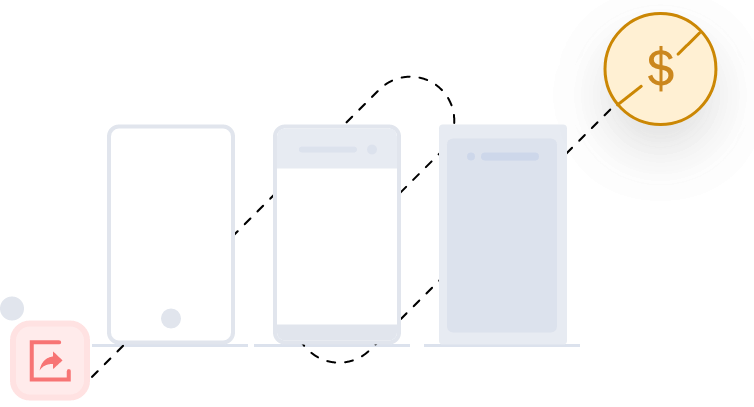 Native-like apps
04
A decreased development workload lowers the time frame and overhead that it takes to develop an app that runs as if it was engineered specifically for each native platform and OS. Reduce your company's development time and costs while creating applications for iOS, Android, progressive web apps (PWAs), and more.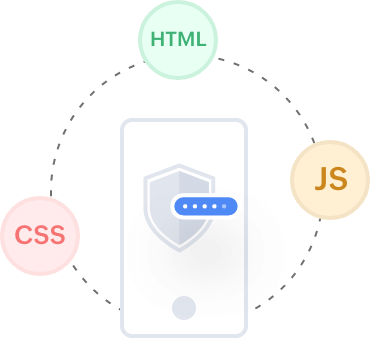 High-performing hybrid apps
05
Usually, there's a considerable performance gap between native and hybrid applications when it comes to CPU- and GPU-heavy tasks. Applications built on a cross-platform development platform perform on par with native apps in both functionality and security.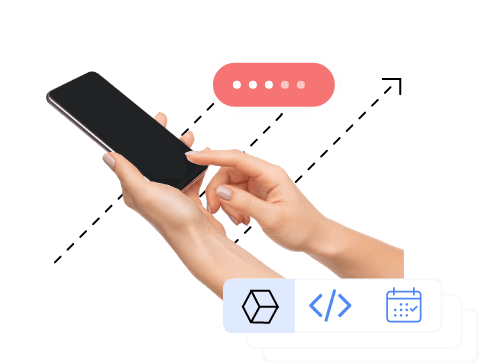 Powerful mobile backend frameworks
06
Although mobile apps are designed for smartphones and tablets, it's the backend layer that handles their business logic. You can develop a low-code cross-platform mobile app utilizing powerful backend frameworks, eliminating the complexity of hand-coding to build better applications.
Native vs. cross-platform app development
A native application meets the requirements of a particular OS by using its SDK and primary technology stack, and are compatible with the hardware, memory, and other programs on a device. However, creating a native application can be a very costly affair for SMEs and even larger enterprises. This is the very reason the advantages of cross-platform apps outshine native apps.Let's see how they compare:
Native applications

Cross-platform applications

Multiplatform deployment costs

Native applications In order to adopt app architecture to deploy to multiple platforms, dev teams have to create duplicate versions of the app that can also run on other platforms.

Cross-platform applications Deployment to other platforms requires little additional investment. You cut deployment costs in half, as only a single cycle of development and one code base is needed to create an app that runs on multiple platforms.

App development time

Native applications Development involves writing the app source code from scratch for each platform. This leads to additional development time as well as developer costs.

Cross-platform applications The code base is highly reusable, reducing time to market.

App users

Native applicationsWhen you launch a business app that's native to a single platform, you're neglecting the users on other platforms, losing up to 50% of your potential users.

Cross-platform applicationsDeploying a business app on diverse platforms lets you target a larger audience.

Programming expertise

Native applicationsNiche, expert, platform-specific developer skills are hard to obtain and cost more.

Cross-platform applicationsCross-platform frameworks are usually web-based, and it's easier to find expertise among a wider pool of developers.

Maintenance

Native applicationsMaintenance is time-consuming and costly, as the developers have to identify bugs and problems for each platform and create different updates accordingly.

Cross-platform applicationsYou are investing and maintaining a single app, so it's easier to make code changes and sync updates across all devices.
To summarize, platform-independent applications have multiple advantages:
70–90% reusable code
Easy maintenance and updates
Broader reach
Shorter time to market
Cross-platform app development with Zoho Creator
Zoho Creator is a low-code development platform for building attractive, native-like compiled applications that work seamlessly across platforms⁠—mobile, web, and desktop. Applications built on Zoho Creator are truly cross-platform compatible and function as PWAs, providing you with better UX functionality and robust features.
Built from a single codebase, Creator apps come with a highly responsive UI. They can also be installed to device home screens instantly, with all the backend processes already taken care of. Zoho Creator even facilitates offline entry of data⁠, which gets synced as soon as the device connects to a network.
Zoho's application development platform covers everything from UI/UX to workflow automation, and much more:
Multimedia content support
Capture images, audio, and video with your device, then upload them for instant access. Enable your field workers to instantly upload images and videos, saving them from carrying paper and clipboards to onsite locations.
Rebranded native- like apps
Personalize your business apps and tailor them to function precisely the way your enterprise needs. Promote branded applications with personalized logos, visual elements, and a customized look and feel before publishing them on the App Store and Play Store.
Offline access
Get offline access to your app and submit data, which is automatically synced across devices as soon as you're back online. Save reports for offline viewing and enable location-based workflows.
Mobile SDK
Zoho Creator's mobile SDK and UI kit allow users to build rebranded mobile apps while utilizing the platform's architecture and security. If you have a business app that's lacking in functionality, you can just build and attach the required module yourself.
Localization of apps
Create multilanguage apps to appeal to geographically specific target markets and provide your audience with the perfect individualized user experience.
Top brands that use our platform
Get started now with prebuilt applications
Not in the mood to build applications yourself? Don't worry! Our App Deck provides you with every app your business could need. Just install and customize them to meet all your business solution needs.