TOPICS ON THIS PAGE
What is citizen development?
Advantages of citizen development
Citizen development project implementation challenges
Encouraging citizen development in businesses
Citizen developer vs Professional developer
Low-code/no-code for citizen development
LCNC platform features for citizen development
Citizen development in action
Industry thought leaders on citizen development
FAQs on citizen development
What is citizen development?
Citizen development is the process of empowering non-technical users to develop custom business applications or software without the need for coding skills. This can be done through the use of low-code platforms, which provide a visual drag-and-drop interface for building applications.
What/who are citizen developers?
Citizen developers are people who create applications without a formal education in traditional software development. They are typically business users who need a custom application, but do not have the time or resources to develop it from scratch by themselves.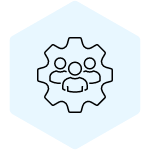 What are the advantages of citizen development?
Org-wide efficiency boost:
Allowing employees to create their own custom solutions can improve operational efficiency as they can build apps that are tailored to their specific needs. It also takes the load off the IT team.
Better employee engagement:
Citizen development can lead to increased employee engagement as everyone is given the opportunity to be creative and take ownership of their work.
Economize IT:
Developing custom business application internally can be significantly cheaper than purchasing off-the-shelf software or hiring more software developers.
Improved context and quality:
By involving employees in the development process, businesses can ensure that the resulting applications are of high quality and meet the needs of users, which increases the adoption.
What are the challenges in the implementation of a citizen development project?
Managing Expectations:
One of the challenges in citizen development is managing expectations. When business users are involved in the development process, they may have specific ideas about what they want the end product to look like. It is important to manage these expectations and ensure that everyone is on the same page in terms of the project goals.
Coordinating Activities:
Another challenge in citizen development is coordinating activities. There are numerous moving parts when non-IT employees are involved in the development process and it is important to coordinate all of the activities so that the project can move forward smoothly.
Training business/non-tech users:
Training business users to build apps is yet another challenge in citizen development. Business analysts and business leaders may not have experience with the application development process and it is important to provide training so that they can be effective participants.
Monitoring Progress:
One of the challenges in citizen development is monitoring progress. It is important to keep track of the project milestones and ensure that the project is on track. This can be a challenge when there are a lot of people involved in the process.
Learn more about citizen development challenges
How can businesses encourage citizen development?
Identify the right technology:
Businesses need to find the right tools that'll encourage business experts to take the leap into application development. Low-code platforms are considered the best step forward in this regard.
Offer training:
Businesses can implement a citizen development program, where they learn how to use new technologies to build their own apps and solutions.
Run internal contests:
They can also run application development contests and competitions to encourage citizen developers. This enables non-IT employees to easily create new business applications for the organization.
Recognize and reward:
Sharing success stories of how citizen development has helped a business unit or individual achieve their business goals is an effective way to spread the practice internally.
How are citizen developers different from professional developers?
Citizen developers
Professional developers
A citizen developer is a non-technical business user who creates apps to solve business problems.
A professional developer is a software engineer who designs, builds, and maintains applications.
A citizen developer usually create apps for a business use case specific to their business function. (Sales, marketing, HR etc.)
A software developer has the ability to build applications for a wide variety of use cases ranging from business apps to commercial apps, including technically complex projects.
A citizen developer, in most cases, will not be adept at using hardcore programming languages and would mostly use low-code/no-code tools for their app development requirements.
A professional developer, on the other hand, is someone who is trained in at least one programming language, if not more.
Citizen developers may not understand the underlying risks of using multiple software for achieving their business goals.
Professional developers clearly understand the need for governance in organizations and the challenges/risks that the usage of un-audited software can pose to security of business/customer data.
How do low-code/no-code tools facilitate citizen development?
Rapid development:
These platforms provide graphical building tools, making it easy for non-IT professionals to create simple applications without need to learn to code.
Ready-made components:
These tools often come with a library of pre-built components and templates, which makes it even easier for a citizen developer to build their own solutions without writing code.
Easy to learn:
Low-code/no-code tools usually have a drag-and-drop interface, which makes them very user-friendly with a reasonably flat learning curve.
Fast prototyping:
These platforms have built-in tools that can be used to quickly create prototypes or MVPs (minimal viable products) , without the need for too much coding knowledge.
Read more about how low-code/no-code platforms help build a citizen development practice
What should organizations look for in a low-code/no code platform for their citizen development project?
When choosing a low-code platform for practicing citizen development at your organization, some of the basic features/qualities that need to be ensured are:
Ease of use:
The platform should be easy to learn and use, with a simple drag-and-drop interface that makes it easy to create applications without writing a single line of code.
Flexibility:
A platform that can facilitate quick prototyping and simplistic editing capabilities can help citizen developers build, fail and learn fast to publish better software.
Pre-built templates:
They should provide good reference/templates of the most common business process software, which can be used by business users as a starting point for their software.
Excellent support and learning resources:
Although, this is not a technical feature in a product, an ever-present and empathetic product support and self-explanatory learning tools are the bare essential for any citizen developer to call upon whenever they hit a bump on their app building journey.
Transparency in pricing:
Organizations also need to make sure that they're working with low-code/no-code tool vendors who provide a transparent pricing plan or this might affect the project at the time of scaling.
Explore the features of a low-code/no-code platform for citizen development
What are some real-life examples of citizen development using low-code?
Citizen development is quickly becoming a norm in organizations and below are a few real business stories that back the effectiveness of the practice.
What has been the biggest business gain you've seen after implementing a low-code platform?
"One is definitely reducing the carbon footprint by migrating from paperwork. Second, we've been able to automate business processes for our field workers so that they get real-time updates on their mobile. This is a huge advantage considering the time we save. Also, we use all three platforms–web, tablet, and phone applications. We've got web applications for our office space and a mix of mobile and tablet for playground inspectors and other remote staff. From inspections, safety paperwork, and risk assessment to HR and Accounts."
Justin Kaese,General Manager,Playforce, AustraliaRead Playforce's story here
What has been your single largest gain after switching to a low-code platform?
"Well, I love farming and I hope to do that for the rest of my life. The USDA audits meant 500-600 pages of paperwork–hard to manage and bad for the environment. Now, we have just 2 sheets of paper in total. So when a low-code platform can take care of audits and farm management, it saves a lot of our time which can be put to good use on the soil."
Pedro Schambon,Founder and CEOMy Father's Farm, USRead My Father's Farm's story here
From a business standpoint, what would be your single biggest gain after switching to a low-code application development platform?
"Since BBN runs completely on low-code, it has enabled me to go paperless, which is massive from a sustainability aspect. I send links to documents in the case of sales quotes, purchase orders, sales invoices, etc. I've also written a complete multi-currency double-entry accounting system. This is significant for companies based in the UK, because at the end of the financial year, during the Her Majesty's Revenue and Customs (HMRC management accounts process, I send the authorities just one file. This saves a substantial amount of time and money."
Blair Nimmo, Founder and CEO,BBN International, UKRead BBN International's story here
Industry leaders thought on citizen development
Citizen developer strategies using low-code platforms are a key technology trend. Forrester recognizes three distinct models for enabling citizen development: privateer, democracy, and federation. The democracy model allows anyone in the firm to develop low-code applications — with few formal development processes — but manages risk by restricting citizen developers to a specific range of application use cases and scope.
Forrester's low-code citizen developer case study for Globe

By 2026, developers outside of formal IT departments will account for at least 80% of the user base for low-code development tools, up from 60% in 2021, due to multitudes of citizen development, and executive-sponsored democratization initiatives.
Gartner's Forecast Analysis: Low-code development technologies
Looking for a low-code platform for your citizen development project?
Explore now
Frequently asked questions about citizen development
What is shadow IT and how does citizen development help in preventing it?
Shadow IT refers to the use of IT systems, software, or services within an organization without the knowledge or approval of the IT department. It can create security risks, data breaches, lack of standardization, increased support costs, and difficulties in managing systems.
Organizations can provide citizen developers with IT-approved tools and technologies like low-code/no-code platforms to build apps. This helps in reducing the risk of shadow IT and encourages innovation within an authorized space.
Who can become a citizen developer?
Any employee (business analysts, project managers, and even IT professionals) within a company who has a basic understanding of technology and the motivation to learn can become a citizen developer. The key is that they leverage low-code/no-code platforms to create software apps or new solutions without formal training in traditional software development.
What is the citizen development model?
The citizen development model is a business framework that enables nontechnical individuals to create applications using low-code or no-code platforms. It empowers users to leverage their domain expertise and reduces the reliance on professional developers. It also ensures that collaboration and governance align with company standards.
Employees are often provided with training and support to enhance their development skills. The iterative development and scalability of low-code/no-code platforms enable citizen developers to build new apps or modify existing applications on their own.
What's the need for citizen development?
Citizen development addresses the growing demand for faster and agile application development within organizations. It provides nontechnical employees the ability to build their own applications, reducing the burden on IT and enabling them to focus on more technically complex projects.
It promotes innovation and problem-solving in business units, and fosters a sense of ownership and empowerment among employees, leading to increased job satisfaction and productivity. It supports organizations in keeping up with the rapid pace of digital transformation for achieving greater efficiency, competitive advantage, and business impact.
What makes a good citizen developer?
A good citizen developer is any individual within an organization who has in-depth understanding of their domain but lacks knowledge of formal coding. They're motivated by the desire to find innovative solutions to improve efficiency and productivity in their field. While they may not be highly skilled in coding, they are comfortable working with technology and have a basic understanding of software applications.