How can a Zoho Creator certification help you?
Gain access to an exclusive peer group of over 700 certified developers to support and mentor your journey
Receive early access to new features, and special privileges in your account
Share your knowledge with the community and be showcased at events and other engagement activities
Add value to your business and career with productivity and innovation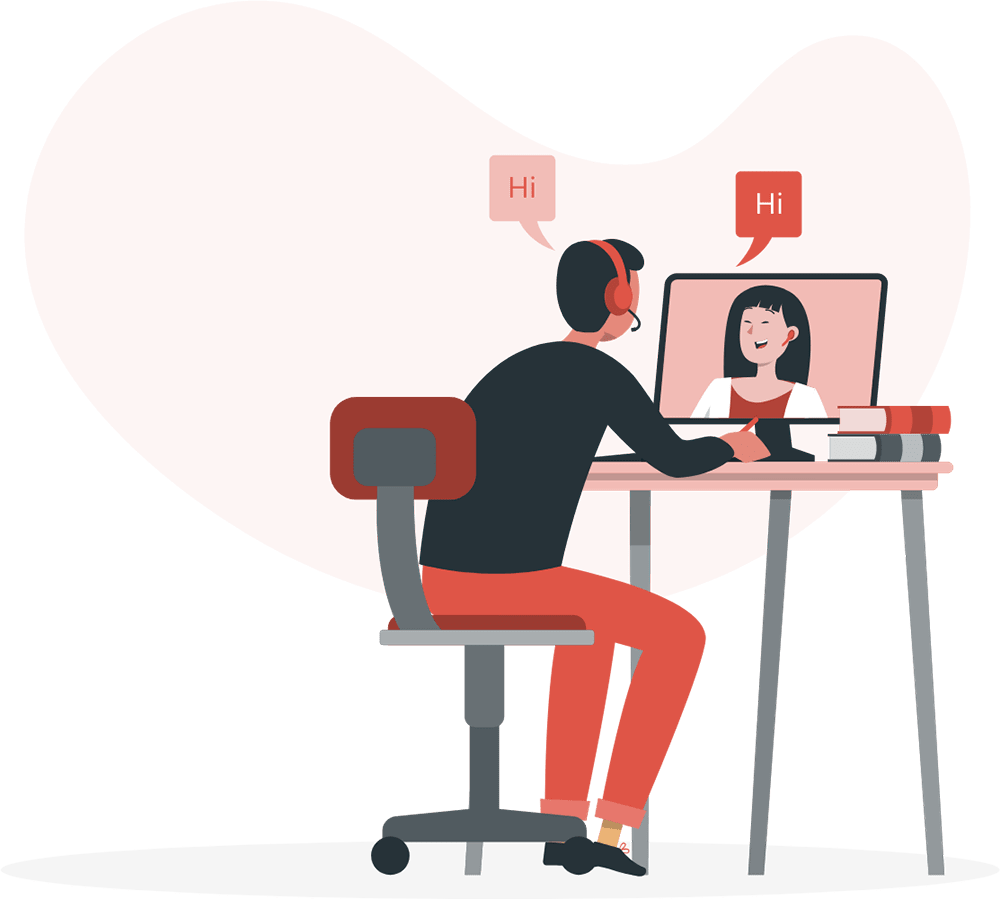 Certified Personnel are crucial resources equipped to help your teams be more agile in the face of change
Certified Developers are twice as productive, resolve issues faster and can take care of L1 support
Developers can act as the Zoho POC, implement new features and keep you with ease and efficiency
Promote your brand as part of our Community activities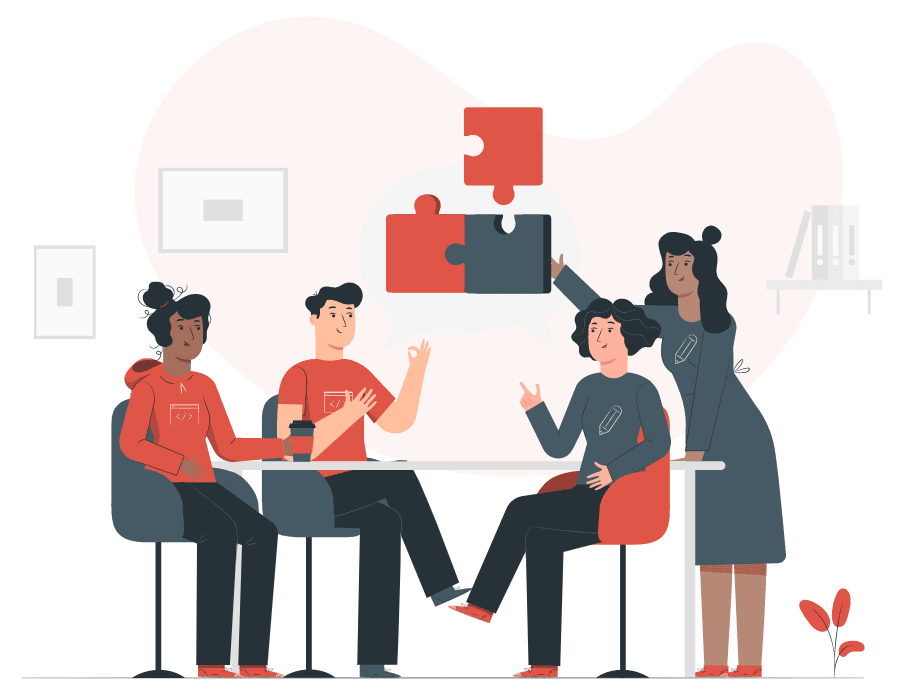 Choose the path that best suits you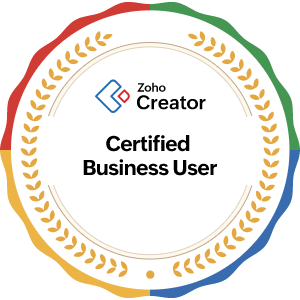 Business User Certification
For all individuals. No coding experience required.
View details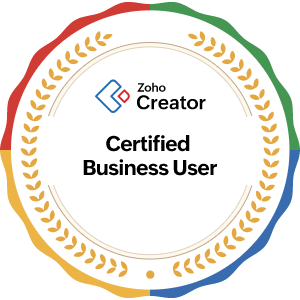 Business User Certification
A Certified Business User is a non-developer who can build simple applications that have a few forms and reports, using Creator's no-code features. It's an ideal certification for a citizen developer just beginning on Creator, or an administrator who manages the application.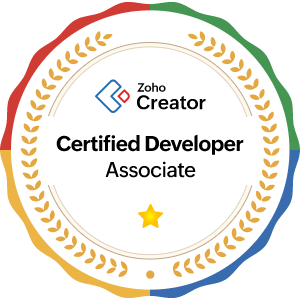 Associate Developer Certification
For individuals with prior coding and implementation experience.
View details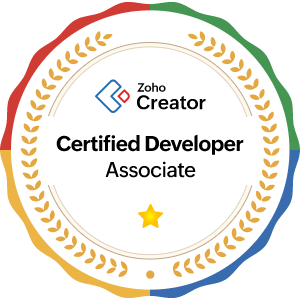 Zoho Creator Certified Developer – Associate
An associate level developer has a solid grasp of Zoho Creator concepts, and is comfortable building simple to medium-complexity applications. They can quickly learn new features as they are released, as well as handle level 1 support issues on their own.
Eligibility: All individuals (No project experience required)
Validity: 2 years from the date of issue
Download Exam Guide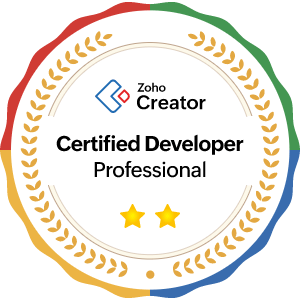 Professional Developer Certification
For individuals with extensive experience in implementing Zoho Creator based solutions.
View details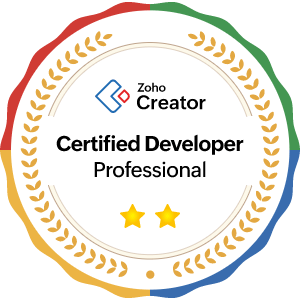 Zoho Creator Certified Developer – Professional
A professional-level developer can plan and develop enterprise-grade implementations using Zoho Creator. They have unique insights into Creator development and can add value with their knowledge of code optimization best practices, architecture design, integrations, and third-party applications/programming languages. They have a good understanding and ability to articulate the benefits as well as challenges in using Zoho Creator vis-a-vis traditional development.
Eligibility: Minimum 1 year experience as Zoho Creator Certified Developer - Associate; should have executed several medium-complexity projects successfully for a customer
Contact us
Frequently Asked Questions
What are the requirements for training and certification?
The Business User Certification, and Certified Developer - Associate level certification do not have any preset eligibility criteria. However, participants are requested to analyze the syllabus covered and attend the training most suited to their existing skill set.
The Certified Developer - Professional level certification can be taken by people who have a minimum of 1 year experience with the product.
What is the difference between attending a training+certification event and taking the exam directly ?
In a training+certification event, training will be provided on the syllabus pertaining to the exam concerned, along with 1 free attempt at the certification exam.
If you feel confident about your knowledge of Creator, you can directly take the online exam by making a one-time payment.
Why should I get certified instead of just getting trained?
A Zoho Creator certification is a globally recognized accreditation that can help boost your career opportunities. Analysts predict that skill-based hiring and contract work will become more prominent in the near future. And low-code has come into greater focus as companies look for easier ways to achieve speed and agility. Earning a certificate will differentiate you from the crowd and give you a competitive advantage.
How do I get started? What is the difference between attending a training+certification event and taking the exam directly?
Where can I get the exam details and sample tests?
Please download our exam guides for:
When do I receive my official results after taking the exam?
Your score will be displayed on the screen as soon as you complete the exam.
When do I get my certificate upon passing an exam?
Once you pass the exam, instructions to log in to your dedicated developer portal will be sent via email. Fill in your profile information, and download your badge and certificate. Please make sure to whitelist the address certification@zohocreator.com
How can my customer/employer verify my certification?
I'm still having trouble. Who can I talk to about my issue?
What are the support channels that I should be using?