Leveraging Zoho Creator to achieve 10x revenue and productivity
The Mercado Libre application

This is used every time new products are added to the inventory. It synchronizes with La Cháchara's ecommerce website and automatically displays product prices in Mexican pesos, after conversion from US dollars.

The Inventory application

This is used to assess the availability of items in the warehouse, when to replenish and replace items in stock, and when to add new SKUs.

The Shopping List application

This provides a wishlist-like functionality for customers. The procuring department uses this application to obtain the details of all the products requested by customers.

The La Cháchara dashboard

A single unified dashboard created using Zoho Creator's page builder, which provides a granular view of how each department is functioning.
"Before using Zoho Creator, our monthly earnings were $10,000. Now our productivity has increased tenfold, and these days we're up to $100,000 a month! We recently managed to reach our first annual $1M in sales, and reached a total sales figure of 50M pesos, which equates to about $2.6M. This is something we are very proud of."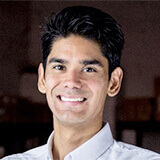 Oscar Isaias Garcia,
Founder, La Cháchara
The problems faced by La Cháchara
Initially, La Cháchara kept track of inventory manually, but it was hard to accomplish this using ledgers. La Cháchara then transitioned to spreadsheets, but found collaboration to be very difficult. They then switched to Microsoft Access, but even that did not grant them the efficiency they were looking for. And worse yet, administrative problems started cropping up, causing hurdles in communication and productivity slumps.
Why La Chachara chose Zoho Creator
Oscar Garcia, the founder of La Cháchara, evaluated multiple solutions before finally choosing Zoho Creator.
La Cháchara chose Zoho Creator because:
It's an economical alternative to other solutions.
It has a short learning curve.
It can create online inventory databases without the need for computer programming knowledge.