How Rapid Recruitment Asia automated their entire business with a custom ERP powered by low-code
"Compared to using spreadsheets, the Zoho Creator application provides more control and a better overview of business functions. It encompasses multiple facets of our recruitment operations, effectively streamlining various processes."
Keith Tan, Director, Rapid Recruitment Asia
Created by : Rapid Recruitment Asia
No. of employees : 50
Industry : Recruitment
Implementation partner : The Techno Set Sdn. Bhd.
View FAQs
About Rapid Recruitment Asia
Rapid Recruitment Asia is a prominent recruitment firm based in Singapore. With over 40 recruiters, they provide temporary and contract staff to support and scale clients' business operations. From logistics and supply chain to healthcare, manufacturing, and finance, the company also assists a vast range of clients in hiring talented individuals for specialized roles through their permanent staffing services.
In this case study, we'll take a look at their comprehensive Zoho Creator-powered ERP system that helps them tackle operational challenges that previously hindered their efficiency.
"We needed native applications to align our business process, while also reducing manual work with automation."
- Keith Tan
The challenges
Before adopting Zoho Creator, Rapid Recruitment Asia relied on a CRM system and managed internal processes using Google Sheets. While these tools served certain functions, they lacked integration and control over company-wide processes. The absence of reliable tracking and the use of multiple platforms for various tasks resulted in disjointed operations. The firm eventually recognized the need for an all-encompassing application that could centralize their recruitment processes and eliminate manual work.
"We actually used a CRM system and spreadsheets like Google Sheets to manage our operations. But we needed more automation and integration to reduce manual work processes and increase transparency."
- Keith Tan
The solution
Building a custom ERP through The Techno Set Sdn. Bhd.
To address their operational challenges, Rapid Recruitment Asia reached out to Omar Khamam, founder & CEO of Malaysia-based business solutions provider and long-standing Zoho Partner, The Techno Set Sdn. Bhd.
When evaluating available solutions, Rapid Recruitment Asia explored many native applications. However, they found that prebuilt HR applications didn't align with their specific requirements. They knew they needed to incorporate their exact needs into a single, comprehensive application tailored to meet their requirements. With Omar's assistance, the firm built an end-to-end recruitment ERP on Zoho Creator.
Here's what it covers:
CRM module
Previously, all data was captured through spreadsheets, resulting in issues such as data loss and lack of transparency. However, with the exclusive CRM built on Zoho Creator, Rapid Recruitment Asia now captures leads and manages the entire customer lifecycle until the lead is converted into a client. The CRM encompasses multiple stages, from capturing leads to drafting terms of business (TOB) contracts, all facilitated within Zoho Creator. Furthermore, extensive contract management is carried out using Zoho Creator forms.
E-contract modules
Rapid Recruitment Asia utilizes three templates for e-contracts based on job types: freelance, permanent, and outsourcing. Once the TOB is filled out in the application, a Writer document is generated, incorporating all the input data into the final contract. Integration between the custom ERP and Zoho Writer ensures that the contract is generated with variable data. Recruiters, who are the owners of the records, can access the contract in Zoho Writer through the provided WorkDrive link. A hierarchical setup enables both recruiters and account holders to access the record, providing seamless collaboration.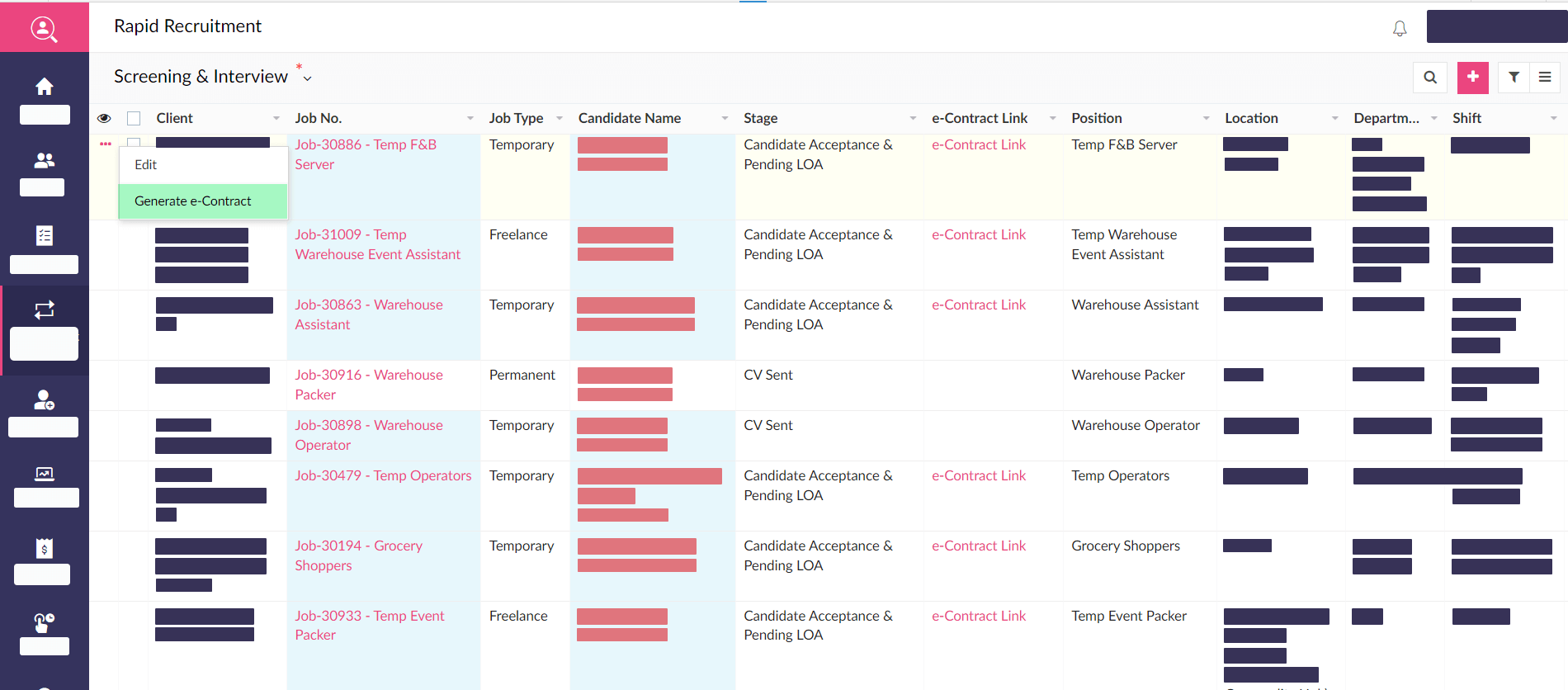 Online job application
To adapt to COVID-19, Rapid Recruitment Asia developed an online job application. Each recruiter sends a personalized link to candidates via WhatsApp, and once the candidate fills out the application, they're assigned to the recruiter who sent the link.
The system includes a workflow to identify and blacklist candidates who have applied multiple times.
The system also features dashboards to analyze recruiter performance, allowing management to track activities within the organization and optimize commission rates for each recruiter on a monthly basis.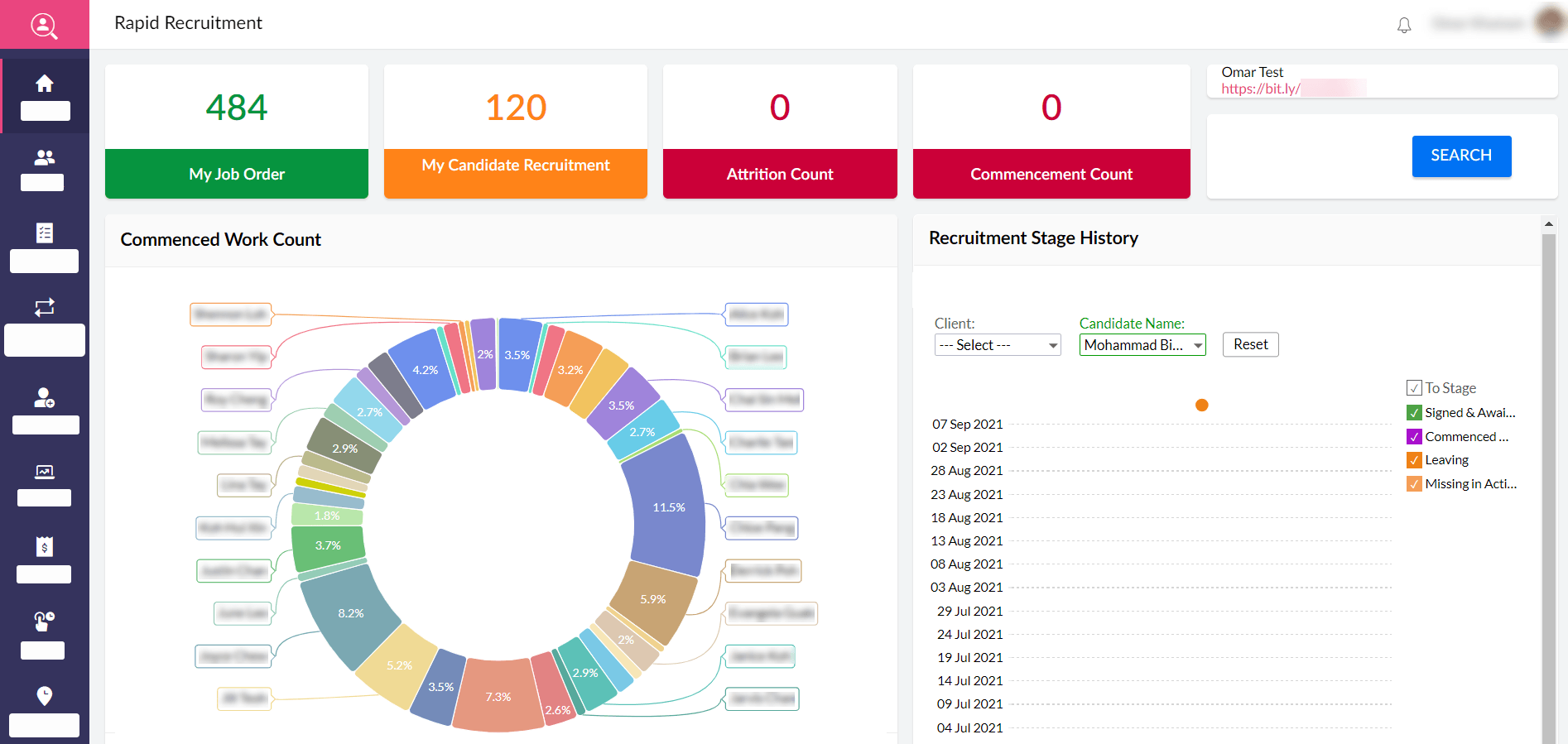 Leave management
Rapid Recruitment Asia utilizes a leave management solution to track different types of leave, leave balances, and holiday balances. Users can directly apply for leave through the solution by selecting the date and type of leave while checking their balance. They can also apply for leave on behalf of team members. A dedicated dashboard displays the leave calendar, leave balances, and sections for administrative approvals.
Benefits
Through their custom ERP, Rapid Recruitment Asia has made significant improvements in their operations. The custom application provides better control and oversight from a macro perspective, allowing management staff to gain comprehensive insights into the company's performance. Unlike the limitations of Google Sheets, the new application offers enhanced automation and integration across various recruitment operations. From generating employment contracts to document management, the application streamlined multiple processes that previously operated independently on different platforms.
"Zoho Creator is a great option for companies considering a custom application. It's much cheaper than building a system from scratch and offers the benefits of customization without the excessive costs."
- Keith Tan
Going forward
The grass ahead looks greener for Rapid Recruitment Asia, as they plan to further extend their application's functionality. While some applications like finance and payroll will continue to operate separately, they aim to integrate features related to payment management into the Zoho Creator application. The firm remains committed to ongoing improvements by refining existing processes and enhancing the user interface to optimize their day-to-day operations.
"We are continually working on improvements, addressing issues and enhancing the user interface. It's an ongoing journey, and we appreciate the support and assistance provided by Omar and Techno Set."
- Keith Tan
Get a free, personalised demo.
Thank you for sharing your requirements with us. Our team will reach out to you soon.
Frequently Asked Questions
What is Zoho Creator?
Zoho Creator is a low-code application development platform that allows users to create custom applications on their own, with minimal coding experience. The intuitive drag-and-drop interface empowers developers and business users to build web and mobile applications that satisfy all their unique requirements with ease.
Are applications built on Zoho Creator scalable?
Applications built on Zoho Creator are built to auto-scale—the back-end infrastructure seamlessly scales as business demand grows. Currently 14,000+ customers across 180+ countries are using over 6 million applications built using Zoho Creator, a testimony to the power of the platform.
Does Zoho Creator have a free plan?
Yes, Zoho Creator has a free plan. This plan comes with a limited feature set and only has one user, one application access, 250 MB storage, and 1,000 records. However, you have the option to upgrade to the paid plan whenever you wish.
What can I build on Zoho Creator?
Be it a task manager, a CRM, an ERP, or an application for almost any situation—you can build it on Zoho Creator. Just drag and drop elements on our visual builder and see your apps come alive instantly.
Can I build mobile apps on Zoho Creator?
Yes, the apps you build on the web run natively on PCs, tablets, and both iOS and Android mobile devices. You can also rebrand them and share it with your employees and customers instantly.
Expand All
Collapse All