Key advantages:
No communication gaps

Every piece of information is handled in real time by the ICP app.

Reduced costs

No unnecessary spending on IT assets.

Minimized errors

As more processes were automated, errors disappeared.

Mobile capability

Field workers are able to receive updates and enter data on the go.

No maintenance needed

ICP can work towards their cause without worrying about the underlying infrastructure of their applications.
"I don't have the feeling that this is a software application. I think this is an app for ICP. That's what we call it—our own application."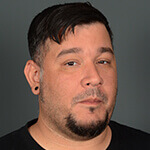 Manuel Escobedo,
IT Manager
A new chapter for ICP
For a company in the digital asset management space, ICP always had global ambitions. And, in order to perform at that level, ICP required a quality framework to manage their businesses and assets.
Taking a step away from spreadsheets was always challenging. They wanted software that would be reliable and help them ensure data flow between multiple departments. That's how ICP came across a new technology called "low-code" and eventually, Zoho Creator. With a bit of prior coding expertise, Manuel then built the application ICP uses to manage the IT department at their London office. The successful implementation of Zoho Creator convinced other departments to try the platform. As of now, six departments in London use Zoho Creator, and on the recommendation of leadership, it's even made its way into a couple of ICP offices in USA.
With Zoho Creator, ICP doesn't have to worry about streamlining their business operations anymore. Employees have all the information at their fingertips and can now work towards their larger goals uninterrupted.