Key advantages:
Complete traceability

SMS, email alerts, and push notifications are sent on time across multiple departments.

Minimized errors

By automating processes, captured data is accurate, which in turn minimizes production expenses and revenue tax errors.

Interactive engagement

With the mobile app, workers in the olive fields, drivers, and customers around the world can access information like batch numbers, delivery status, and container details.
"As a small business, we were able to fully digitize our processes and improve our operations without having to break the bank! We would have spent a fortune if we had to go with other so-called "Enterprise ERP" platforms for the same level of functionality and flexibility."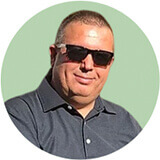 Making manufacturing measurable with Zoho Creator
Ozelia, an artisan olive oil company based out of Turkey, produces premium olive oil from their own organic orchards, and exports it to the United States. Traditionally, olive oil production is a "zero technology" business, and most of the processes were handled manually, without using any software tools. As they started distributing their products in various mediums—like online stores, retail outlets, and local grocery—handling large volumes of data became challenging.
Mehmet Ozkan, the owner of Ozelia, wanted to invest in a solution that was tailor-made for olive oil production. After exploring a few software solutions, he zeroed in on Zoho Creator, as it ticked all the boxes. Within three months, he developed a powerful ERP application which helped them take care of every aspect of their manufacturing process including order fulfillment, production control, expense management, and customer support.