Key advantages:
Real-time production monitoring

KPIs about the production line and its volume, visualized on one central dashboard.

Empowered field workers

Employees can access data anywhere they go—the shop floor, client meetings, project sites— because the entire solution can be downloaded as a mobile app.

Faster, more efficient transactions

Data across software and devices syncs, and this has eliminated manual data entry and duplication.
"We'd need 30 operations executives to handle 8-10 orders a day. But with Zoho Creator, we needed just 11 people, and with the same team we can scale up to 50-60 orders a day."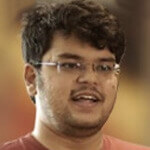 Nikhil Bhansali,
Director, Akaar Manufacturers
One-time investment to scale without limits
Based in Bengaluru, India, Akaar gives shape to new homeowners' ideas. They deliver products ranging from signage to doors and partitions— managing the entire manufacturing process right from material procurement to product delivery.
At Akaar, typically, a single order contains 30 to 40 fields of information. The unique nature of its business demanded a solution that could be customized to capture all the granular details in every order. In this ebook, the Director of Akaar shares how they built an application on Zoho Creator to adapt their custom manufacturing environment.