Overview
Founded in 2021, MachineMaze is a Bangalore-based B2B manufacturing platform that helps original equipment manufacturers (OEMs) worldwide with automated machinery, e-procurement, AI-driven solutions, and more. They're committed to offering on-demand, quick, and transparent manufacturing services to their clients. As a bootstrapped company, MachineMaze values innovation and aims to provide the best possible manufacturing experience for their customers.
The firm has built a complete manufacturing ecosystem on Zoho Creator, connecting customers and vendors with the internal team to manage projects. There are multiple touch points and flows involved in this process.
In this case study, we'll take a look at how Zoho Creator helped MachineMaze streamline their manufacturing operations with low-code.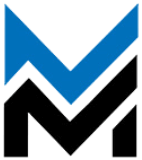 View FAQs
What was their vision?
MachineMaze wanted to build a platform that would enable parts and components manufacturing for large companies by providing them with access to a network of manufacturing partners. The platform had to be user-friendly, efficient, and cost-effective. They needed a tool that could manage the whole project, from nascent stage to delivery, track all the manufacturing audits, and provide a transparent view of the entire process. It also needed to be able to meter and measure everything and provide a recommendation engine for RFQ (request for quote) management. Additionally, they wanted to build an analytics module that would help provide their customers with complete transparency, including cost savings and cost per part.
Why Zoho Creator?
"We didn't really benchmark any low-code applications on the market", says Arun, as he talks about how MachineMaze started off with Zoho Creator and grew comfortable with the platform right away.
Testing the low-code waters
The digital transformation of manufacturing presented a significant challenge, and they were reluctant to invest a large amount of money into developing their own proprietary software. Initially, it was more about testing the waters, rather than creating a UI- and UX-driven system. However, as MachineMaze became more comfortable with building and leveraging Zoho Analytics—which they currently use for many tasks—they began to develop a sophisticated system that is highly analytical and precisely metered.
"I've been working on the Zoho Creator platform for more than five years now, and I believe the primary emphasis is on the idea and logic rather than the actual syntax and code. This allows for more time to focus on tying the entire ecosystem and connecting all the stakeholders digitally. Every stakeholder can access all pertinent information in an orderly fashion through their respective portals. That's a win-win situation for us."
-Hamsalekha S,
Software Development Manager, MachineMaze
Solution: The modules of MachineMaze's end-to-end manufacturing platform
Vendor management system
MachineMaze started off by building a vendor management system on Zoho Creator. All the vendors who come into their database go through an exhaustive audit process. Today, MachineMaze has over 300 vendors in its database, and it has over 200,000 data points on the vendors and their manufacturing capabilities.
Recommendation engine
The second app that MachineMaze built is a recommendation engine for RFQs. The system today has already discovered manufacturing products worth over INR 90 crores. This recommendation engine enables MachineMaze to reach out to vendors within its ecosystem and discover the right vendors for the right job.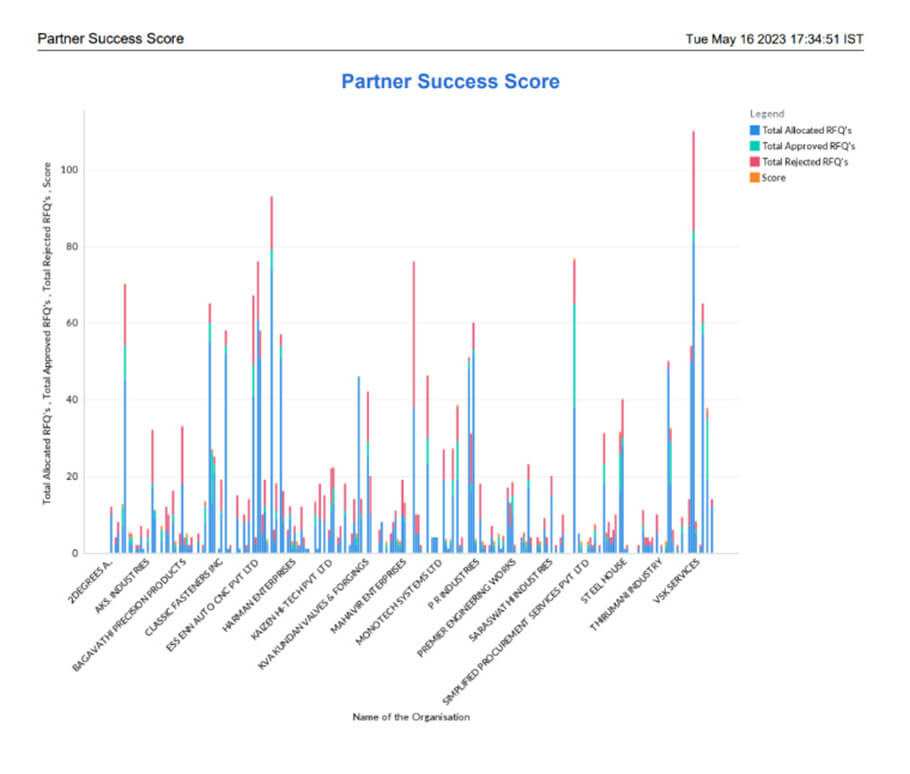 Fig. 1 - RFQ allocation to manufacturing partners, with approval and rejection scores
Project management system
The third app that MachineMaze built was a project management tool that can be used by the internal team, while also providing visibility to customers and vendors. There are three personas that use the system, which deals with end-to-end RFQ management all the way to price discovery, with a built-in finance module. The application enables MachineMaze to manage projects with visibility for both customers and vendors, from the nascent stages to delivery.
Fig. 2 - Company-level dashboard to track projects, RFQs, and total units delivered and in production
Fig. 3 - Month-based information on all completed and ongoing deliveries
"Some of the largest corporations, with over a billion dollar revenue, are actually using this to look at and manage a part of the manufacturing with us."
-Arun Pundi Ramu,
Co-Founder and CEO, MachineMaze
Data tracking with Analytics
The fourth app that MachineMaze built was an analytics module. The module provides MachineMaze's customers with complete transparency, including cost savings and cost per part. It presents the entire process in a transparent manner. "Workflows mapped on Creator, with the power of Zoho Analytics, has been able to provide our customers and manufacturing partners an experience like never before," says Arun.
The system provides over 20 modules for each stakeholder, including RBAC (role-based access control), for a seamless workflow. The firm can now initiate, trace, manage, and deliver all of the manufacturing contracts from a single view.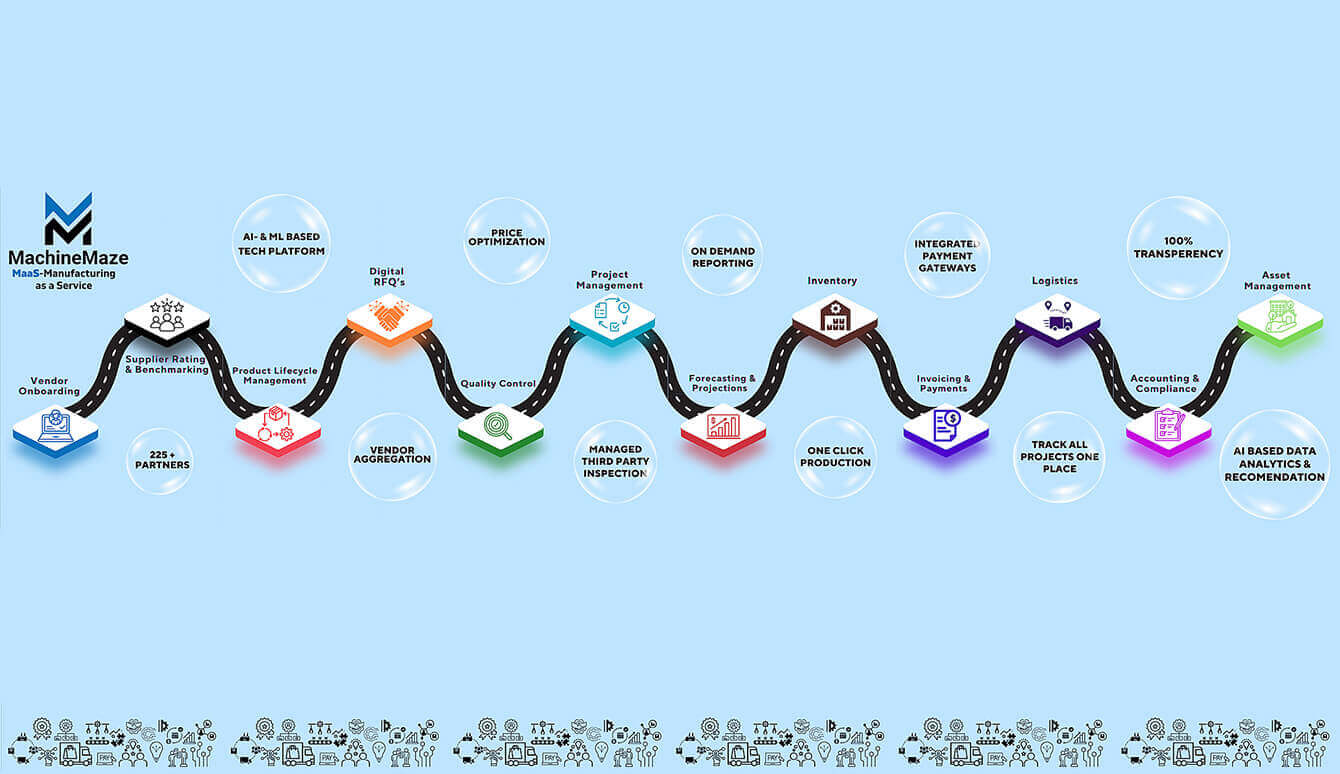 A pictorial representation of everything the system enables
"Today our project managers are actually using these interfaces for 9-10 hours a day, so they manage entire production and manufacturing projects using just this interface. We built this entire project with six to seven apps and then broke it down to three personas—what a customer would want to see, what a vendor would want to see, and what a project manager would want to see."
-Arun Pundi Ramu,
Co-Founder and CEO, MachineMaze
Rapid results
Zoho Creator has enabled MachineMaze to scale at a rapid pace, resulting in a considerable reduction in time taken to build and deploy apps. The platform's ease of use and flexibility has helped the firm incorporate required changes quickly. Their usage of analytics has also served as an important tool to present data in a timely and effective manner, leading to efficient decision-making and better business outcomes. Within the span of a year, MachineMaze has been able to successfully ship 550,000 units and has about 150,000 units currently under production.
"Low-code kind of empowers you, and that's the most important thing. There's a reluctance towards adoption in the market, because you're always made to feel like software development is a complex thing to do. I think once you break though it, this is the clearest way to get to an MBO or an MBP."
-Arun Pundi Ramu,
Co-Founder and CEO, MachineMaze
Get a free, personalised demo.
Thank you for sharing your requirements with us. Our team will reach out to you soon.
Frequently Asked Questions
What is Zoho Creator?
Zoho Creator is a low-code application development platform that allows users to create custom applications on their own, with minimal coding experience. The intuitive drag-and-drop interface empowers developers and business users to build web and mobile applications that satisfy all their unique requirements with ease.
Are applications built on Zoho Creator scalable?
Applications built on Zoho Creator are built to auto-scale—the back-end infrastructure seamlessly scales as business demand grows. Currently 14,000+ customers across 180+ countries are using over 6 million applications built using Zoho Creator, a testimony to the power of the platform.
Does Zoho Creator have a free plan?
Yes, Zoho Creator has a free plan. This plan comes with a limited feature set and only has one user, one application access, 250 MB storage, and 1,000 records. However, you have the option to upgrade to the paid plan whenever you wish.
What can I build on Zoho Creator?
Be it a task manager, a CRM, an ERP, or an application for almost any situation—you can build it on Zoho Creator. Just drag and drop elements on our visual builder and see your apps come alive instantly.
Can I build mobile apps on Zoho Creator?
Yes, the apps you build on the web run natively on PCs, tablets, and both iOS and Android mobile devices. You can also rebrand them and share it with your employees and customers instantly.
Expand All
Collapse All