Key benefits:
48% increase in revenue

80% drop in shipping documentation errors

50% drop in claims

Support during COVID
"Zoho Creator has helped our company become more structured, and having more structure helps put our processes in a place where they can manage more data with the same amount of people. The conversations in the company have switched from, how do we put out fires constantly, more towards, what can we do now, how can we provide better service to our customers, because we know that the system can handle it. "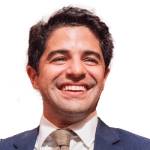 Santiago Medina,
CTO, New Coast Trading
Running a global trading business on Zoho Creator
NCT was founded in 2007 by Franliz Medina, Anabella Medina & Omaria Vielma in Columbus, OH as a digital agricultural trading company. Having scaled profits for traditional enterprises operating in the import/ export industry before, the co-founders wanted to make a lean and efficient organization with minimal operational costs.
To stay true to that, they made NCT a digital-first organization.
Since its inception, NCT used digital tools such as traditional spreadsheet software and email to manage business data and share it with various stakeholders.
This worked for them till the time they operated in smaller volumes. But as the number of orders, product variety, and shipments grew – employees at NCT found it exceedingly difficult to manage day-to-day operations.
Each employee spent a good chunk of their time in admin tasks. The only solution at the time was to hire more employees to manage the growing volume of data.
But that's when they came across Zoho Creator, which changed their day-to-day operations.