Key features of the KRC app
Trip-based profit and loss estimation

Vehicle-based profit and loss estimation

Driver performance monitoring

Order management

Expense tracking

Imprest cash system management

Vehicle maintenance

Route analysis
"Creator allows KRC Logistics to compete with the big players in the Indian logistics industry."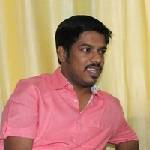 Giriraj Ramachandran,
Managing Director of KRC Logistics
Advantages of the apps built on Zoho Creator
Ease of use: The Zoho Creator apps are user-friendly. Employees of KRC Logistics don't need to be tech-savvy to use them.
Transparency and accountability: These apps have greatly enhanced the process transparency of the organization and the accountability of KRC Logistics' employees.
Scalability: The auto-scalability of the Creator apps allows KRC Logistics to run its operations using any number of personnel and vehicles, be it 5 or 500.