Key takeaways
3000+ vehicles managed

2x revenue

100+ clients

7 countries

4 languages
"Since using Zoho Creator, our rental fleet has grown from 180 machines at the beginning of 2015 to 1,600 at the end of 2019, and we also maintain 1,400 machines owned by our clients. We operated in just 3 airports in Spain, and now we have a presence in more than 30 airports in 5 European countries. We managed our fleet in 2015 with 2 after sales managers, and now we employ 6, which means we've scaled very efficiently. "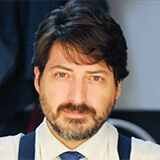 César Viteri,
CIO, AirRail
The problems

faced by Air Rail

Day-to-day operations were conducted using emails and spreadsheets. This was slow and inefficient.

The self-service website was causing customer satisfaction to plummet due to instability and unreliability.
The solutions

built using Zoho Creator

The Ground Support Equipment report application, built on Zoho Creator, is the solution to Air Rail's operational snags. It has become the single point of entry for all equipment maintenance and service requests at the company. A comprehensive application that provides insights into all the stages in the life cycle of rented vehicles and equipment, it provides users and clients access to all vital operational information that's required.

The Sales Assistant application allows Air Rail to keep track of which machine has been quoted to which client, which sales executive is responsible for the machine's transactions, and other important information.

These solutions—built with Zoho Creator—have enabled Air Rail to conduct its day-to-day operations seamlessly.
Zoho Creator's
business impact
At Air Rail, these applications are used for mission-critical tasks that ensure the operational viability of entire airplane fleets, and have assisted Air Rail in ramping up its operations.