Key benefits:
Reduces paperwork by digitizing the transmission of data

Easy to change or modify the app whenever necessary

Access to the application anywhere and at any time, even while in the field
"What really appealed to me about Zoho Creator, besides the fact that it was relatively easy to build the database, is that it had some degree of coding for the owner of the database to adjust or modify based on their specific needs. That was what really sold me on this low-code platform."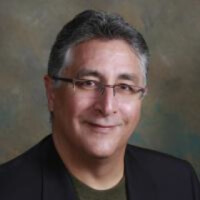 Dr. Febry,
Founder, TeleMD360
TeleMD360: When low-code meets healthcare
TeleMD360, founded in 2011, is a healthcare technology integrator and aggregator based out of Louisiana that offers business-to-business and business-to-consumer services. They also offer various technologies for their medical practice and hospice agency partners. Their mission is to enable database technology integrations that deliver the right information to the right person at the right time to achieve desired outcomes.
One of the biggest challenges they faced is compliance with the security requirements of HIPAA, in the United States. Modifying the structure of a field or table was taxing, as their previous platform didn't have many options for calculating fields and had no notification options at all. It lacked the ability to concatenate values from different fields into a single one, or fetch data from one table and move it to another. They were able to address all these issues with Zoho Creator.
With Zoho Creator they built the app in 2015 and have since expanded the database into other applications, such as operating a hospitalist service, where their doctors can follow patients to the hospital on behalf of other doctors who can't attend. They needed to improve the tool so that it could collect information easily about each hospital episode and capture the doctors' visit charges—and Creator helped them do exactly that.