Cutting-edge clinical care:
The MGM success story
"I'd have to say that Zoho Creator is not only one of the best low-code platforms you can find at an affordable cost, but also a constantly evolving product with fantastic technical support."
Harish Manian, CEO, MGM Healthcare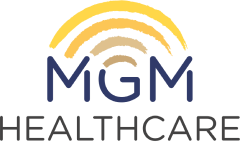 Created by : MGM Healthcare
No. of employees : 750
Industry : Healthcare
Implementation partner : Tenxhealth Technologies Pvt Ltd
View FAQs
About MGM Healthcare
MGM Healthcare is a 400-bed quaternary care multi-speciality hospital located in the heart of Chennai, boasting over 250 doctors and 12 Centers of Excellence. Established in 2018, the hospital is rated as one of the top organ transplant facilities in Asia, with over 500 successful operations in the last three years.
Over the years, MGM Healthcare underwent a digital transformation journey. During that, Zoho Creator helped revolutionize health care at the hospital.
"We wanted to digitize and automate every activity and process in our hospital so staff and doctors minimize the use of paper, Excel sheets, WhatsApp messages, and phone calls. We were looking for a tool that could help us achieve the above very quickly at an affordable price."
-Harish Manian,CEO, MGM Healthcare
Challenges
Before the implementation of Zoho Creator, MGM Healthcare relied heavily on manual processes for their clinical work. This included the physical transportation of medical records and the use of Excel spreadsheets for management reporting. This resulted in a tedious and paper-heavy process, leading to delays, wasted time, and increased costs. Additionally, waiting and turnaround times in key areas such as emergency services, lab services, and operation theater services were high, and the use of expensive manpower for simple, routine activities resulted in a waste of resources.
With the increasing demands and pressure to provide efficient and high-quality health care, MGM Healthcare needed a scalable solution that could automate their manual processes and streamline their operations. The implementation of Zoho Creator has allowed the organization to do just that, resulting in significant improvements in efficiency, patient care, and cost savings.
"We found that many of our processes were manual and time consuming, involving a lot of paperwork. This resulted in a waste of resources like water and energy, and led to high waiting times, process errors, and a lack of satisfaction in patients."
-Soundara Rajan,General Manager(IT), MGM Healthcare
Solution
Introduction to Creator through Tenxhealth Technologies
MGM Healthcare was introduced to Zoho Creator by their advisory board member and Zoho Creator partner U K Ananthapadmanabhan, CEO of Tenxhealth Technologies, and a veteran in the hospital industry for over 35 years. In 2019, he started implementing hyperautomation solutions using cutting edge technologies like low-code through Zoho Creator, IoT, LoRa wireless technologies, real-time location tracking system, and AI for many of their clinical and non-clinical services.
"The Zoho Creator platform has never failed since it's implementation. It's affordable and the support provided is excellent. Their video training material has been incredibly useful to train citizen developers within the hospital."
-U K Ananthapadmanabhan, Advisory Board Member, MGM Healthcare
With the help of Ananthapadmanabhan, the hospital started off with small, simple applications which didn't involve any automation. It was only a matter of time before they integrated IoT devices like water level sensors, GPS trackers, and temperature sensors with Zoho Creator powered apps using REST APIs.
It took the organization about three months to deploy solutions, and another three months for them to stabilize operations. Within a year, MGM Healthcare deployed multiple apps built on Creator to run numerous key processes such as:
Emergency and ambulance services
Biomedical services
Facility management services
Electricity, water consumption, and environmental monitoring
Surgical services
Dietary services
Fire protection and safety services
Benefits and ROI
Emergency and ambulance services
Monitoring the performance of ambulance services in a hospital is crucial for ensuring efficient turnaround times. It also involves monitoring the condition of patients inside the ambulance and accurately charging them for the ambulance transport services provided. To accomplish this, Tenxhealth built a software platform for MGM using Creator, integrating data from GPS devices installed in the ambulances with the hospital's database for patient demographic data and ambulance tariffs. This lets them track the ambulance and accurately bill patients through a single sign-on feature.
Biomedical services
The hospital has around 70 types of medical equipment, including ventilators, cardiac monitors, infusion pumps, syringe pumps, ECG machines, and OT tables. The equipment needs to be checked before use. In the past, a manual checklist was used, but now a Creator application with a QR code reader has been developed. Data is entered using a tablet or mobile phone, and the manager can monitor things in real-time to ensure equipment readiness is checked correctly and on time. The new system not only reduces paperwork but also makes it easy to show compliance with regular biomedical equipment checks as required by the National Accreditation Board for Hospitals (NABH).
"We're even using apps on mobiles and tablets. It is very fascinating to see our drivers, plumbers, and technicians using mobile devices to monitor equipment and utilities—more so when they come up with brilliant ideas and suggestions to improve the features in our Zoho Creator applications."
-Raja Rajan, Chief Operating Officer, MGM Healthcare
Facility management services
A digital checklist has been developed using Creator to monitor the cleaning of operating theaters, public restrooms, and ensure that patients and their attendants are informed of available facilities by guest relations executives within one hour of the patient's admission to the hospital. This has reduced a significant amount of paperwork and has increased patient satisfaction at the hospital.
Patient services
An average of 400 outpatients visit the hospital every day and 50 inpatient discharges occur daily. The hospital has been able to integrate its Zoho Creator review patient application with the hospital information system, providing detailed information such as when patients are scheduled for their next review and what investigations and procedures are required. This information is made available to the call center, which follows up with patients and enters the information into the Zoho Creator application. This is visible to the doctor's secretary, operations staff, and marketing staff. This integration has resulted in a 5% increase in revenue and an improved patient experience.
Electricity, water consumption and environmental monitoring
The hospital has developed a Zoho Creator platform and integrated it with IoT devices located in critical areas such as operating theaters, ICUs, and laboratory refrigeration equipment. This enables environmental condition monitoring for things like room temperature and humidity in these critical areas, as well as in refrigerators and cold storage to ensure quality medical care, better patient safety, and regulatory compliance. The implementation process is easy, cost-effective, and fast. Additionally, the hospital is able to monitor the entire hospital's electricity consumption in various functions like air conditioning systems, lighting, and medical equipment, as well as track water consumption in different areas of the hospital.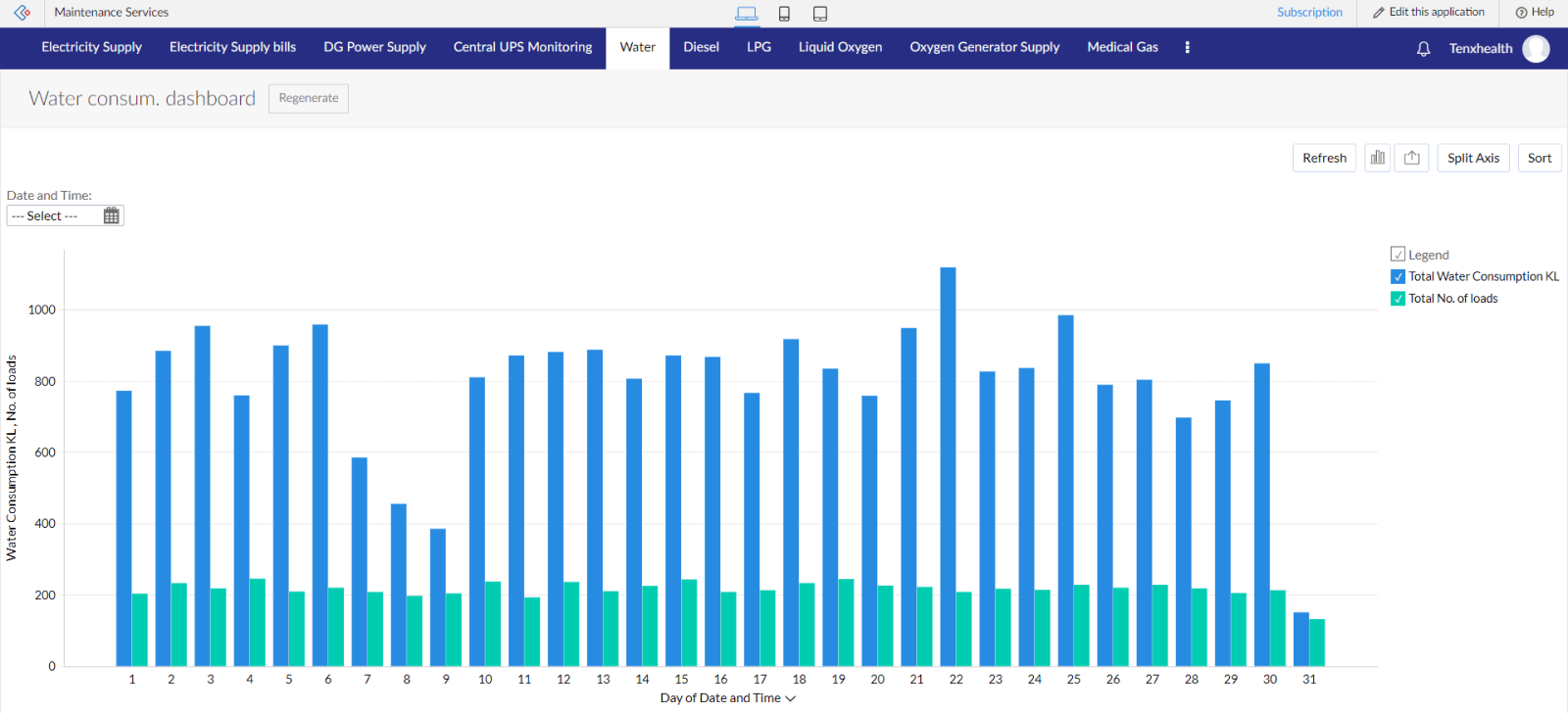 Surgical services
Monitoring the utilization of surgical operation theaters in MGM is an important key performance indicator (KPI) for patient care, regulatory compliance, and billing patients for using operation theater (OT) facilities. To accomplish this, a Creator-based OT application was created to track the "wheel-in and wheel-out" times of surgical patients. This application calculates the duration of OT usage and by integrating with the Hospital Information System (HIS), provides the exact amount of time a patient spent in the OT. Using this data, patients are charged for operation theater (OT) services based on the hospital's OT tariff. The application also provides patient, doctor, department, and date-wise OT utilization to management and hospital accreditation agencies such as the National Accreditation Board for Hospitals (NABH).
Dietary services
In the MGM Multispecialty Corporate Hospital, food is provided to patients and their attendants through 25 food delivery assistants. About 500 people are served daily. A mobile Creator application was developed to track the start and return times of each assistant for every food delivery trip. Assistants press a start and return button after each trip, providing complete information on the number of trips and the time taken. Supervisors can also monitor this in real time. This has resulted in a 25% improvement in delivery assistants' productivity.
Fire protection and safety services
The hospital is equipped with over 100 fire extinguishers, 50 internal and external fire hydrants, and a fire pump room all labeled with barcodes. Fitness checklists were created using Zoho Creator so technicians can scan QR codes and complete a digital checklist when near the equipment. This eliminates manual work and paperwork while ensuring fitness checks are done on time. Supervisors can monitor this in real time.
The organization has streamlined and automated most of their manual processes through Creator, reaping the rewards with:
20% gain in productivity
5% increased revenue
15% cost savings
25% accountability
50% time saved
Respond times are faster, staff is more productive, and patients are happier—primarily owing to a linear workflow that Creator has helped establish.
Looking forward
Going forward, the hospital is planning on leveraging Creator to build and deploy apps in less critical areas in patient care such as ICU, biomedical check lists, critical equipment utilization, and operation theater utilization.
"To any citizen developer considering Creator, I'd recommend starting with small and simple applications before upscaling over time. I would also tell them that they should celebrate small wins and compliment users for their contribution and commitment."
-Harish Manian, CEO, MGM Healthcare
Get a free, personalised demo.
Thank you for sharing your requirements with us. Our team will reach out to you soon.
Frequently Asked Questions
What is Zoho Creator?
Zoho Creator is a low-code application development platform that allows users to create custom applications on their own, with minimal coding experience. The intuitive drag-and-drop interface empowers developers and business users to build web and mobile applications that satisfy all their unique requirements with ease.
Are applications built on Zoho Creator scalable?
Applications built on Zoho Creator are built to auto-scale—the back-end infrastructure seamlessly scales as business demand grows. Currently 14,000+ customers across 180+ countries are using over 6 million applications built using Zoho Creator, a testimony to the power of the platform.
Does Zoho Creator have a free plan?
Yes, Zoho Creator has a free plan. This plan comes with a limited feature set and only has one user, one application access, 250 MB storage, and 1,000 records. However, you have the option to upgrade to the paid plan whenever you wish.
What can I build on Zoho Creator?
Be it a task manager, a CRM, an ERP, or an application for almost any situation—you can build it on Zoho Creator. Just drag and drop elements on our visual builder and see your apps come alive instantly.
Can I build mobile apps on Zoho Creator?
Yes, the apps you build on the web run natively on PCs, tablets, and both iOS and Android mobile devices. You can also rebrand them and share it with your employees and customers instantly.
Expand All
Collapse All