DAV Group of Schools automates their administrative operations with a custom ERP built on
Zoho Creator
"After implementing Zoho Creator, I saw a lot of productivity improvement in the organization, along with an increase in user satisfaction."
Karthikeyan, IT Manager, DAV Group of Schools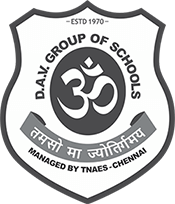 Created by : DAV Group of Schools
Use case : School ERP software
Industry : Education
View FAQs
Summary
DAV Group of Schools built unified custom ERP software consisting of 100 applications, including applications to automate processes for their IT ticketing system, conference room booking, school tours, internal auditing, fixed asset management, issue tracking, career counseling, vendor management, entrance exams management on Zoho Creator. This software enables the administration to manage all the needs of DAV schools in one place.
The company
Founded in 1970, DAV Group of Schools, Chennai, has been serving society by providing affordable high-quality education rooted in Vedic values, while remaining relevant to the times. They own 12 schools across Chennai, Puducherry, and Ranipet, that are affiliated with the CBSE, State Board, and NIOS.
The challenge
"Before switching to Zoho Creator, we faced three major issues:
If customers wanted to raise a ticket, they had to either call or message us on WhatsApp. Then we'd have to find a person manually and allocate the ticket. This used to take a lot of time.
Our fixed asset managment was paper-driven, which was a bit of a hassle to maintain.
Our vendors used to come physically to our campus to submit their bills. But this became chaos during COVID."
The solution: A custom ERP for school management
The IT team at DAV Group of Schools built around 100 applications using Zoho Creator, for managing and performing various administrative activities. The universal cloud data model of the platform allows seamless data transfer across these applications and enabled the institution to build an all-in-one ERP system, which helps them achieve their day-to-day tasks more smoothly.
Here are some of the most important applications built by their team for specific use cases:
IT service desk ticket management
The schools use this application to raise issues related to IT assets that need to be resolved. Once a user raises a ticket, they get an email confirmation and later receive status updates as well. On the backend, the status of the tickets is updated, which is automatically sent as an email update to users. Doing this helps DAV ensure that every stage of the ticket has been communicated clearly to users.
Using reports in Zoho Creator, users can also view the total number of tickets they've submitted. The status of each is highlighted using different colors for easy identification. The same application is used to collect feedback from users, which helps the administration in measuring and focusing on improving customer satisfaction. This feedback form is sent to the customer, and has prefilled details including the ticket number and user name. This makes it easier for them to submit their experience.
Initially, this entire process was done manually, and later they opted for another solution that ended up being unfeasible. Finally, they found Zoho Creator as the most suitable platform.
"We've had about 2,000 tickets raised since the app was built. Big thanks to Zoho Creator for its automation, which allows us to allocate the tickets automatically. This helped us improve the customer experience of our users. It also helped us save a lot of time."
Fixed asset management
Fixed asset management refers to the process of tracking and maintaining an organization's physical assets and equipment. DAV schools keep track of their CCTV, printer, laptop accessories, and other school instruments in this single application. It also helps them maintain the data of each asset, such as the owner of the asset, location, serial number, purchase date, bill, vendor details, and warranty, which are kept in different branches.
Conference room booking
This application allows users to directly select the location and book the meeting room required from their mobile app itself. It also clearly displays a room's upcoming schedule.
Field trip management
Each school uses this application to collect and update student details by circulating a field trip consent form that has to be filled in by parents. Details of the trip, including any activities and transportation that will be involved, will also be specified in the form.
Issue tracker
The school is working on a major project that involves multiple vendors. The school's administration team uses this app to raise issues and track their progress. This app keeps them informed in advance if the vendor or a particular project is held up someplace. The project has high dependency on each vendor, and being able to view the status of each task aligned to a vendor helps them in planning the outcome appropriately.
Career counseling
DAV Group uses this application to send customized bulk emails with regards to the career counseling guidance, speaker, and session timing updates of seminars. This app is like a database that has student details, which helps them rollout customized emails for promoting their career counseling sessions. Once users register for a session, they'll receive an email confirmation along with the Zoom link for the session they signed up for.
Transport management
This app was built to facilitate the management and organization of school transportation services. It helps them with the process of scheduling, tracking, and communicating with school vans and their drivers. Some of the common modules available in this app are vehicle and driver management, route planning and scheduling, student information management, real-time tracking, communication and notifications, and last but not least, attendance and safety. DAV has also built a separate module for car pooling, where parents can easily find local partners to send their children with.
Vendor management
Vendors for the DAV Group of Schools used to make physical visits to submit bills manually, and it became a challenge during COVID. That's when they built this app, which the vendors now use to submit their bills in a single click online. DAV Group has 15 schools and the same set of vendors that supply materials for them. The DAV IT team has created a one-time registration form using portals in Zoho Creator, to collect vendor details such as name, phone number, bank details, IFSC code, PAN card details, and GST number. Using this information, they've created unique IDs for every vendor, which helps them submit their bills easily later. The front-end of this app is built using WordPress, and the back-end using Zoho Creator.
Arya Samaj Foundation app
The Arya Samaj Foundation is the parent organization of DAV Group, and the admin team uses this app to collect membership information. People apply for membership and the school's administration evaluates them and takes care of the approval process. Once the approval process is done, the applied user receives a link to become a member of the foundation, and then any money is collected using this same app.
E-certification
This application was designed to automate and simplify the process of issuing electronic certificates, and to go paperless. They use it to issue certificates for various additional courses that are conducted for students, to help build their career. It's also used as storage for databases, which helps in choosing and viewing student information quickly. Another use case of this app is that the issuer can attach the final certificate, which helps them refer to and share it with students when needed.
Hall ticketing
DAV Group uses this app to issue hall tickets to their students for various coaching exams. The hall ticket is generated through email, based on the examination data submitted by the students. This app was also beneficial during COVID, and it now helps students in saving time by avoiding physical visits to school to collect their hall tickets during exam breaks.
Prashasti database
The administration of the DAV Group runs an initiative called Prashasti for medical guidance. People reach out regarding medical questions, which are recorded and reported using this app. It's also used for maintaining medical databases, and is aimed at helping the DAV community.
Student database
This particular application has the database of the student count for every grade across all 15 schools of DAV Group. It's used as a quick reference to manage admission and exits. For instance, in order to quickly see the available seats at a school for a particular grade, this app is very beneficial.
Looking forward
"We're looking forward to building a library management application, to manage the books across all our branches. We're also going to automate the library membership process, as well as the user borrowing and returning processes. Our design team is planning to build an application similar to DAV's IT service desk ticket management, to manage their services."
Get a free, personalised demo.
Thank you for sharing your requirements with us. Our team will reach out to you soon.
Frequently Asked Questions
What is Zoho Creator?
Zoho Creator is a low-code application development platform that allows users to create custom applications on their own, with minimal coding experience. The intuitive drag-and-drop interface empowers developers and business users to build web and mobile applications that satisfy all their unique requirements with ease.
Are applications built on Zoho Creator scalable?
Applications built on Zoho Creator are built to auto-scale—the back-end infrastructure seamlessly scales as business demand grows. Currently 14,000+ customers across 180+ countries are using over 6 million applications built using Zoho Creator, a testament to the power of the platform.
Does Zoho Creator have a free plan?
Yes, Zoho Creator has a free plan. This plan comes with a limited feature set and only allows for one user, one application, 250 MB storage, and 1,000 records. However, you have the option to upgrade to a paid plan whenever you wish.
Expand All
Collapse All