Key takeaways:
Improved data quality

Easy application deployment

Elimination of spreadsheets

Great operational efficiency

Customizable dashboards

Greater efficiency in data collection
"As a small business, we were able to fully digitize our processes and improve our operations without having to break the bank! We would have spent a fortune if we had to go with other so-called "Enterprise ERP" platforms for the same level of functionality and flexibility."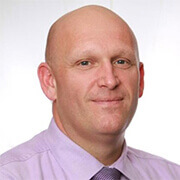 Stephen Harrison Mirfield – COO
A whole new administration process powered by Zoho Creator
The Royal College of Surgeons in Ireland - Bahrain is a constituent university of the Royal College of Surgeons in Ireland, which was established in 1784. Like its Dublin counterpart situated on St. Stephen's Green, RCSI Bahrain is a not-for-profit health sciences institution focused on education and research. The university incorporates schools of medicine, nursing, and postgraduate studies and research, and thus provides both undergraduate and postgraduate levels of education and research activities in many healthcare fields.
They needed a new platform to help them eliminate manual data errors while improving operational efficiency. After coming across a suite of Zoho tools, they chose the Zoho Creator platform, and have now automated most of their administrative processes with their array of about 50 custom-made applications.