Key benefits
Enhanced compliance tracking

200% YoY growth in inventory managed

Real-time visibility into orders

Seamless integration with multiple Zoho services, like CRM, Inventory, and Books
"Since 2022, our sales have almost tripled. I can also say that the amount of inventory we currently manage has tripled in the last two years. There are also many more data points we are working with than we were two years ago."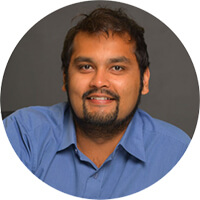 Hemal Bharadva,
Director of Engineering and Operations, aviationscouts
Experts in the house: Implementation by Natalie Söll Vertrieb
The team at aviationscouts needed a robust solution that could help track the aircraft's configuration and map the associated parts. Solution experts at Natalie Söll Vertrieb GmbH helped kickstart the digital transformation initiatives at aviationscouts and supported their integration with Zoho Inventory.
Today, over 20 employees across departments like sales, marketing, purchasing, and warehousing, use Zoho Creator. Before exploring low-code solutions, the team at aviationscouts managed operations on many Excel sheets. The main database used was a SQL-based server, which a third-party IT company managed. However, now they have full control over their sensitive data and create workflows as needed.
Back in late 2017, ACI Design purchased licenses to an off-the-shelf asset management software. While the software didn't work exactly as per ACI's workflows, it enabled them to digitize their operations. ACI used the product to offer customers access to a dedicated dashboard with all their activities.
In late 2020, the vendor introduced an update that changed how the software worked. The update introduced changes to the system that created extra work to execute general processes. These changes made the product very complicated to use for ACI and their customers.
ACI then reached out to Multiplica Lite, a Zoho Partner, who helped create a tailor-made asset management platform that conformed exactly to their business processes and practices.