Agrim automates their B2B agri-input business processes with
Zoho Creator
"I can really say Zoho Creator has helped us in executing massive process automations along with building a stronger database. We automated our internal and external processes for our suppliers, which has impacted our acceptance rate, order discovery, and order fulfilment TAT!"
Pranshu Sharma, Strategy Consultant, Agrim

Created by : Agrim
Use case : Supply Chain Management
Industry : Agriculture
View FAQs
Summary
Agrim is a B2B ecommerce marketplace app for agri-inputs, which brings retailers and manufacturers on one platform. Their vision is to enable 1M+ agri-input retailers to discover superior quality products at the right price, get on-time delivery, and connect 40K+ small-to-large manufactures with a large and loyal retailer network and improve the supply chain.
Since 2022, Agrim has been using Zoho Creator for integrations with other Zoho products. They've built seven applications on Zoho Creator for automating their manual processes. They're now integrated with Zoho Books, Zoho CRM, Zoho Inventory, Zoho Analytics, Zoho Desk, SMS Magic, ClickPost, and Amazon S3.
The company
Agrim is a B2B agri-input ecommerce marketplace working to streamline the distribution and procurement of agri-inputs by leveraging tech and automation capabilities in the Indian market. Started in 2020, they're now operational across India through their digital presence and operational expertise.
Here are the key levers that the company is focusing on:
One-stop shop for all agri-inputs:

Agrim serves as a comprehensive platform where retailers can procure all their agricultural inputs in one place.

Solving for the retailer and not the farmer:

The company focuses on addressing the unique needs and challenges faced by retailers in the agri-input industry.

Streamlining the supply side:

They work to optimize the supply side of the industry by partnering with reliable suppliers and ensuring a consistent flow of quality products to retailers.

Robust logistics integration:

They've integrated efficient logistics solutions with its platform, facilitating smooth and timely delivery of agri-inputs to retailers.

High-margin spread:

Offers competitive pricing to retailers, enabling them to achieve higher profit margins.

Pivoting retailer KYC and building creditworthiness:

They implemented a comprehensive retailer KYC process, building a database of reliable retailers and enhancing their creditworthiness for better access to credit facilities.
The challenge
Most of Agrim's internal processes were handled conventionally which led to difficulties in managing data and reconciling entries across multiple modules. Even though there were SOPs aligned across multiple functions and designated POCs were given specific tasks, it still needed manual intervention and time commitment from stakeholders.
The team had evaluated options like Salesforce and Oracle before they decided to go with Zoho Creator. They also thought of developing platforms outside the Zoho ecosystem, but ultimately chose Zoho Creator, as they could use the cross-module integrations that are already present.
The solution
Agrim has built seven applications on Zoho Creator: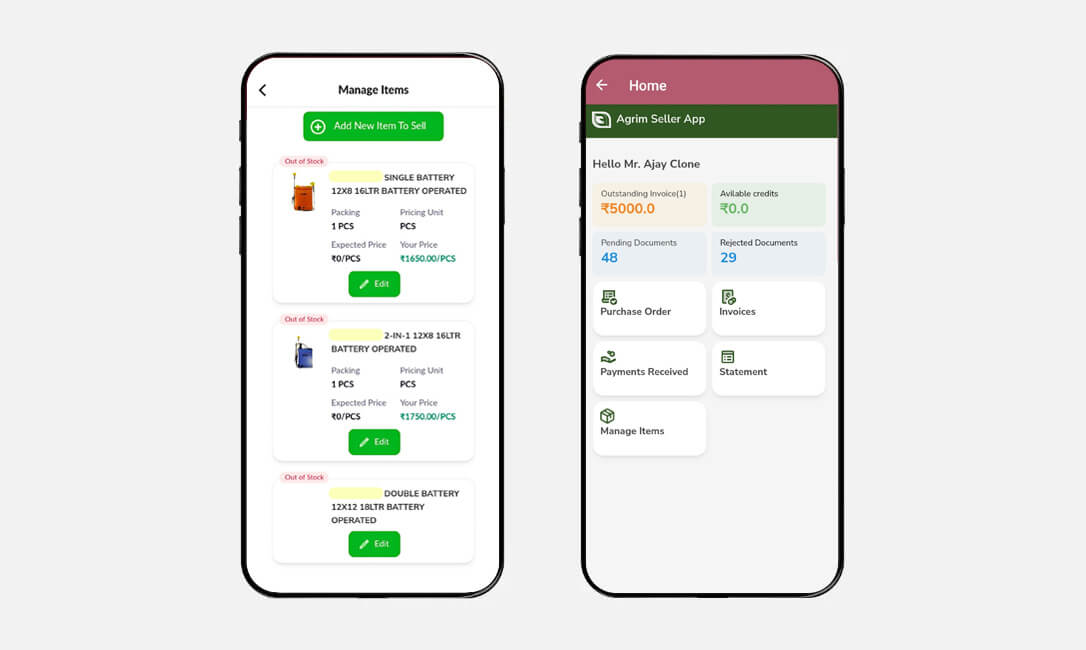 Agrim Seller app
This is an application built especially for their suppliers, to ease the process of accepting and processing their orders. There are more than 1,500 vendors onboarded, and they use this application to accept orders, update their details, upload billing, and get reconciliation for their orders. The app was launched in August 2022, and they're currently using this to process 100% of their vendor orders.
"The Agrim Seller app was our first full-fledged development on Zoho Creator. It took 4-5 weeks to develop fully and then a week of debugging and testing. Since this was developed when we were carrying out massive internal automations, the overall process of integration between Zoho Creator and Zoho Books took time. But this was also the time when we were able to better understand the nuances of Zoho Creator. Post that, the other applications have mostly taken between a week and two weeks for overall development and then a day or two for testing, before launching the final product."
- Pranshu Sharma, Strategy Consultant, Agrim
Self-serve app
This application was launched early in 2023, and it's a part of the vendor app. Here, the vendors update the items that they're selling, and mark the availability and prices at which they want to sell. This has helped in automating their processes on the vendor front and has given them more control over supplies. 100+ vendors are transacting on this application daily, which has led to an increase in item discovery on the app.
KYC app
Since Agrim is a B2B platform, this is an application that helps in automating the KYC process for their customers. This app is integrated with Zoho CRM and Zoho Books, and helps in clearing checks before an order is placed.
Credit Management
This app helps in enabling, verifying, and monitoring credit customers by allowing them to purchase from their sanctioned credit lines. There are checks and balances put in place which not only make this app great for reviewing but also monitoring and data recording.
Catalogue Management
This application manages multiple attributes of over 20,000 SKUs. There's further integration with Zoho Books, which helps in updating the details there, so that every order is processed with the correct details.
Click and Win
This application allows the retailer to share what they're selling and, in return, get rewarded with discounts and coupons on their next order. This is one of the oldest applications they've been using and has gotten them heavy traction on the platform.
"The 'Click & Win' app built on Zoho Creator has revolutionized our ability to understand the market and draw insights from products placed on a retailer's shelf. With accurate and timely input, data-driven decisions, and an absolute matchmaking between demand and supply, it's a game-changer that has helped with better product discovery and has increased traction on our platform!"
- Payal Arora Product Manager, Agrim
Pipeline Management
This is an application that assists the company's internal teams in optimizing ticket flow by calculating variable elements in their pricing structure. This, in turn, helps in getting actual margins by running multiple checks on discounts and coupons. This app is integrated with Zoho Desk and is used by their demand, supply, and category teams.
Benefits and ROI
After switching to Zoho Creator, Agrim has seen major impacts:
100% of their vendor-fulfilled orders are getting processed through the Seller app.
65% of their orders are getting accepted within 4 hours of being punched into the system, which used to take 24 hours.
Order dispatches have increased from 48% to 89% within 3 days of acceptance, since the launch of the Seller app.
The Self-Serve app has resulted in 100+ vendors updating their item details regularly on the application, which was earlier a manual task done by a designated team.
The Pipeline Management app has helped in reducing the ticket handling TAT from two hours to instantly.
Our daily product altercations (price improvements / new variants / new listing) has improved by 300% after the launch of Self-serve app. This is being achieved using the same team bandwidth. Also, this can further increase as the app scales in the supplier network.
Till now most of the team bandwidth was utilized in product discovery which is not directed towards price optimization, hence improving our margins and revenue.
"We have used Creator to build both external facing and internal solutions. The front end of supplier OMS and catalog has been built which has enabled our suppliers to manage orders and product list independently. This has resulted in improving goods dispatch time significantly. Internally, creator has helped us build solutions to handle our pipeline operations effectively which was earlier being done with conventional tools. This has optimized the time taken to close pipeline by up to 50%."
- Tanmay Bakshi, Head of Supply, Agrim
Looking forward
"We're currently in the flow of automating our internal process, and there are smaller projects that we're building on Zoho Creator. Most of the apps mentioned have regular advancements, which happen in phases. We're also revamping our retailer app, so we may decide on using Zoho Creator to manage additional databases."
- Pranshu Sharma, Strategy Consultant, Agrim
Get a free, personalised demo.
Thank you for sharing your requirements with us. Our team will reach out to you soon.
Frequently Asked Questions
What is Zoho Creator?
Zoho Creator is a low-code application development platform that allows users to create custom applications on their own, with minimal coding experience. The intuitive drag-and-drop interface empowers developers and business users to build web and mobile applications that satisfy all their unique requirements with ease.
Are applications built on Zoho Creator scalable?
Applications built on Zoho Creator are built to auto-scale—the back-end infrastructure seamlessly scales as business demand grows. Currently 14,000+ customers across are using over 6 million applications built using Zoho Creator, a testimony to the power of the platform.
Does Zoho Creator have a free plan?
Yes, Zoho Creator has a free plan. This plan comes with a limited feature set and allows for one user, one application, 250 MB of storage, and 1,000 records. However, you have the option to upgrade to a paid plan whenever you wish.
Expand All
Collapse All