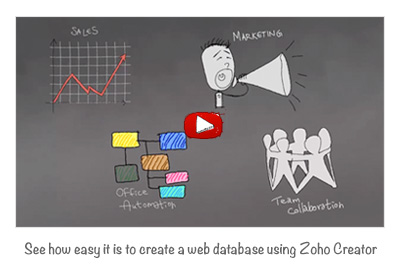 The easiest way to build your own online database.
No coding required. Just drag and drop.
First of its kind drag-and-drop interface to create tables/forms, design and schedule workflows, and perform a variety of automated actions.
Powerful tools for data collection, analysis, reporting, and collaboration. Zero complexity. Low development cost.
Short time to market. Shorter time to value.
get started for free
1 Million Applications. 5 Million Users. A Zillion Smiles.
Zoho Creator is used by entrepreneurs, small businesses,educational institutes and non-profits.


Design Forms
Business Logic
Analytics and Reporting
Customization
Collaboration
Extras
Drag-Drop Interface
Zoho Creator's easy and intuitive interface lets you create your own databases quickly. Just drag and drop fields (data types) to create forms (tables). You can also add business rules through the drag-and-drop functionality.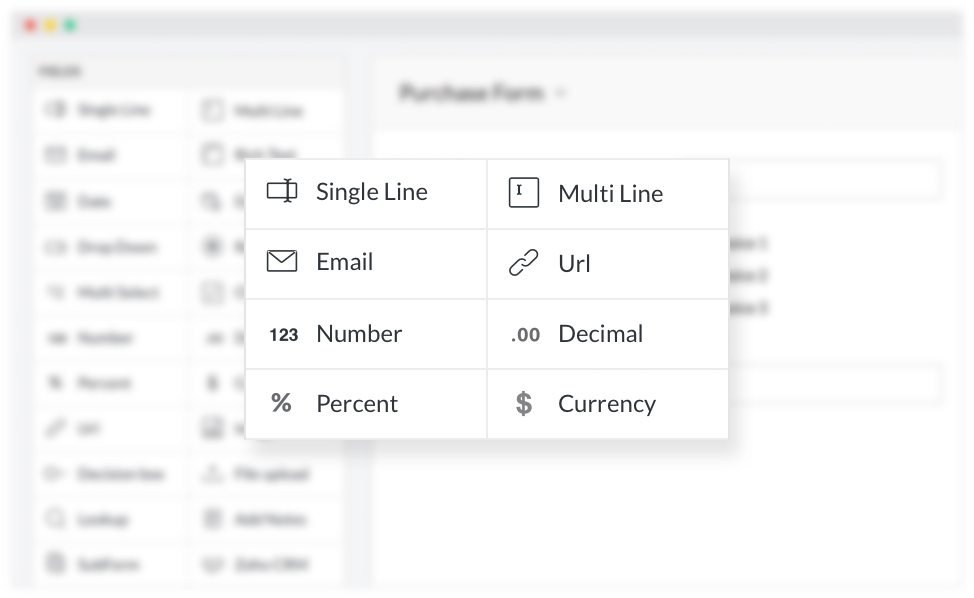 Supported Fields/Data Types
Zoho Creator supports 25 field types like Single line, Multi line, Check boxes, Radio buttons, and more. You can also add images, notes, and upload files to your form or table.
Form Properties
Customize form properties like the "Thank you" message you want to show users after they submit data. For example, you could include a note saying "Thanks for filling in the data" or "Data Added Successfully." You can also customize the width of all the fields. Zoho Creator also lets you prevent spam or automated entries by setting a CAPTCHA verification code.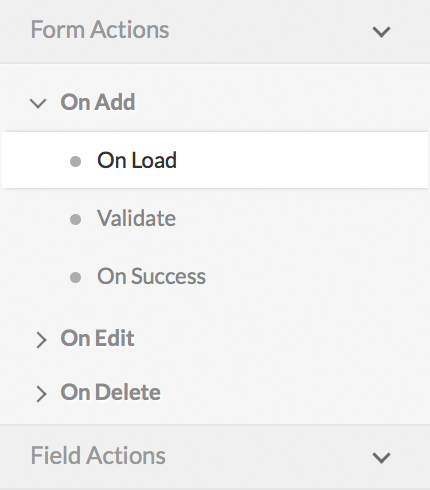 Actions/Triggers
Form or table level - Trigger actions when your form loads, validates the entered data, or is submitted.
Field or data type level - Trigger actions whenever a field value is changed in the form.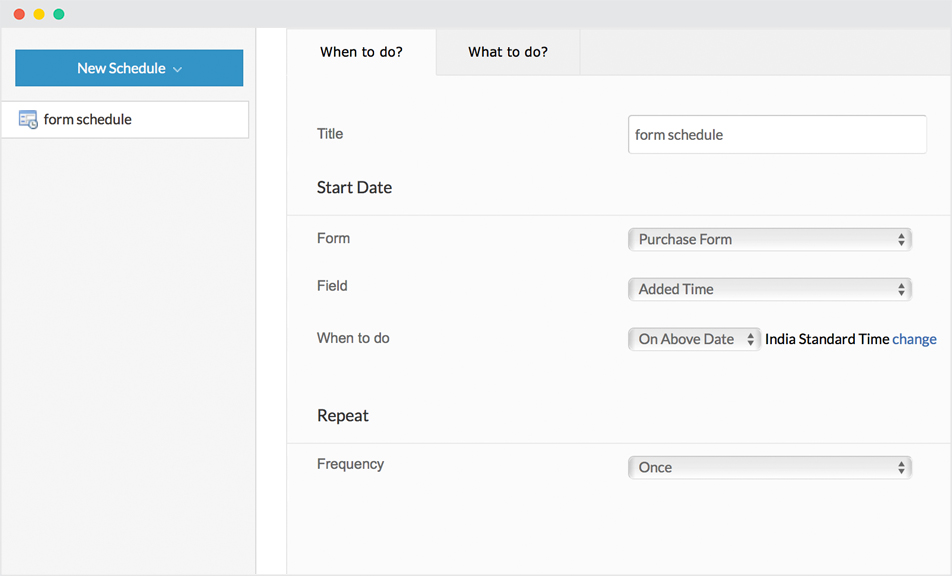 Scheduler
Scheduler lets you execute tasks periodically based on your form's date and time. You can:
Send automated emails.
Email data as attachments.
Schedule web API tasks such as "geturl" and "posturl."
Auto- schedule date fields like birth date, appointments, project deadlines, etc. in your form.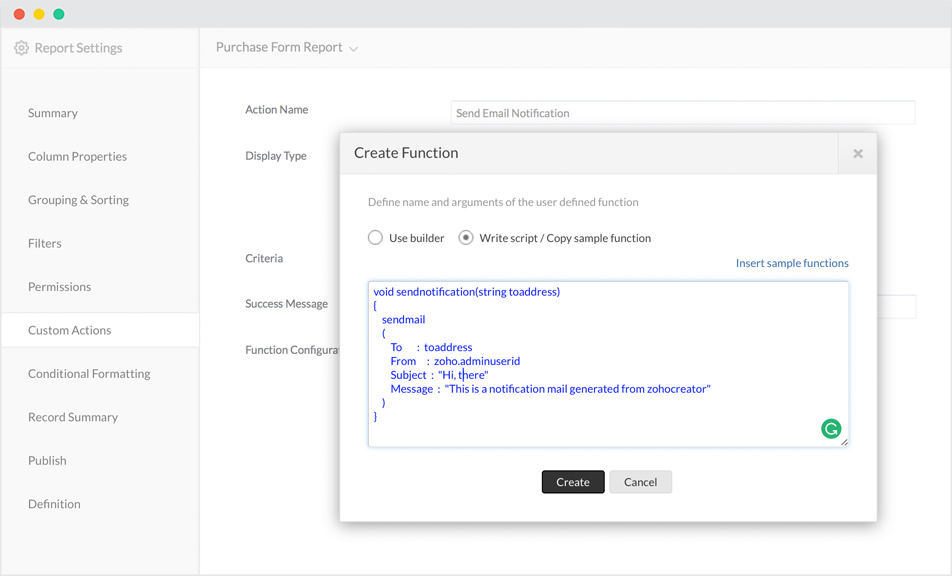 Custom Actions
Custom actions are performed on selected records in the data view. You can define a function and configure it as your custom action. For example, you can define your custom action to "Send Email Notification," so that just by selecting records and clicking on custom action, emails are triggered automatically.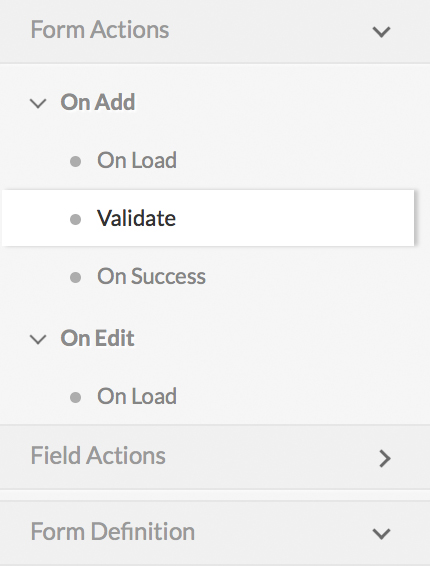 Custom Validations
Validation is a script that verifies if a user's data matches the conditions you set in your form. Validation runs on the server while the user submits data. Types of validations: On Add, On Edit, On Delete.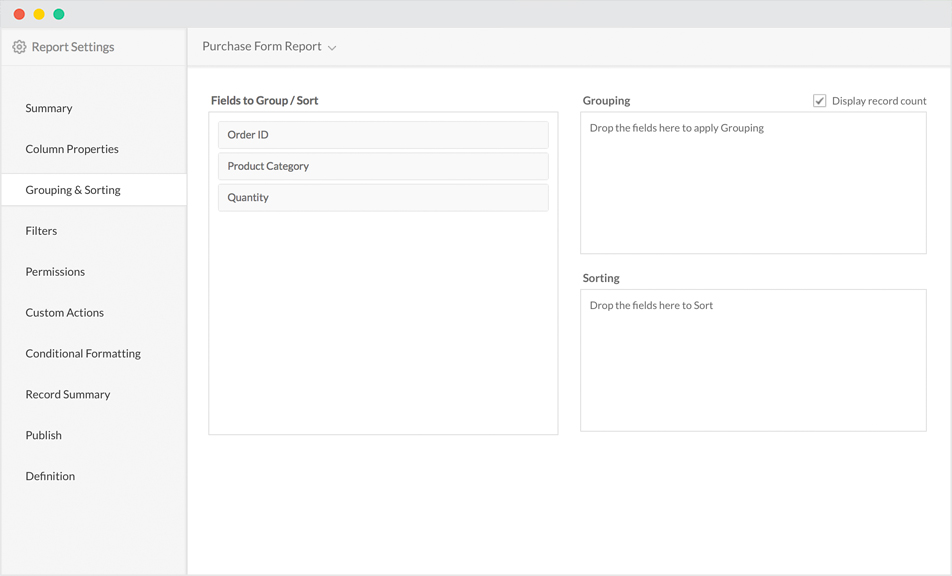 Search, sort, filter, group, and set criteria.
Get simple and powerful data mining tools like Search, Sort, and Filter. Zoho Creator supports data grouping based on specific columns. Records with the same value for the selected column(s) will be grouped together. You can also create criteria-based views such as Status > Equals > Open will show only the records that match this criteria.
Visualize your data.
Zoho Creator offers six different ways to see the collected information.
List view, Summary view, Spreadsheet view, and Calendar view.
Charts view - view data in column, bar, line, step, and pie charts.
HTML - create dashboard pages, customized bills and more.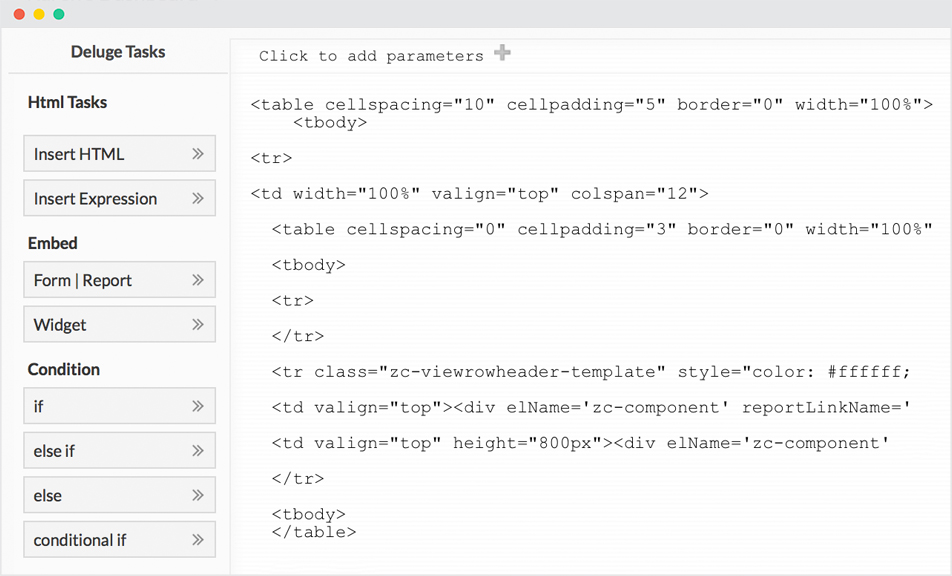 Create custom pages.
Create custom views by combining HTML code and Deluge, our built-in scripting language. You can create static HTML pages to deliver dynamic content from your database. Create dashboard pages, custom bills, invoices and more.

Re-branding
You can modify the entire Zoho Creator database to suit your brand. Change the color scheme, customize the layout, and add your own logo.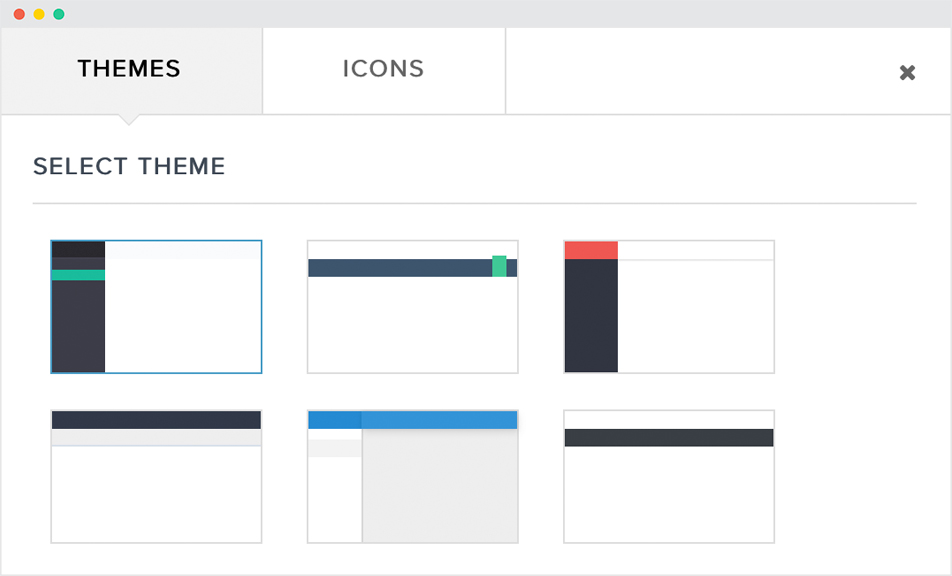 Themes
Zoho Creator offers a choice of six themes for you to choose from. In addition, you can also choose icons from our gallery to distinguish your forms and reports.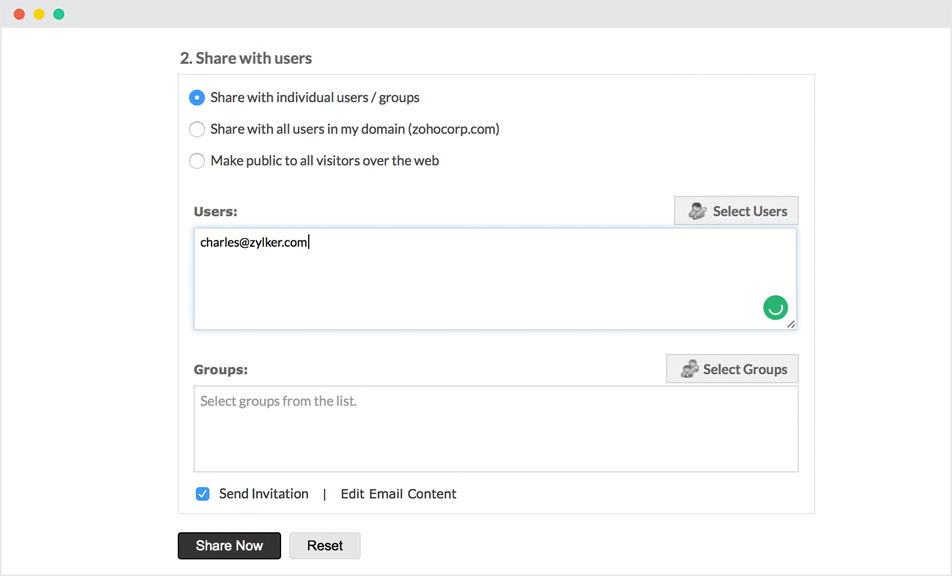 Private access
Make your databases "Private" and share them it with your team and friends via email. Zoho Creator provides three levels of sharing:
Application Level - Access to all forms and views.
Page/Tab Level - Access to all forms and views placed in the page or tab.
Form/View Level - Access to only a specific form or view.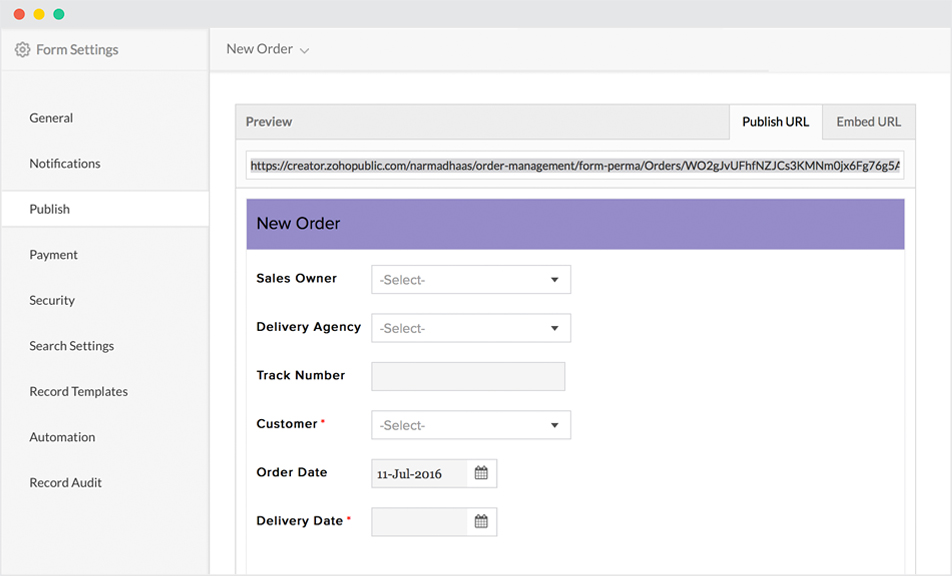 Publish to the internet.
Make your database "Public" and open-up access to anyone on the internet to add and view data. Data will be indexed by search engines like Google and Bing.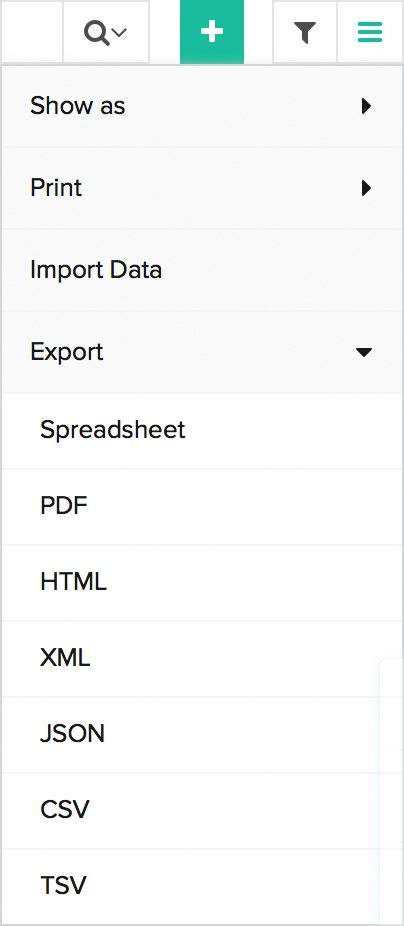 Export Data
You can easily export data from your database in the following formats:
Spreadsheet for analyzing.
PDF to print/email data.
HTML to bookmark or send links.
.CSV, .TSV for data mobility.
JSON feed (a lightweight data-interchange format).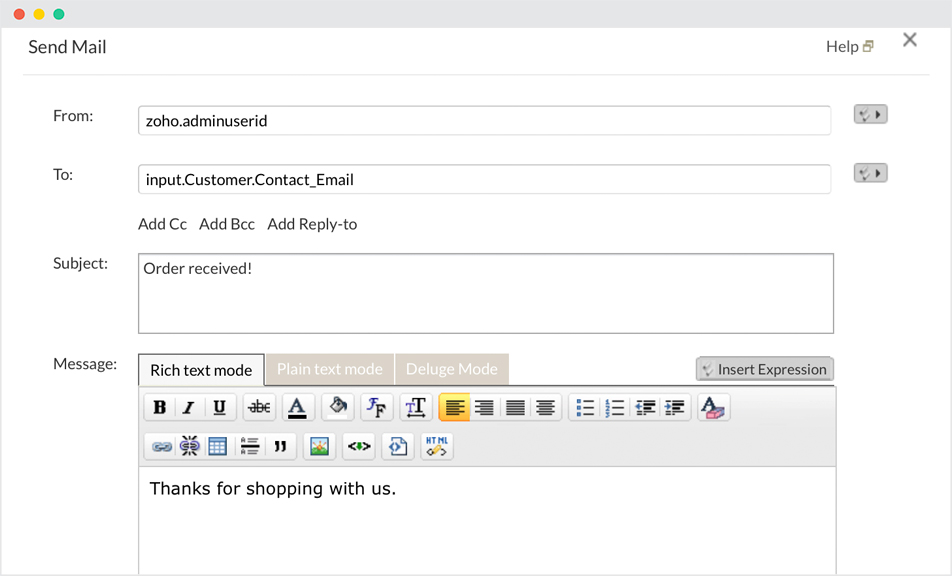 Set Email Notification
Get email notifications when a user adds, modifies, or deletes a record. You can even receive the added or modified records directly in your mail inbox.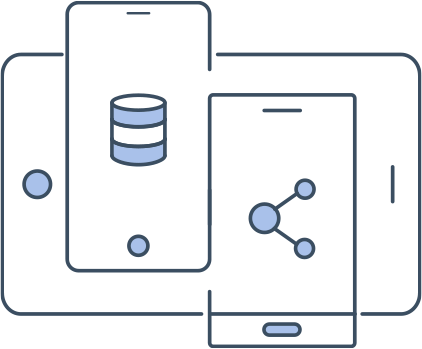 Mobile Access
Access all your databases and shared databases from the iOS and Android mobile apps. Zoho Creator is also mobile-optimized for the following browsers: Internet Explorer 11 or higher, Opera, Safari, and other WAP browsers.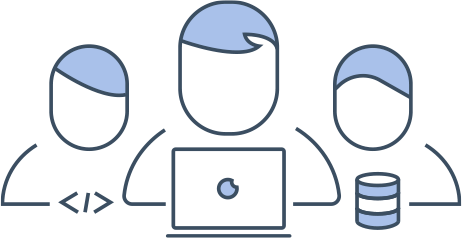 Active Community
Zoho Creator has a strong and active community of independent developers who can help you build your database. Check out the recent topics discussed in the Zoho Creator Forum.