About this webinar
We don't use spreadsheets because they're the best way to manage data—we use them because they're the first thing that comes to mind. Holiday expenses? Email subscribers? Tasks for a project? Put them all in Excel. From college projects to that time we started up a business, we've always turned to Excel.
But what's familiar isn't necessarily efficient.
Your growing business needs more than data in cells. You need a system to manage your business without having to micromanage everyday processes.
We'll look at:
The reasons Excel is so appealing to small businesses
The hindrances of using spreadsheets for day-to-day operations
Why small businesses might be apprehensive of databases
How you'll fall in love with Zoho Creator's ease of use
Presenter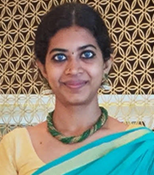 Priya Sri is the CEO of CubeYogi, a leader in Zoho solutions and consultation. A 15-year veteran of the software industry, she's worked with Fortune 50 firms, and is passionate about using software automation in the real world, to make businesses more productive.
Free Webinar
NOV 132018
2:30PM AEDT / 9.00AM IST