With this app, you can
Expedite data entry.

Pull visitor data directly from IDs like passport cards by scanning the bar code. Photos taken on web-cam and mobile can be instantly uploaded to the visitor database. Visitors can give their signatures on the form and submit it to get their appointments

Remotely authorize visitor movement.

Give visitors a temporary ID card, bearing a QR/bar code, that allows access only to certain areas within the organization. Providing controlled access ensures that visitors don't stray into quarters that are off-limits.

Get instant updates on meetings.

Once the visitor enters their details, the employee they're visiting immediately receives an email or sms containing details and the time of visit. With instant updates, employees can rest assured they never miss an appointment.

Schedule appointments quickly and easily.

Embed the schedule meeting form on your website so visitors can request a meeting in advance, while also specifying their preferred date and time. Administrators can then confirm or schedule for a different date.

Keep trespassers at bay.

The app lets you maintain a list of blacklisted visitors, and checks every entry against that list. If the entries match, it immediately alerts the staff concerned, keeping the safety of the people within the organization intact.

Get meeting schedules sorted out.

Give your employees personalized calender reports, displaying upcoming appointments. When they click on the appointment, a summary will pop up. Administrators can get charts showing the distribution of visitors handled by any employee within a given timef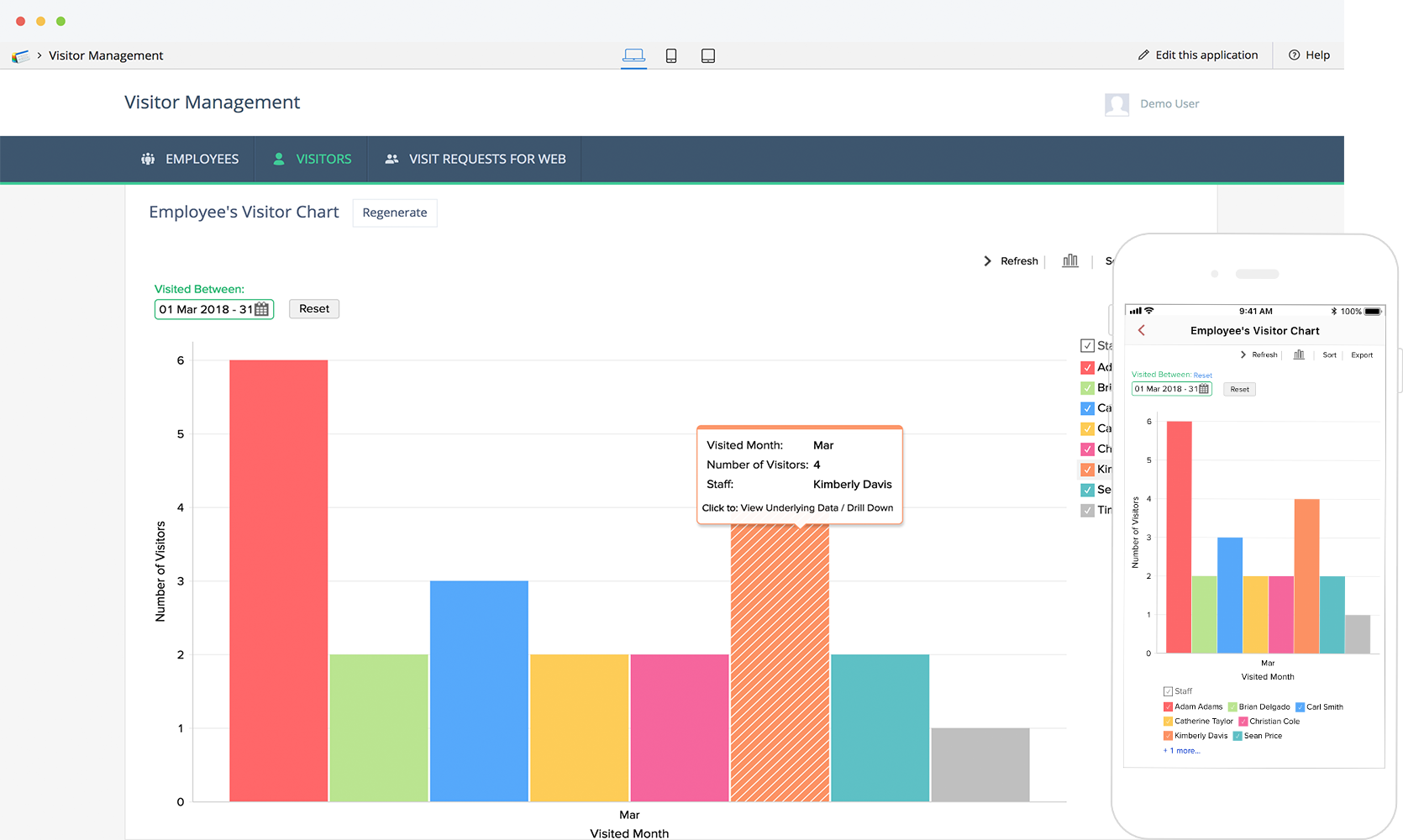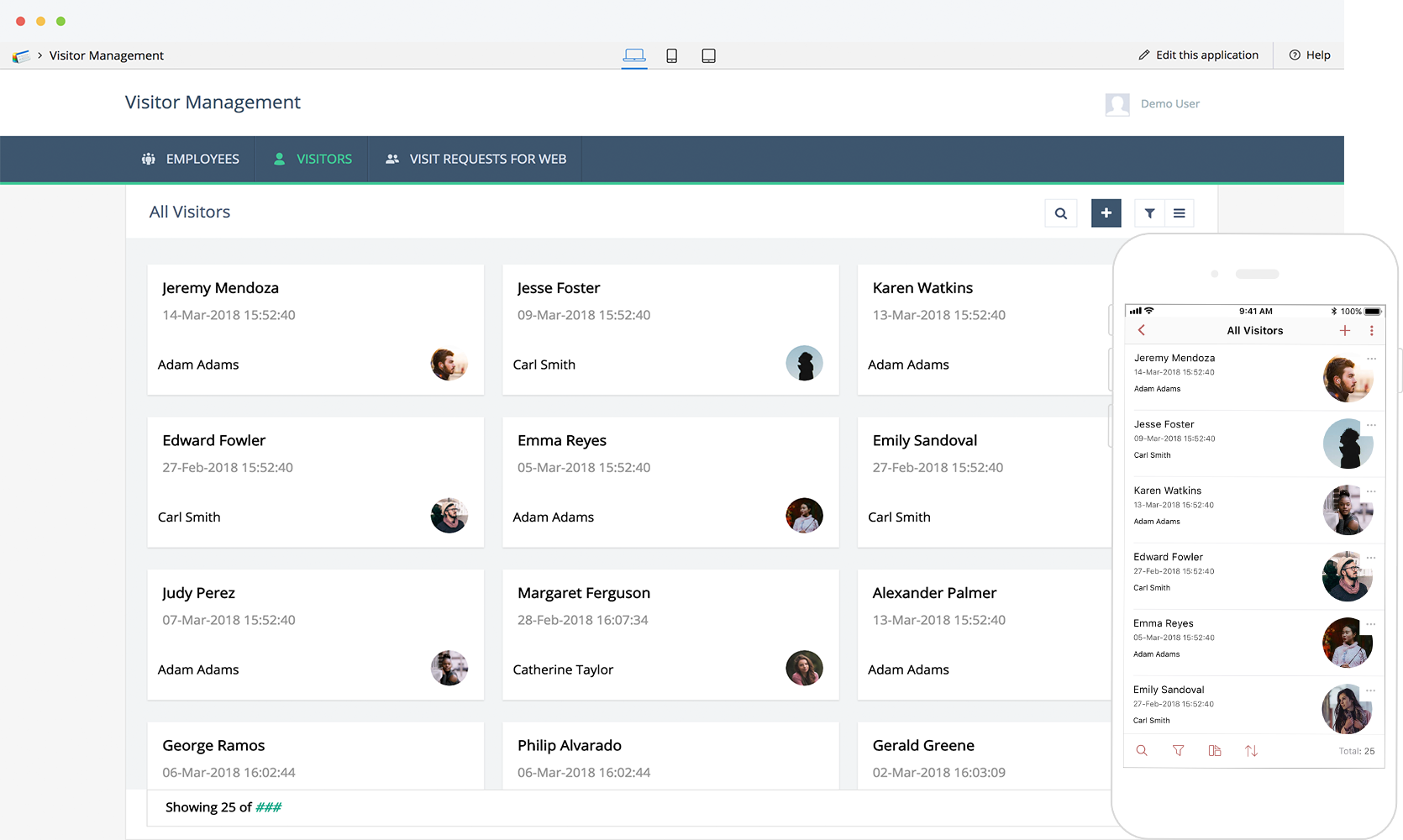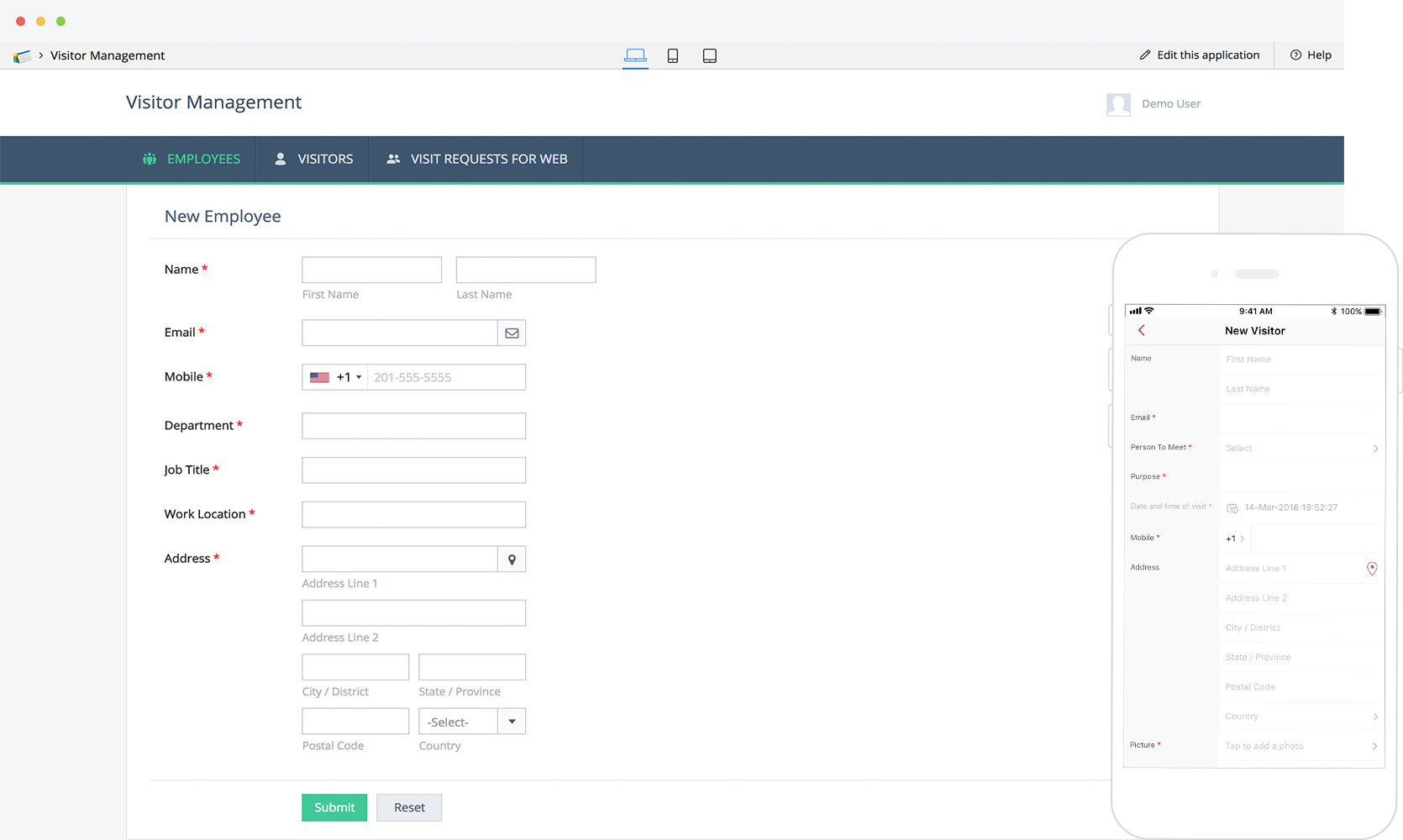 More flexibility. More power.
Customize.

Tune your app to your needs. Add new features, tweak existing ones, or use it as a part of a larger work system. It's built on a low-code platform, so you can make any change with a simple drag-and-drop interface and a few lines of guided scripting.

Go mobile.

Since the app is supported on all mobile devices, work no longer needs to be confined to your office space. Update requests, scan and upload photos, view reports, and connect with your co-workers and clients on the go. 

Integrate.

All Zoho Creator apps are internally integrated with other Zoho products like Books, CRM, and SalesIQ to cover all your auxiliary needs. You can use Zapier to easily integrate this app with your existing software, or with third-party apps like PayPal.