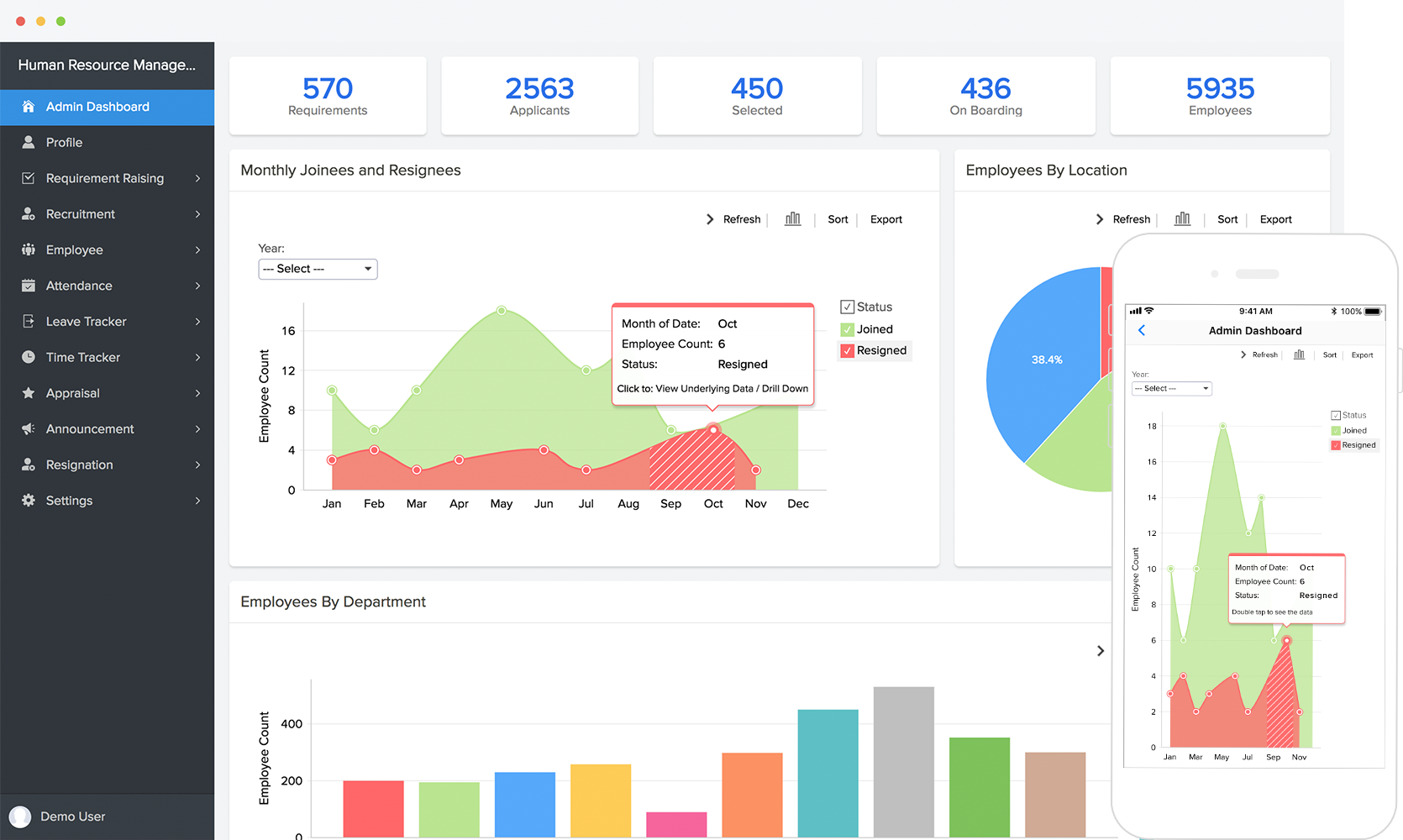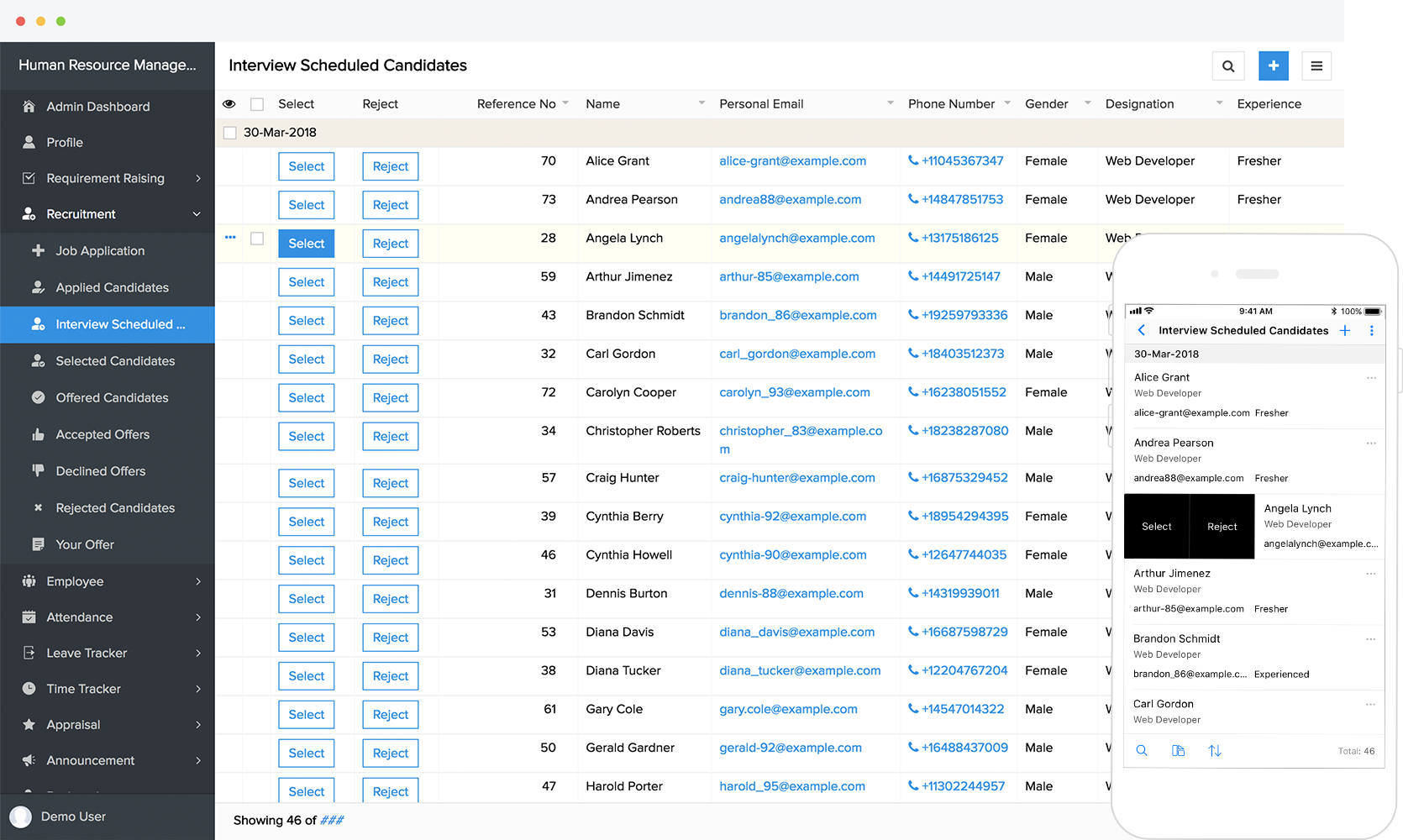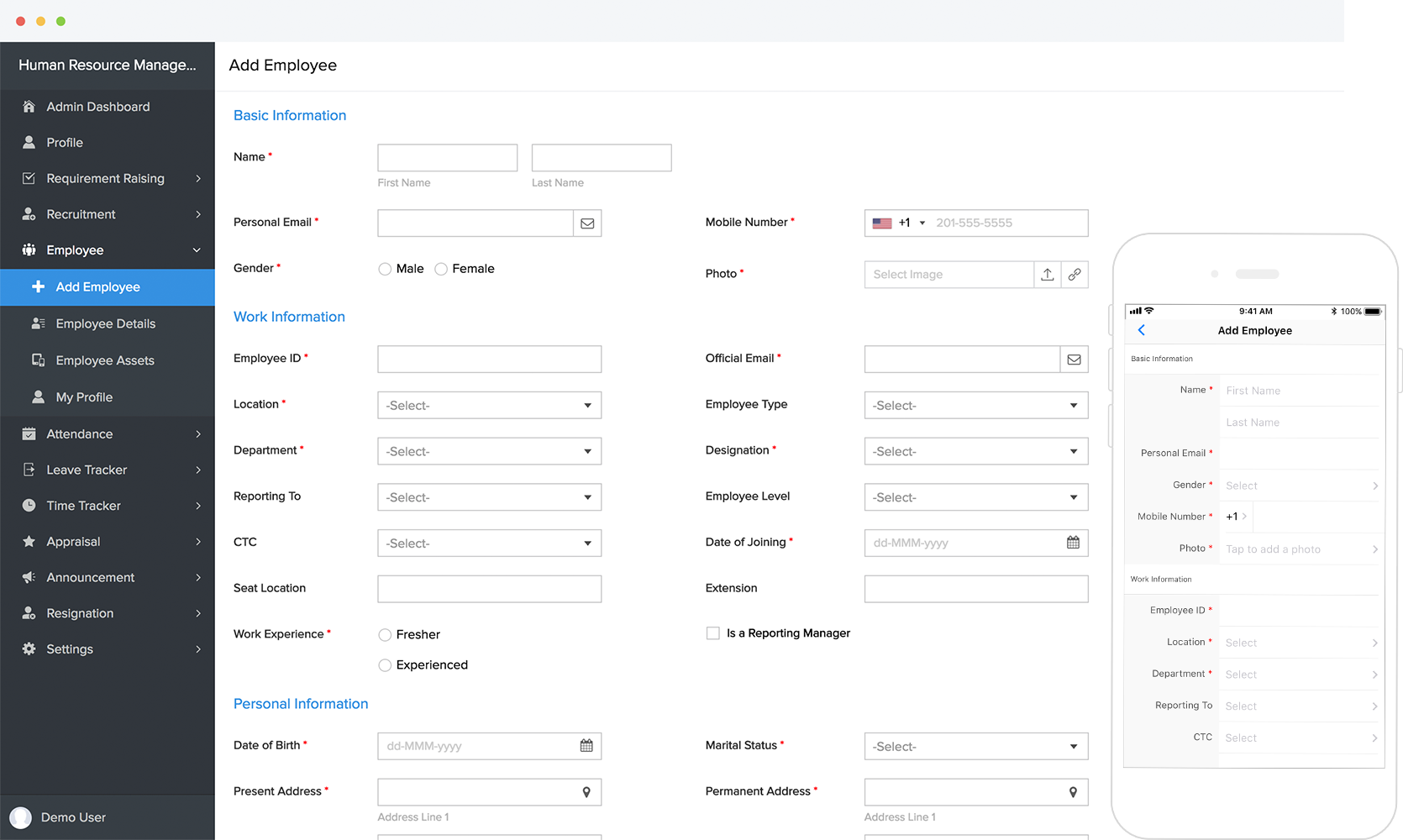 All your HR needs covered.
Recruit the right people.

Get candidate requirements from managers and publish the application form on your website and other public domains. You can filter the applications based on credentials and schedule interviews. The app offers individual reports for candidates who are shortlisted, rejected, offered a job, and so on, with email notifications for all.

Assign projects and track them.

Employees can log the hours they work on a project assigned to them either on a daily or a weekly basis. Employees can view their own log report as well as their team's. The app automatically sends alerts to the employees reminding them about the deadline a day before. 

Perform appraisals from the app.

Managers get a comprehensive form which covers almost every aspect of an appraisal. All they have to do is check the appropriate box from the options for the particular analysis. The employees can view their own appraisal, as well as their team's.

Give employees their own space.

Give employees a personalized portal where they can declare company assets loaned to them, apply for leave, and view holidays and announcements. They can also send SMS and emails and raise asset requests from within their portal.

Make the exit process easy.

Get resignation requests, schedule exit-interviews, and conduct exit surveys from within the app. The employees can upload their resignation letters and give their signatures in the resignation form.

Get clear personalized reports on everything.

From organization details to yearly calenders to departments, designations, and salary structures, get detailed and insightful reports on every aspect of your organization. The reports can also be personalized according to employee profile.
More flexibility. More power.
Customize.

Tailor the app as you desire. Add new features, tweak existing ones, or use it as a part of a larger work system. It's built on a low-code platform, so you can make any change with a simple drag-and-drop interface and a few lines of guided scripting.

Go mobile.

Since the app is supported on all mobile devices, you can manage your resources from anywhere. Raise requests, apply for leave, scan and upload photos, view reports, and connect with your co-workers on the go. 

Integrate.

All Zoho Creator apps are internally integrated with other Zoho products like Books, CRM, and SalesIQ to cover all your auxiliary needs. You can use Zapier to easily integrate this app with your existing software, or with third-party apps like PayPal and Google Suite.