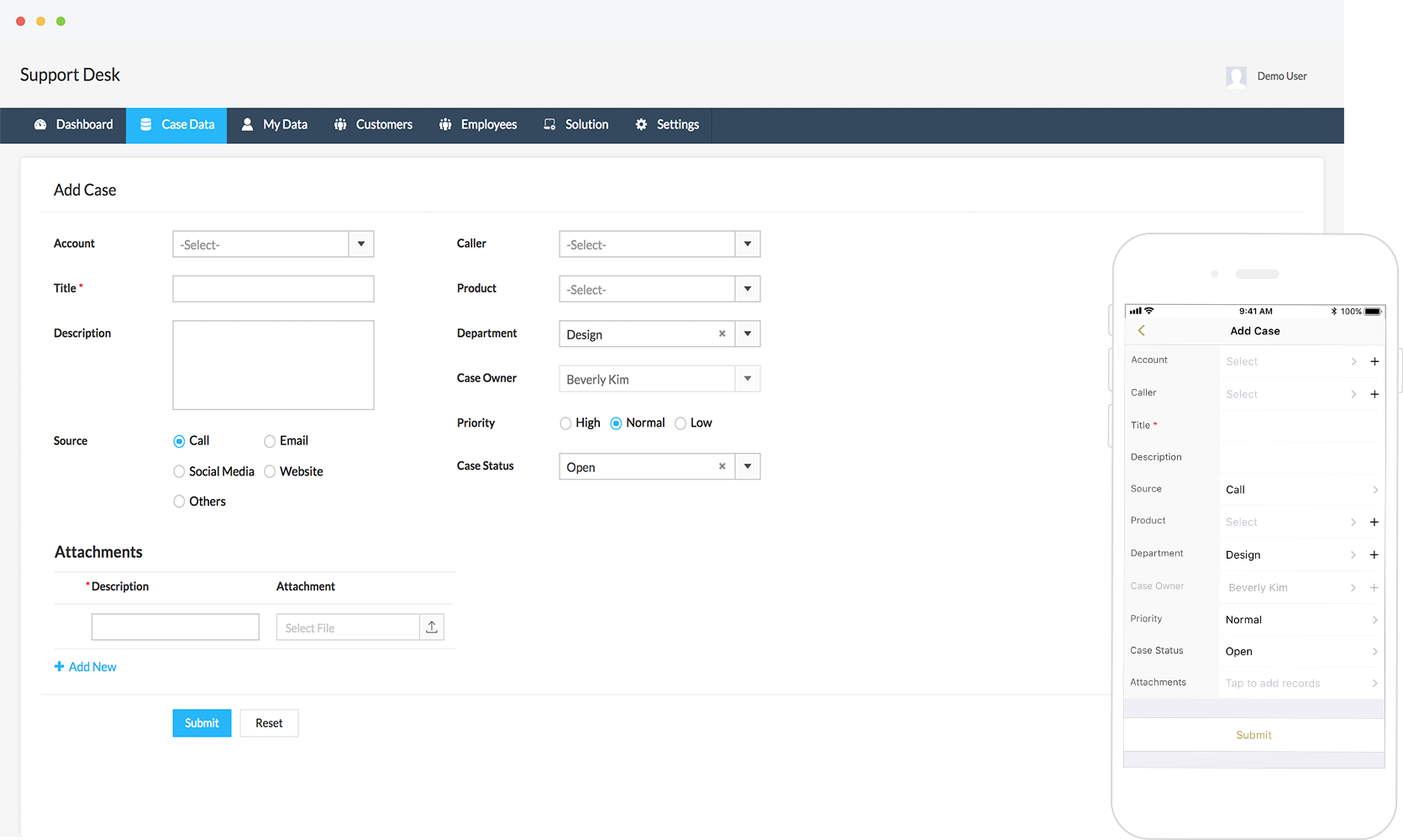 Help your support team deliver.
Boost agent productivity.

Enable your agents to resolve tickets faster. View, classify, and auto-assign tickets from a single window. The dashboard displays overall ticket metrics, along with average response times, allowing you to assign more agents to tasks accordingly.

Provide cross-channel assistance.

For easier tracking and resolution, consolidate queries and requests into your ticket database across email, live chat, and calls. Take advantage of the app's web-to-case functionality to embed forms on your website and convert questions to tickets in real time.

Regulate your services.

Define SLAs based on priority and customer, and gain insight on agent performance pertaining to overdue tickets. Approve ticket escalations with one click, and have emails automatically sent to the agents handling them.

Analyze agent performance.

Monitor and evaluate your team's performance based on average ticket resolution time, number of escalations, and SLA compliance. Daily reports are generated and presented right on your dashboard for convenient viewing. 

Maintain an FAQ database.

The Solutions tab of the app contains frequently asked questions, along with their answers. It also features a Question Map, where you can list common customer complaints and their solutions. This ensures that your agents don't waste time working to solve issues that have already been resolved in the past.

Effectively manage your team.

The Employees tab allows you to list employees by department and classify them according to their roles within the team. Assign additional permissions to managers, and give them more administrative privileges within the app.
It's not just an app. It's a platform.
Customize.

All our apps are fully customizable, right out of the box. Coupled with the guided scripting feature, our drag-and-drop form builder allows you to add limitless functionality to your app in minutes. You can modify it to convert missed calls to messages, enable multi-lingual support, and much more. 

Go mobile.

For every app you access on your computer, there's a fully optimized native one waiting for you on your smartphone. Enjoy all the features of your app wherever you go, and on any device. Away from your desk when a customer pops up with a crucial question? Answer it right from your phone, wherever you are.

Integrate.

We're flexible. Zoho Creator features integrations with a host of major software solutions like Quickbooks, Zapier, and G Suite. You can also integrate the app with full-fledged CRM software like Salesforce and Zoho CRM.