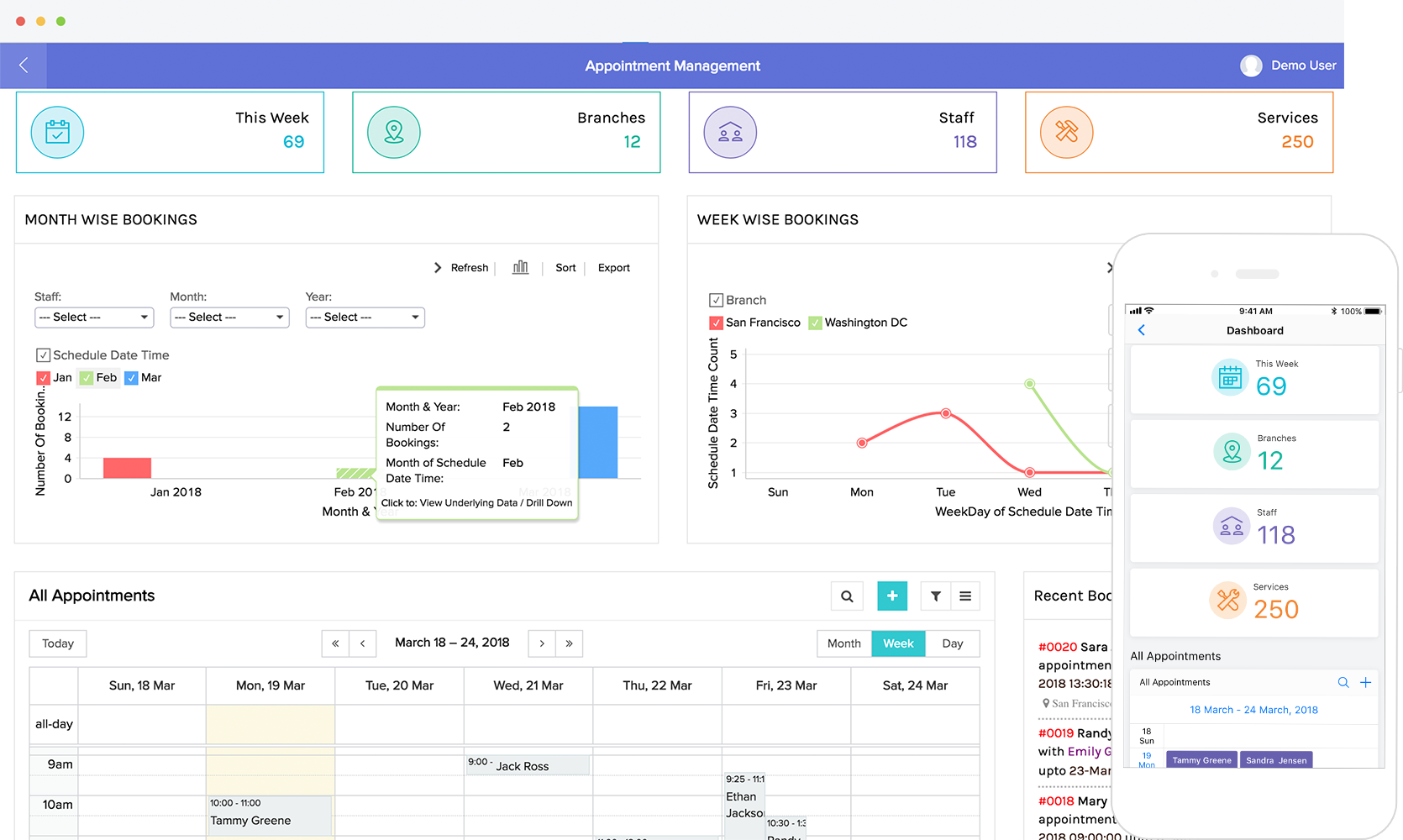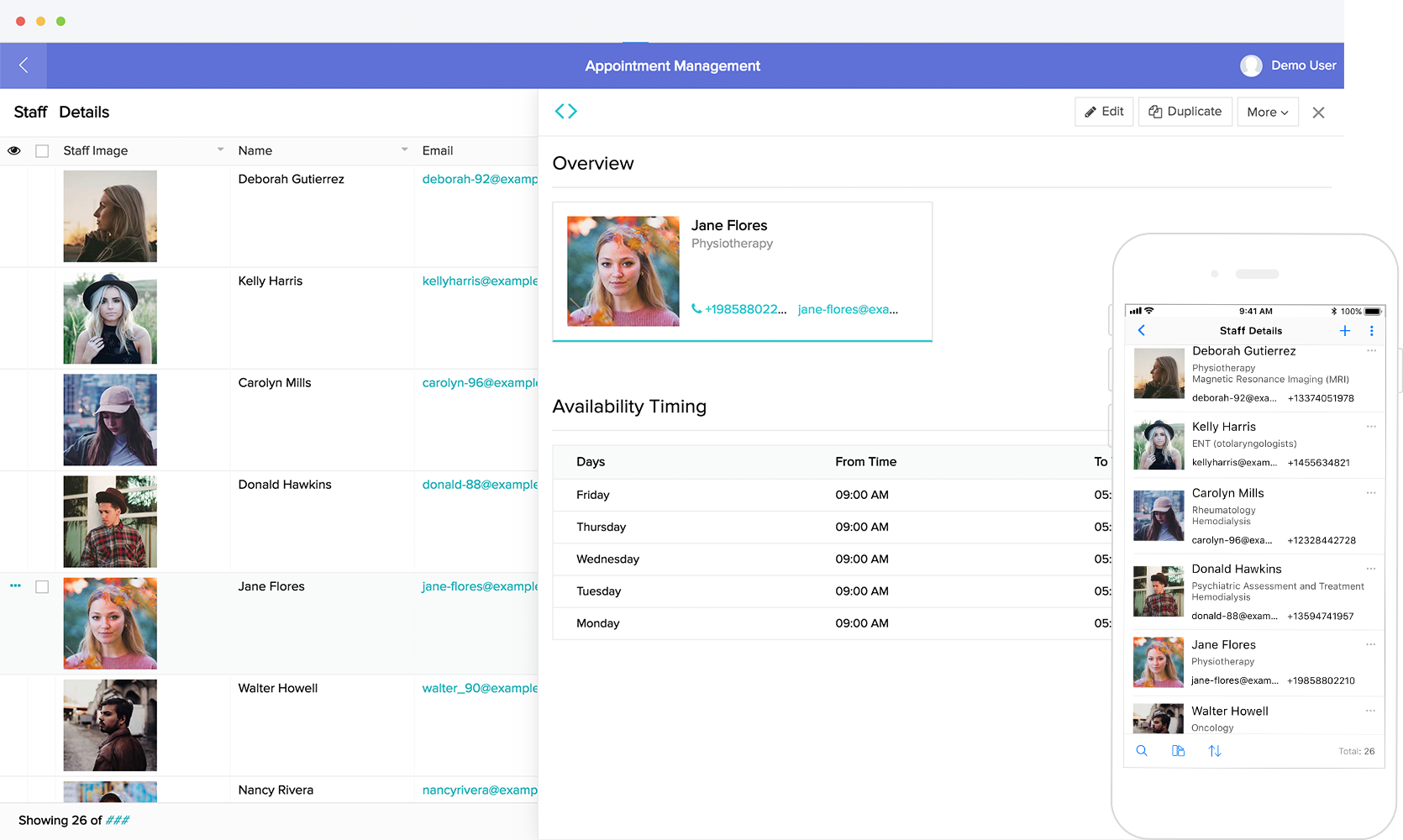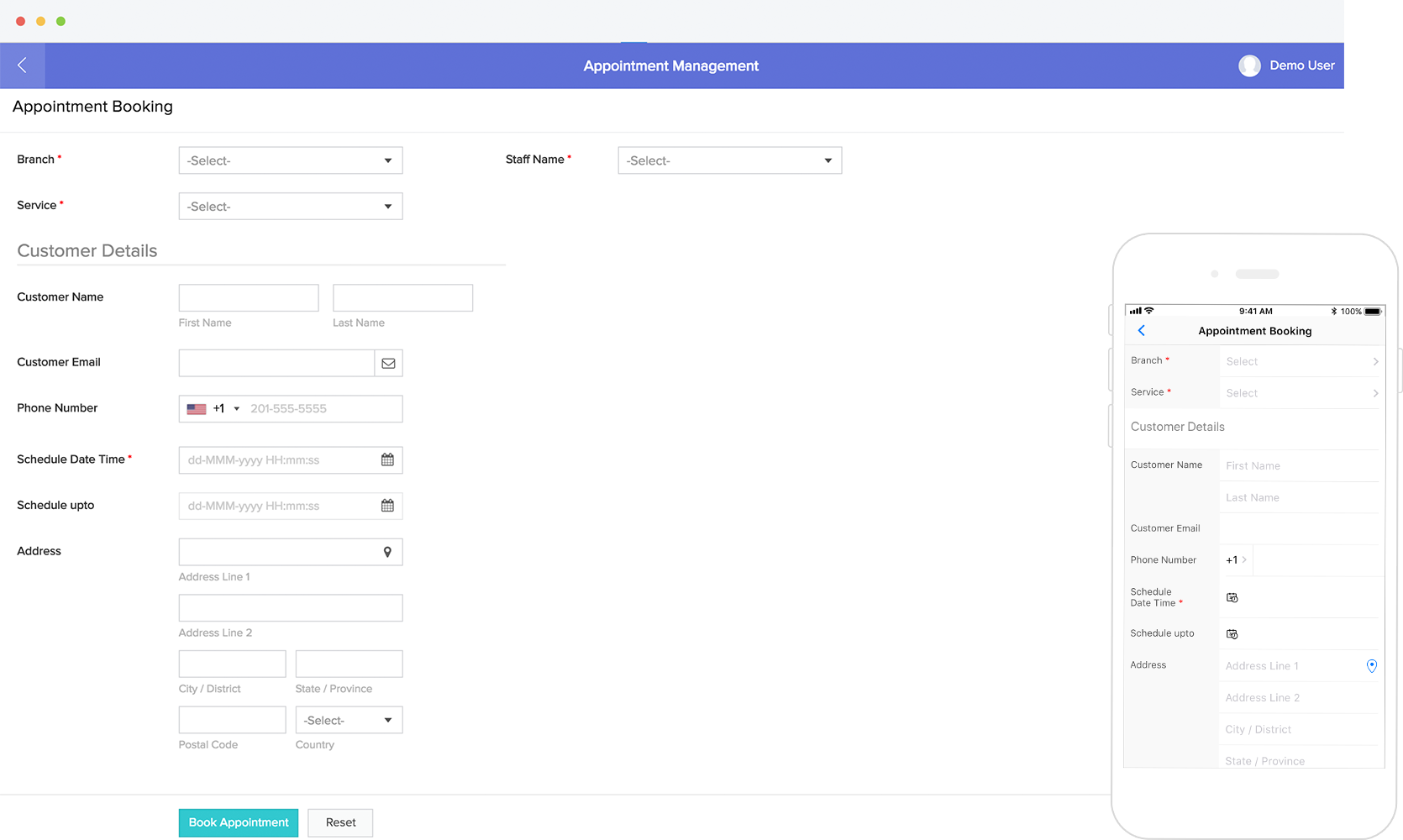 Smart scheduling, automated booking, and more
Be in the know.

With an all-inclusive dashboard featuring booking trends, outstanding appointments, and staff details, you can always keep an eye on the availability of your employees. And with a dedicated booking form, enable clients to quickly set up appointments at short notice, if need be.

Analyze business performance.

Gauge the popularity of your employees among customers using appointment trends displayed as color-coded charts, and classified according to employee or services provided. 

Empower your customers.

Customers can use this appointment trackere to schedule appointments well in advance, and cancel or reschedule at the click of a button. Employee work hours and availability listings are clearly displayed, allowing customers to make informed decisions.

Set up automated notifications.

Ensure that employees and customers are duly notified when appointments are made, rescheduled, or cancelled, with email and push notifications.

Gauge customer satisfaction.

Include rating forms for each employee and service to glean insight on fulfilment and employee performance. Evaluate employee performance by analyzing these trends over time with detailed reports.

Never miss an appointment.

Give your staff a separate employee portal that lists upcoming appointments by time, and notifies them when it's time for their next appointment. 
More than just an appointment scheduling software. It's a platform
Customize.

All our apps are fully customizable, right out of the box. Coupled with the guided scripting feature, our drag-and-drop form builder allows you to add limitless functionality to your app in minutes. Set up email/SMS notifications to remind customers of upcoming appointments, configure email-based satisfaction surveys, and much more.  

Go mobile.

For every app you access on your computer, there's a fully optimized native one waiting for you on your smartphone. Enjoy all the features of your app wherever you go, and on any device. View upcoming appointments on your phone, assign them to available staffers, and much more, right from the palm of your hand.

Integrate.

We're flexible. Zoho Creator features integrations with a host of major software solutions like Quickbooks, Zapier, and Salesforce to ensure seamless connectivity between your various productivity applications. You can also sync with Google Calendar and Outlook, and receive alerts on social media platforms like Facebook.