Apps in Minutes
A Clear and Intuitive UI
Zoho Creator's UI is intuitive and structured logically, matching the thought process of the user. What you need during the app-building process is always right in front of you in the UI dashboard.
The structured arrangement of instructions ensures that you sail through the app building without any confusion.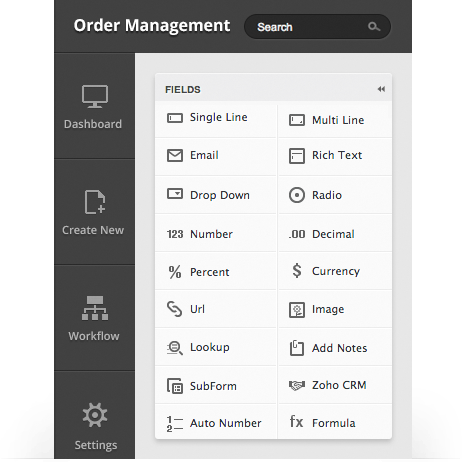 Real Quick App Building with Drag & Drop
Save hours of your time with the drag and drop toolset. All you have to do is pen down the app requirements, plan the steps and use the app builder to execute your plan. Simply drag and drop the code blocks on the UI to build the app.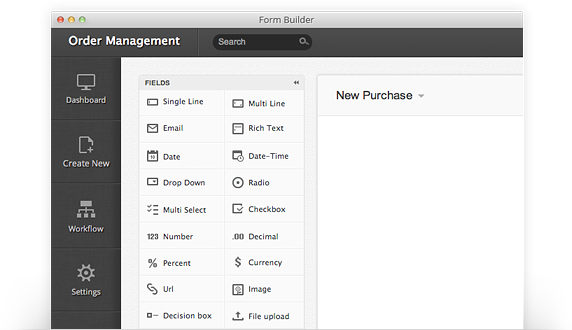 Define Rules with Drag-and-Drop Workflow
With the drag-and-drop blocks of prewritten code, adding conditional logic and exceptions to handle scenarios is simple. With workflow rules there are unlimited options of what you can do with Zoho Creator. Define a rule in your project management application on who gets the latest task based on the workload on each member or automatically respond to your customer's "request for quotation" by generating the corresponding work flow.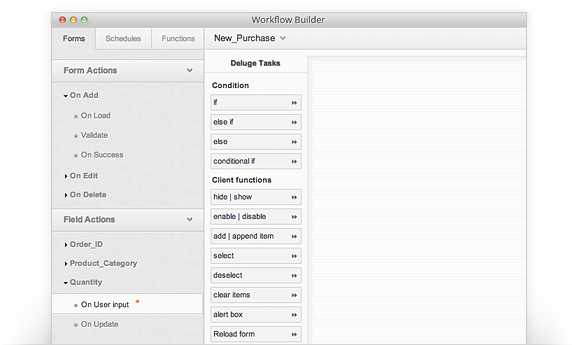 Form Based Apps
It is easy to add data through forms (eg. registration form). Using the Form builder in Zoho Creator you can build separate forms for separate categories of data and achieve better categorization of data.
Using the Lookup and Formula fields available in the Form Builder, you can establish relationships between data in two different forms.
The individual fields in forms can be configured as numeric, text, email or other formats to make it user-friendly.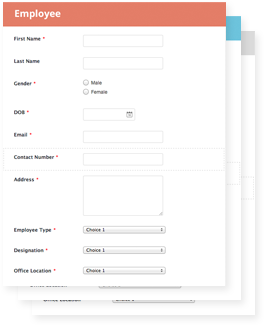 Act Fast with Smart Reports
With clarity, decisions made are faster and wiser. You have answers to all your questions from the reports. View data as uncluttered reports with clear annotations, descriptive titles, and distinctive formats such as tables, bar graphs and charts. Interpreting data is not a pain anymore. From the reports, for example, you can find out the increase in the orders from your top client in one month or the components of his purchase basket over months.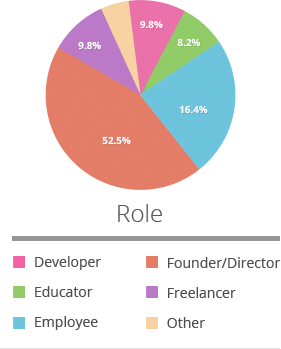 Cut down on delays with Instant Notifications
Always stay tuned, work in real-time, with instant email notification about user data entered, any request disapproval or any specific user actions important to your business.
With this you could avoid unnecessary delays, reduce response time and minimize possibilities of customer dissatisfaction.
For instance, get an instant alert when key clients register a complaint and take immediate action to resolve issues.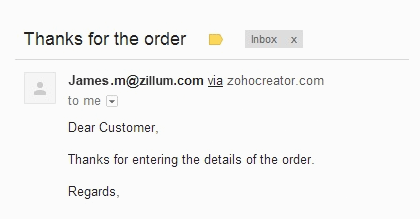 Collaborate to Multiply Productivity
Collaborate with various stakeholders of your business like colleagues, App users and customers with multiple levels of sharing. Use App level sharing to get help from your colleague on building a module of your budding App.You can use Form level sharing to collect data or the Report level sharing to analyze data and take decisions.
Let your Clients Manage Themselves with Customer Self Service Portal
Customer Self Service Portal is an essential in the competitive market today. It is a convenient way for customers to track the activities themselves rather than relying on agents. It helps increase customer satisfaction and frees up your resources. With a customer portal, clients can log into a private portal with a unique user name and password and access the various applications, view reports that are shared with them. For example, you could create a portal for your resellers where they can view the monthly sales report, place a new order for SKUs or download marketing material for promotions.