Integration with MailChimp
Going online is probably the best and most efficient way to promote and run a business. It is important to have an option to send mass emails, whether it is to reply to customers, make announcements or invite your prospects.
You can use the MailChimp integration to directly send mass emails and run campaigns from within your ContactManager account. On enabling this integration, you can synchronize the following MailChimp data into Zoho ContactManager.
Subscribers from any 5 lists that you chooses.
You can later synchronize more lists using the Sync MailChimp Lists option under Setup > Integrations > MailChimp.
Campaigns and it's associated stats.
Note
Under GDPR Compliance, before you begin setting up the integration you will be prompted to accept the Terms & Conditions of the third party application.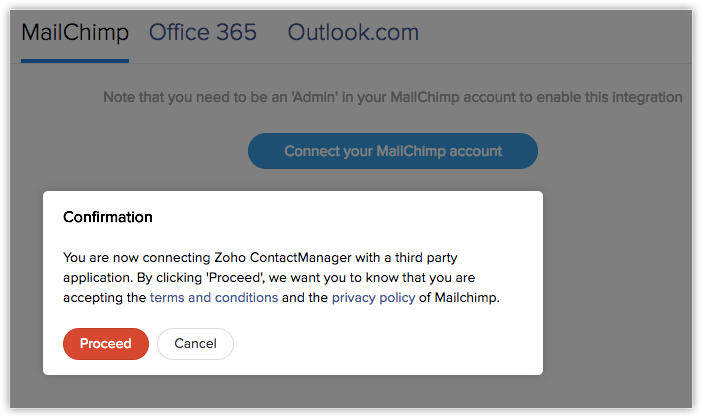 Availability
Permission Required: In Zoho ContactManager, you need to be an Administrator to set up the integration.
In MailChimp, you need to be an Admin or Owner to integrate.
Connect your MailChimp account
You can integrate your MailChimp account and directly import all of the data and lists from MailChimp into Zoho ContactManager.
To integrate MailChimp
Click Setup > Integrations > MailChimp > Connect your MailChimp account.
Make sure that pop-up is not blocked in your browser.

Enter your MailChimp User name and password in the pop-up and click Log in.
Your MailChimp account will be integrated and you will be asked to synchronize MailChimp lists.

Synchronize MailChimp Lists
Initially, during the integration, you can select up to 5 MailChimp lists and import them to your ContactManager account. But you can always synchronize more lists. Also, you can add tags to each list to differentiate them from other contacts in ContactManager.
To synchronize additional MailChimp list
Click Setup > Integrations > MailChimp.
Click the Sync MailChimp Lists link.

Select the checkbox(es) of the MailChimp lists that you want to sync.
Select the Automatically delete that contact from MailChimp too checkbox, if required, when MailChimp contacts are deleted from ContactManager.
Click Save.
Create Campaign
The Campaigns module in your Zoho ContactManager account helps you send mass emails to all your contacts.
To create a campaign
Click Campaigns > Create campaign.
Select a MailChimp list from the Recipient list.
Enter a Subject for your email.
Compose the email.
You can use Themes to make your template look better.
Click Save campaign to save the content as a draft without sending.
You can use the Send Test Campaign option to send the email content to a specific email address to see how the campaign's content will look in your recipient's Inbox.
Click Send.
You can use the Save as Template option to save and re-use this content for future campaigns. This saved template can be accessed from MailChimp also.