Document Management
Files
Create documents, spreadsheets and presentations right from within Zoho Connect. You can edit, view, share and collaborate on your documents.You can upload, view and share files from one single location, anytime, anywhere. Files application makes file sharing easy and that you can share files as a private link internally
To access Files Application,
Click on the Group you want to view.
Select Files tab
You will enter the Files application.
If you do not have Files tab enabled in your group, navigate to Settings on the right top corner.
Click Settings and click on organise apps and enable File option.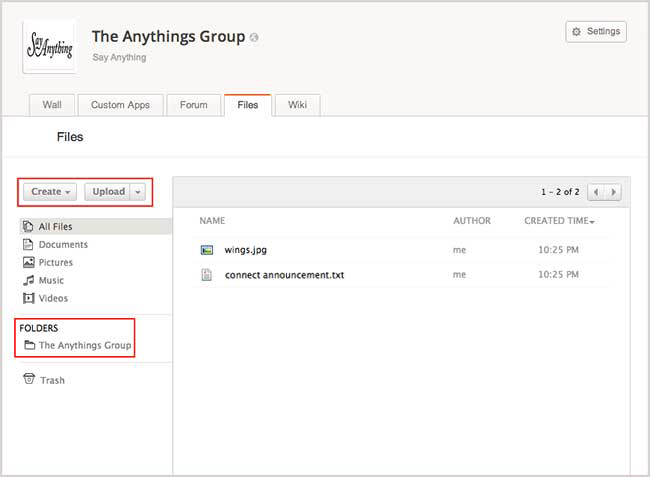 Create a document
Click on the 'Create' button at the top and choose the type of document.
The new file will be opened in the respective editor.
You can start editing your new document, and Zoho will auto-save the document for you.
The newly created document will be saved in your Zoho Docs home page.
Upload files
Click on the 'Upload' button at the top.
Choose the file(s) from your computer.
Choose the destination folder in the pop-up window by clicking on the 'Click here' link.
Click on the 'Start Upload' button to start the upload.
The uploaded files will be stored in the chosen folder.
[or], You could simply drag the files from your computer and drop them in the destination folders.
Viewing / Editing a Document
To view or edit a document just click on the document you want to view/edit and it will open in the respective office tool editor. The document is auto saved and once you close the document, the latest version of the document will be saved in the Files Application.
Creating folders
You can create folders under your 'Personal Folders' option in the left menu, to keep your files organized.
Right click on 'My Folders' and click on 'Create Folder'
Give a name to the Folder and click on the 'Enter key'.