Custom Applications
Zoho Connect offers an easy-to-use app builder powered by Zoho Creator that lets you put together, the application you need. These customized workflow adds great deal of automation to your custom application, making it ideal for all your business needs.
Add an application or form from app gallery:
Click on Custom application on the left pane
It navigates to the page that shows three tab sections . The sections are All apps, Unpublished apps and Favorite Apps.

All apps: This sections has all applications from app gallery and the apps that you have created.
Unpublished Apps: This section has applications that you have craeted and customised but not published.

Favorite Apps: This section will have all the apps that you have favorited from the list of application from app gallery .
Click on any of the apps or forms within application gallery.
You can edit the application or forms if you wish to customise it.
Or you could just click "Install" to add the form or application as it is .
The following sections is what you would access when the app- interface builder opens up.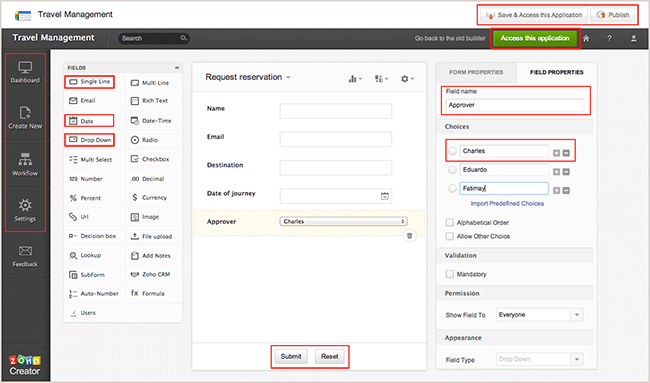 Dashboard:
Dashboard offers a bird's eye view of all the components associated with an application.
Forms are listed under the Forms section of the dashboard.
Views and Reports created for each form are listed under Reports.
A HTML view is a "Page" and that is what is listed under the Pages section in the dashboard.
You can share, publish, access or delete any specific form/report/page right from the dashboard.
Workflow:
Scripts, schedules and functions - together constitute the Workflow of an application.
Forms tab allows you to specify Form and Field action scripts.
Schedules tab enables you to create form, report and custom schedules.
Functions Tab anables you to create and execute from the tab.
Application Settings:
All configurations specific to an application are found on this section called Settings.
The settings include application details, sharing details, customization of layout and themes.
You can also rearrange the components in your application using Sections.
Creating a New Application :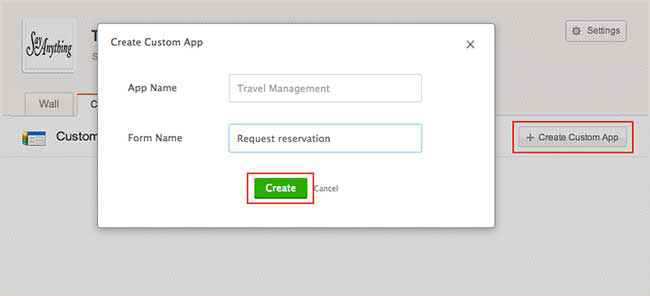 Click on 'Create Application' button on the right side corner of the custom application page.
Fill in the App name and Form Name on the widget that opens up.
Click 'Add' if you would like to add the custom app or you click on 'Cancel' if you would like to
Once you click add, the app builder interface opens up for you to create an app.
Click on the newly created "Application" under the forms section.
The form opens up for your to start adding fields. To know further on how to do this Read further.
Once you have created the app, Click on Submit

You can save the application
If you want to view the application. Click on Access this Application
Once , you have created application you Publish the application, by clicking Publish button.
A published application can be unpublished by clicking on Unpublish button
You can view unpublished applications under the Unpublished Apps tab.