Getting Started
Zoho Connect is a private social network for businesses. Zoho Connect is designed specifically for businesses that want to improve the exchange of ideas and information across teams, organizations, and locations.
Registering a New Account:
New users interested in registering with Zoho can do so by either visiting a specific Zoho service sign-in page, say Zoho Connect (http://connect.zoho.com/) or by directly going to the Zoho (http://www.zoho.com) page. Once the users are directed to any of these pages they have to click the "Sign Up" link and proceed by entering the details required to set up an account with Zoho.
A typical Zoho signup page will look like the one below. Users will need to provide a company name, email address, and a username.
Users can also access Zoho using their Google/Yahoo! credentials. Please refer to the Zoho Single Sign-on help page for more information.
Signing In or Signing Up for Zoho Connect:
You must be a registered Zoho User to use the Zoho Connect service. Registered users can sign in into Zoho and proceed to use Zoho Connect. Alternatively, one can also directly log in to Zoho Connect. To use Zoho Connect:
Visit the Zoho Connect Home page at (http://connect.zoho.com)

Enter your company's name in the Company Name box.
Enter your email address in the email address box.
Enter your user name and click the "Start Your Trial" button.
Once your login is authenticated, your Home page will be displayed.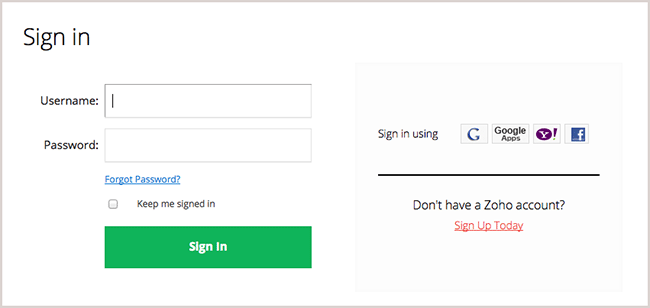 Note
Users can also access Zoho using their Google/Yahoo! credentials. To access Zoho services using your Google/Yahoo! account, click the appropriate link in the "Sign In" box. Once you log in, you can view Zoho Connect's interface.
Getting Started Wizard:
This Getting Started Wizard contains the following sections that make setting up networks easier.
Complete user profile information - You and your employees can fill in details of your profile.
Invite users - You can invite users by adding email addresses, separating with commas.
Add Groups - Click on pre-created groups and invite members. You can also choose to create new custom groups.
Kickstart collaboration - Learn about some great features of Zoho Connect like posts, forums, wikis and document management.
To skip using the wizard at any point, you can click the "X" mark on the right corner of the widget.
Note
Only the network admin has permissions to view all these sections. Network members only have permissions to complete profiles and kickstart collaboration.
Sign Out of Zoho Connect:
Sign out by clicking on the drop down image next to your photo on the top right.
Select "Sign Out" from the drop-down menu.